New ideas for balloons transform any space into a celebration! The ultimate guide to trendy balloon decorating and fun-filled NYE photos. Whether you're planning a big event or hosting an intimate house party, we'll show you the best balloon decorating ideas for partying until the ball drops. If you want the fun without the fuss, easy giant air-filled number balloons fill a room with instant energy. Are you a DIY diva? Sip on our bubbly balloon arch tutorial. Bonus: these trending ideas may look tricky, but they are totally do-able (trust us, we created them ourselves) and they're oh so Pinterest and gram-worthy!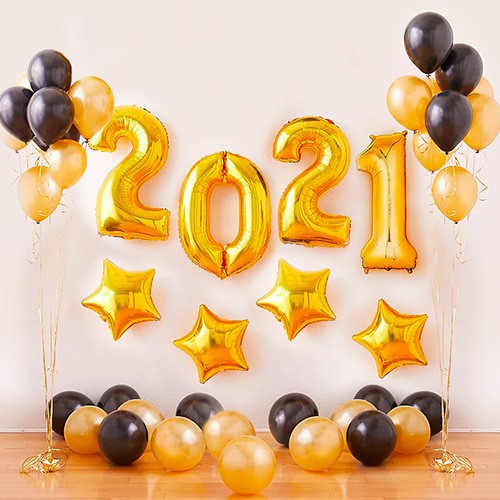 Idea 1: Our favorite (incredibly easy) New Year's party backdrop
No time to DIY? You can create a flashy backdrop in minutes. Mount gold number balloons and gold star balloons to a blank wall. Add balloon bouquets on either side of the numbers and scatter loose latex balloons on the floor to finish off the glam photo setting.
Idea 2: Accent a mixed balloon ceiling with a glam garland
Sometimes less is more. Helium-filled balloons with curling ribbon and a metallic gold banner set the stage for a glitzy selfie or small group shot. Choose three or four balloon colors; we used gold, silver, black and white. Add balloon lights (tuck them in before inflating)...and you're golden!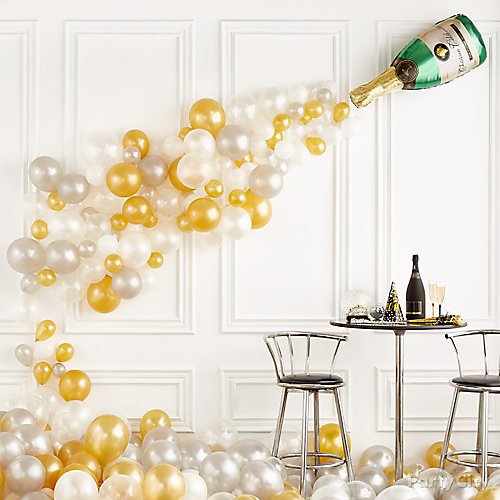 Idea 3: Use easy strips to create this "wow" balloon wall
There's no such thing as too much bubbly on New Year's Eve, and the same goes for bubbly balloons. We used packs of mini and 9" balloons in gold, silver, clear and white. Start small, alternating randomly and pushing through the holes on your balloon strip, and finish with the larger balloons. You can adjust and add more balloons after the strips are up on the wall. Hand out champagne and have everyone strike a pose for your fun and flashy New Year's group selfie.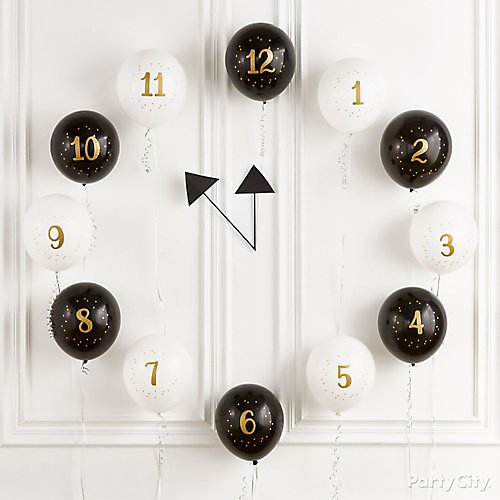 Idea 4: Keep time with a glitzy balloon clock
Clocks are a trendy icon for New Year's and creating one is sooo easy with a balloon kit that comes with number stickers. Secure balloons with double-stick tape and create hands from chalkboard signs snipped into triangles. You might want to pop one each hour of the evening (or for the final countdown), but be sure to get your photos in before the clock strikes 12!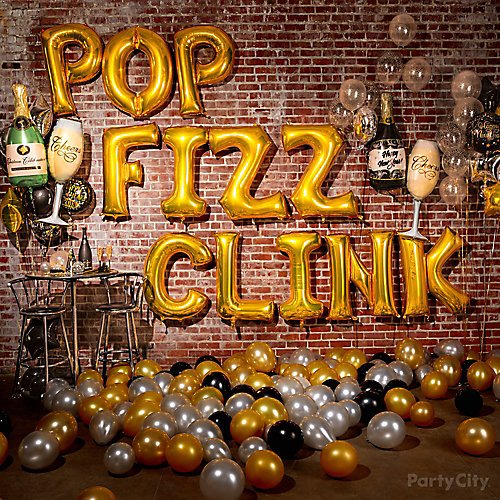 Idea 5: Big letter balloon inspo for large events
If your event is in a large space, these gold giant letter balloons are just the (drink) ticket. Pro tip: use an electric balloon pump to fill them up in a flash. Add New Year's balloon bouquets on either side and style with clear "bubbles". Fill up the floor space as well for a poppin' photo op!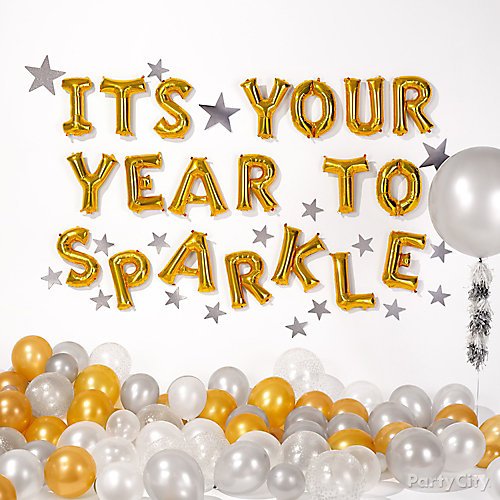 Idea 6: A letter balloon phrase shouts celebration!
What better way to set the stage for a fresh new year than with a bright and bold statement? You've seen letter balloons on all the blogs, and the newest trend is longer phrases that fill up a wall. It's a cinch with air-filled letter balloons secured with double-stick tape. Don't forget to add a field of star cutouts to make it shine even more with positive vibes!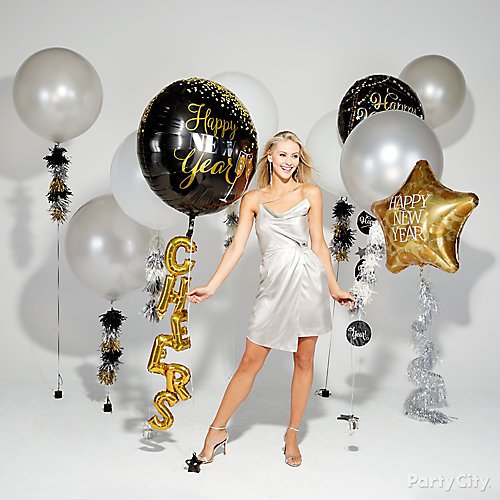 Idea 7: Trending now: balloon tails and giant round balloons
Our top pick for easy and amazing photo-worthy balloons? Inspire your followers by creating a "balloon-scape" that shows off your personal style. Choose balloons that come with tails or, for a unique take, add tails to giant round 24" balloons. Get your pics, then take your creations to the party.