Dim the lights, let the tiki torches burn bright! A neon paradise luau keeps your summer nights sizzlin'! No sand or sun? That doesn't stop the fun! A neon paradise luau makes your summer party looking its best and brightest day and night! Whether you're throwing the party in your backyard, pool or even your living room, decorating with neon hibiscus and other Hawaiian-inspired accents puts your celebration on the map of summer destinations. Still feeling paradise lost? With our gallery, you'll find luau party and food ideas to make a bash that your guests will "lava"!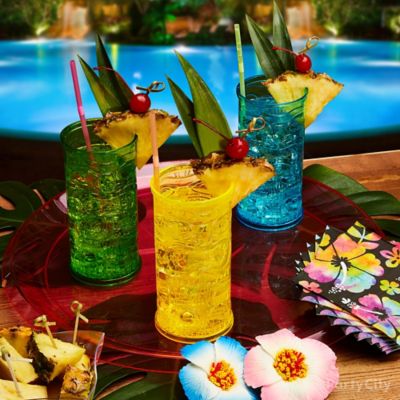 Idea 1: Instead of cheers, say "aloha!" to the clink of these tiki drinks!
A beachy paradise feels a bit closer with festive tiki plastic tumblers. Serve up your favorite tropical drink like pineapple, pina colada or even strawberry kiwi lemonade in these brightly colored plastic cups, and then place them on a red platter among your neon paradise decor. Add a pineapple and cherry on the rim as a refreshing and decorative garnish.
Idea 2: Lead the way with an inviting doorway
Whether you're hosting a day or nighttime luau, an inviting doorway whisks away your guests to party paradise! Create one by hanging a "welcome to paradise" sign over a colorful fringe door curtain, and then flank it with tiki tower cutouts. The exotic backdrop will amp up the excitement even before your guests step into your party paradise!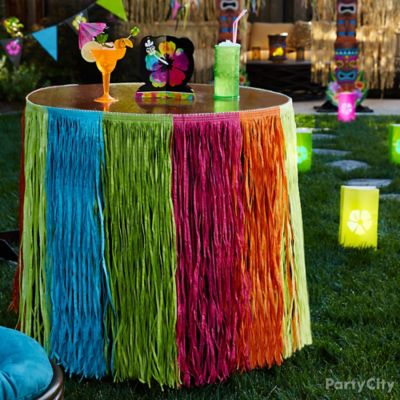 Idea 3: Dress your tables with aloha spirit!
Get your luau to shine bright with excitement by decorating with neon accents. A colorful fringe table skirt gets your table ready to take on the party festivities, and it makes other neon-colored accessories like tiki tumblers and margarita glasses look like they're brimming with aloha spirit!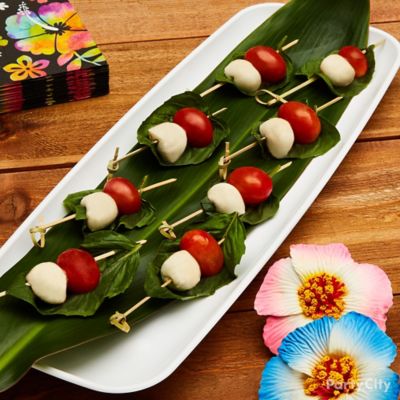 Idea 4: Caprese kebabs make it easy to keep your guests fed
Light tasting and easy to make, caprese kebabs work well as a dish to pre-make before your luau. Using a bamboo skewer, assemble a basil leaf, mozzarella ball, and grape tomato—that's all it takes! Then lay the caprese kebabs on a leaf-lined platter—your guests will be digging the simple tropical display before they dig in!
Idea 5: Warm up guests to your luau feast with a mini meaty dish
These stylish, savory bites are the way to welcome everyone to your luau feast. For this easy luau party food idea, place a single meatball on a mini plate and top it off with a mini pennant flag pick—it gives the hearty appetizer a fun tropical twist. Plus, the mini pennant flag makes it possible for guests to hold and munch on the meatball while mingling.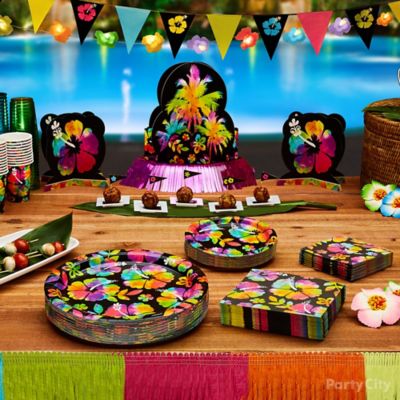 Idea 6: Lu-wow them with a trendy and tropical table
Food is always the star at a luau party, but it needs a setting that makes it shine! Plates and decorations with hibiscus flowers and palm trees are go-to patterns for a tropical party theme, and neon bright colors give it a trendy refresh. Twinkle lights, raffia table skirts and hibiscus flowers make it lu-Wow.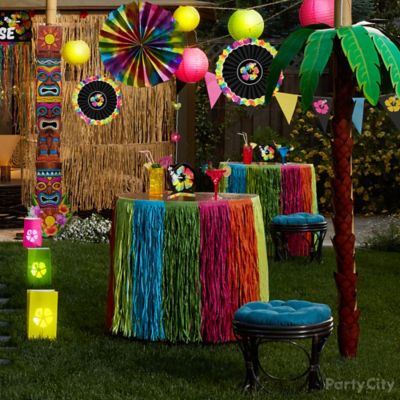 Idea 7: Go all out with iconic tropical accents
Create an instant tropical jungle with giant paper palm trees—these hang from a deck arbor or attach to the ceiling indoors—then place a table next to the palm trees so your guests have some shade while they're sipping away at their favorite drink! Amp up the island flavor with hibiscus paper fans and neon lanterns.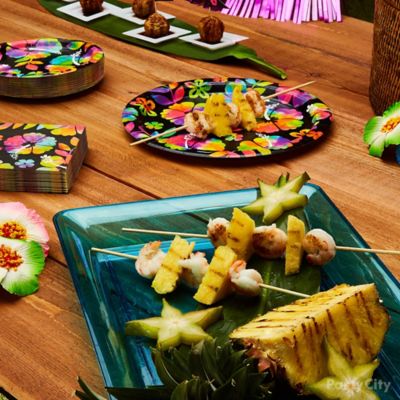 Idea 8: Zing meets zest with this easy luau kebab combo
Taste the tropics with this classic kebab combo! Grilled shrimp and pineapple make for an easy pairing. You can easily add more zest to the pineapple zing with your favorite shrimp marinade recipe. Serve a handful of skewers on a bright blue platter garnished with slices of starfruit—it'll be a display that they'll pine for!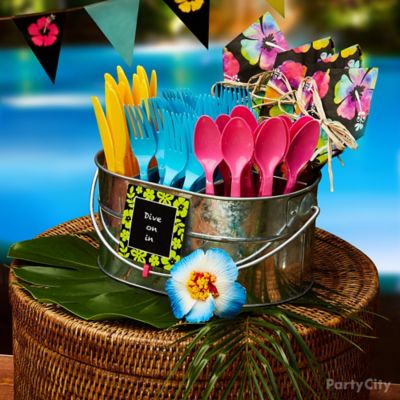 Idea 9: Eat up this tie-dyed look!
When the food comes out at your luau, you can bet that your guests will be more than ready to dive in—so make sure to have colorful cutlery at the ready. Place a mix-and-match batch of utensils—forks, spoons and knives—in a tin bucket, and for a tropical twist, make the cutlery match the vivid tie-dyed colors of neon paradise napkins. Add a luau theme chalkboard sign with your own clever phrase like Dive On In so your guests will know immediately what to do—dive in!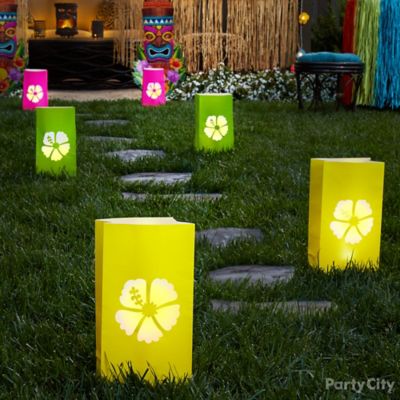 Idea 10: Light the path to party paradise!
Lead guests to the entrance of your luau with an alluring glow! Use neon paper bags with a stenciled cutout of a hibiscus flower, and then add a battery-operated tea light. Creating an inviting entrance with the warm glow of paper bag luminaries is a simple way to stage for a festive nighttime luau.