Invite the birthday girl's BFFs over for a ponypalooza party! Get inspired by our My Little Pony party ideas for decorations, party games, cake and more!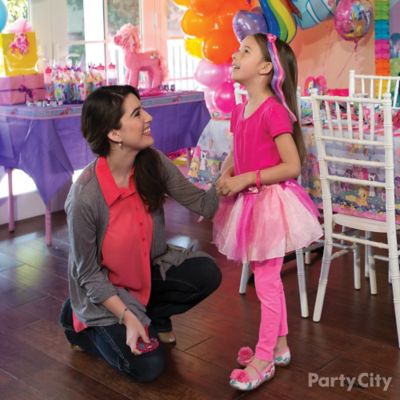 Idea 1: A special birthday outfit will make her day!
The birthday girl will feel like she just trotted out of Rarity's boutique in a birthday ensemble she picked out herself! Make it even more mane-ificent with a frilly pink tutu and My Little Pony accessories like an award ribbon, wristband and colorful hair extensions.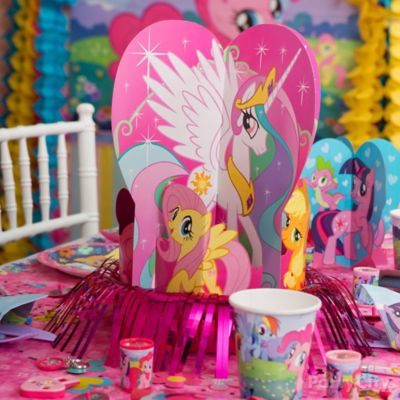 Idea 2: They'll prance for a perfect pony centerpiece!
Fill the party room with special touches like a colorful centerpiece. It's fun to create a marvelous meadow for your party ponies to prance around in.
Idea 3: Send a custom invite with a photo of the birthday girl!
Get everyone excited for the magical birthday party with custom My Little Pony invitations! Pick your favorite picture of the birthday girl and add a personalized message to go over a pretty pony background. Order online or in store and your custom invites will be ready to ship within five days.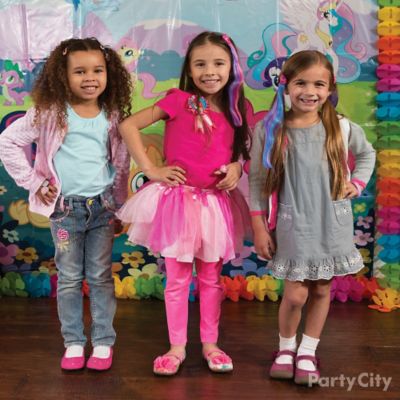 Idea 4: Give everyone some sparkle to wear with MLP accessories!
Throw a Ponyville fashion show where the birthday girl and her BFFs can show off their "cutie marks"! Hand out My Little Pony accessories like hair clips, extensions, rings and wristbands to the girls, then have them strut their stuff in front of an MLP scene setter.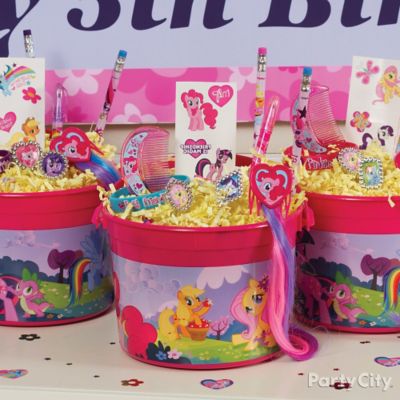 Idea 5: Fill up favor containers with pony presents
Send the girls home with My Little Pony favor containers brimming with themed goodies. Fill the bucket with paper shred, then pile adorable favors like combs, wristbands, tattoos, rings and pencils on top!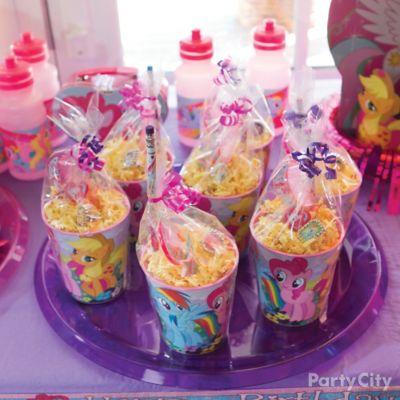 Idea 6: Make favor cups with pony stuff!
The party's ending, but the fun can follow your guests all the way home! Make adorable favors from reusable, BPA-free pony-printed cups, a little paper shred and cool My Little Pony favors like combs, pencils, rings and hair clips. Fill the cup with paper shred, top it with your goodies and wrap it all up in a clear favor bag. Cute and easy!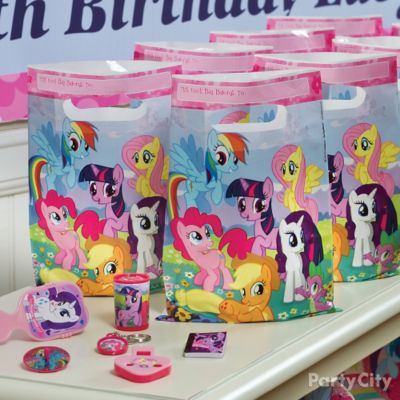 Idea 7: Make speedy favors in a flash!
Whip up awesome favor bags faster than Rainbow Dash and the Wonderbolts! A My Little Pony favor pack comes with enough awesome goodies for up to eight guests. Just grab matching favor bags and you're set!
Idea 8: Add surprises to your invites!
Add a sprinkling of magic to each My Little Pony invite you send out with confetti and tattoos! Leave a note inside each envelope telling the girls to wear their tattoo on party day as a pass into Ponyville.
Idea 9: Make a Dash-ing party room!
Take a cue from Rainbow Dash and decorate the party room in all the colors of the rainbow! Each pony will be represented by the bright color scheme of My Little Pony decorations like birthday banners, scene setters and balloon bouquets.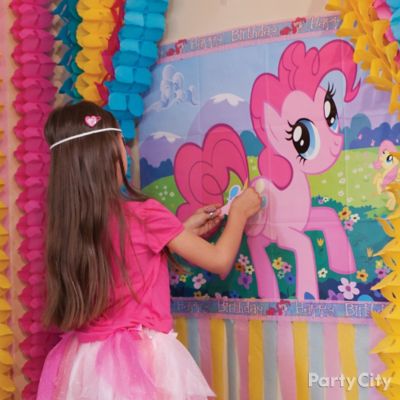 Idea 10: Help Pinkie Pie find her cutie mark!
Keep the girls laughing and smiling with a My Little Pony party game! This pony-rific twist on Pin the Tail on the Donkey comes with an adorbs eye mask and cutie mark stickers instead of pins for a totally safe and cute party game – that's a Pinkie promise!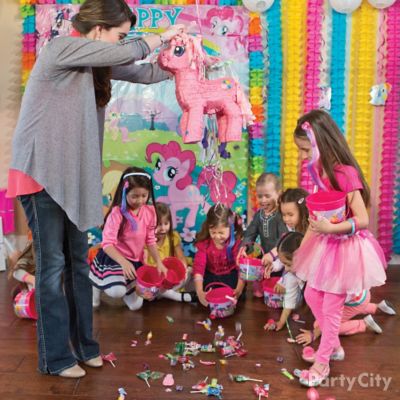 Idea 11: A Pinkie Pie pinata packs a lot of fun!
Pinkie Pie knows how to throw a rockin' ponypalooza party, so who better to delight the birthday girl and her party peeps in pinata form? Fill an adorable Pinkie Pie pinata (complete with balloon cutie mark!) with yummy treats and cool favors, then have the girls take turns pulling the strings to see which magic string releases all the goodies!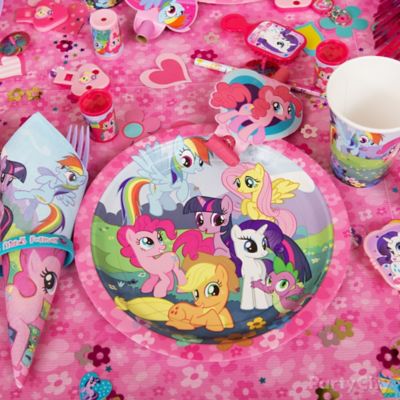 Idea 12: Set pony-rific place-settings!
It's easy to create darling place-settings for your Equestrian girls! Start with a My Little Pony table cover, then pile on plates, napkins and cups printed with the girls' fave ponies. Make favors part of the fun and decor – wrap up cutlery bundles in wristbands and sprinkle blowouts and other fun favors around the table!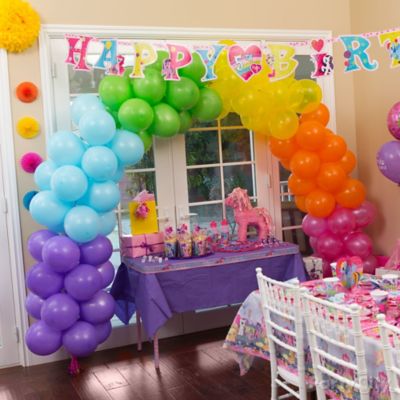 Idea 13: This balloon arch will be something to prance for!
Give your party a punch of pony power with a balloon arch that looks straight out of Rainbow Falls! Make it the mane event of your party decorations by placing it where it's sure to be seen, like the favors table!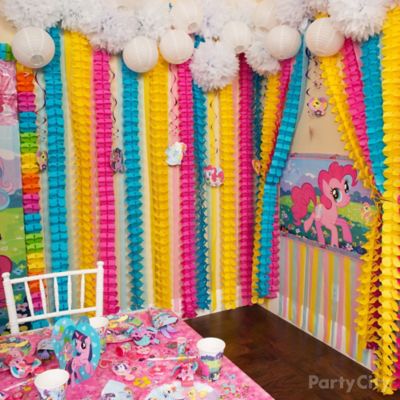 Idea 14: Create a rainbowlicious backdrop!
Rainbow Dash would love this sweet setting of rainbows and clouds (just like the ones she's always napping on)! To make it, you'll need My Little Pony swirl decorations, paper garlands, streamers, fluffy decorations and paper lanterns! Create clouds with white fluffy decorations and paper lanterns bunched together. Hang colorful paper garlands from your "clouds," with paper streamers and swirl cutouts in-between. It's the perfect place for party games and pictures!
Idea 15: Send a personalized thank you!
Add a personalized touch to your thank you's with a custom My Little Pony thank you note. We'll print your special message or the birthday girl's name on the front of the cards and have them ready to ship to you within five days.