Three-tiered cupcakes!
They're the best cupcakes in Equestria! Bake your pony's favorite cupcakes in My Little Pony baking cups and prep custom colored icing to decorate. The mixtures of colors, along with how to achieve the colorful tiered look, can be found in our My Little Pony Cupcake How-To below.
How-To
Ingredients:
Favorite cupcake recipe or mix
White Ready-To-Use Decorator Icing – 4.5 lb. Tub
Violet Icing Color*
Rose Icing Color*
Burgundy Icing Color*
Black Icing Color*
Lemon Yellow Icing Color*
*Combine Violet with Rose for light violet shown
*Combine Violet with Burgundy and Black for dark violet shown
*Combine Burgundy with Yellow for burgundy shown
Supplies:
My Little Pony Standard Baking Cups
Recipe Right Standard Muffin Pan
Cooling grid
12 in. Disposable Decorating Bags
Decorating Tip 1A (three used)
My Little Pony Treat Stand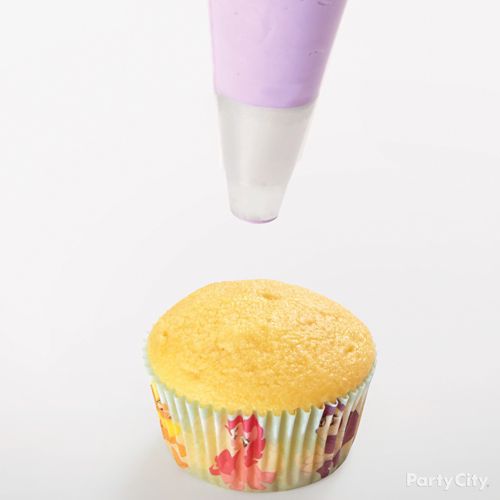 1) Bake and cool cupcakes
Bake cupcakes in baking cups. Tint portions of decorator icing light violet, dark violet and burgundy.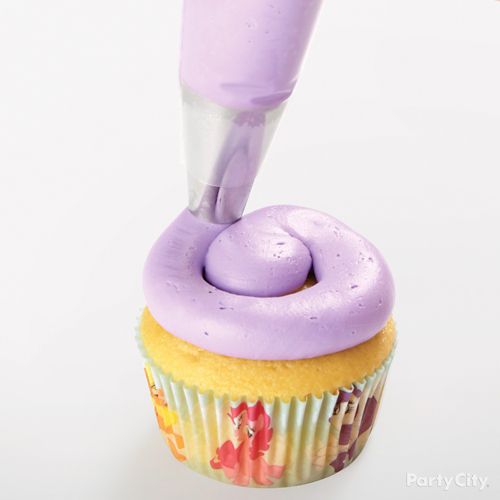 2) Decorate bottom swirl
Use tip 1A and light violet icing to pipe a single swirl on edge of cupcake.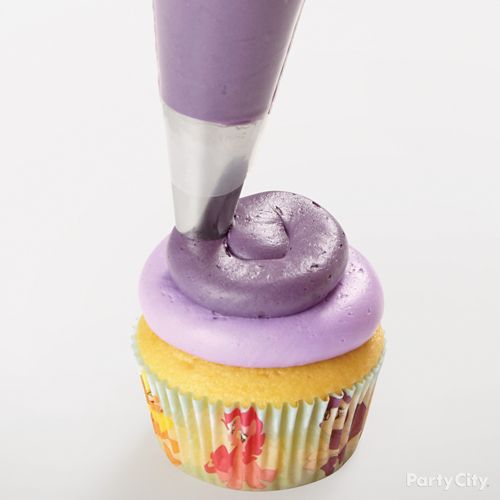 3) Decorate middle swirl
Use tip 1A and dark violet icing to pipe a smaller single swirl on top of the bottom swirl.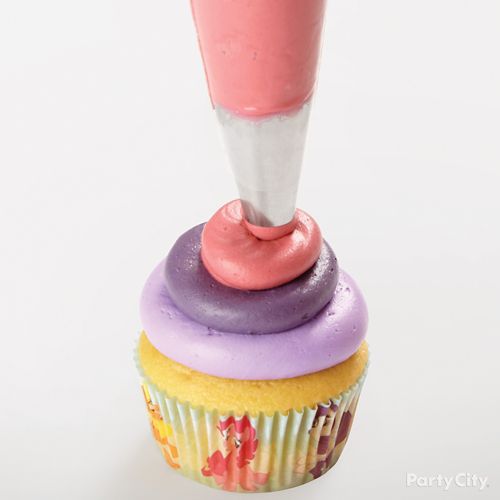 4) Decorate top swirl
Use tip 1A and burgundy icing to pipe a smaller single swirl on top of the middle swirl.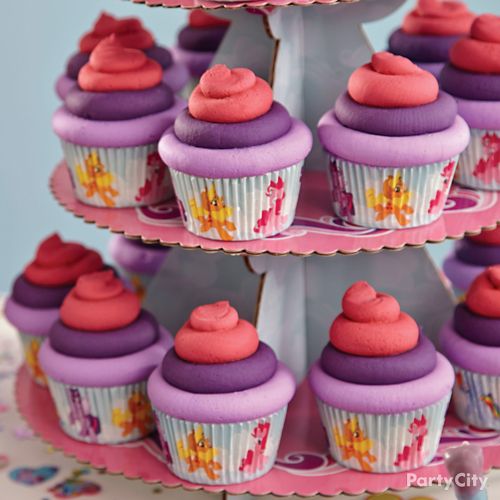 5) Serve and enjoy!
Assemble treat stand according to package directions. Position cupcakes on stand.