It's our favorite day to celebrate mom, and nothing says celebration more than beautiful, shiny balloons! A dozen balloon hearts will make her feel extra special and show how much you love and appreciate her. Balloons are an unexpected gift that spreads a lot of love; plus, they are more affordable and longer lasting than flowers. We've rounded up nine Mother's Day ideas that use balloons as a unique gift or to enhance the day's festivities. Don't forget the helium tank so you can easily fill balloons that will set Mom's balloons-and her heart- afloat! Check them out and then shop your favorite balloons here.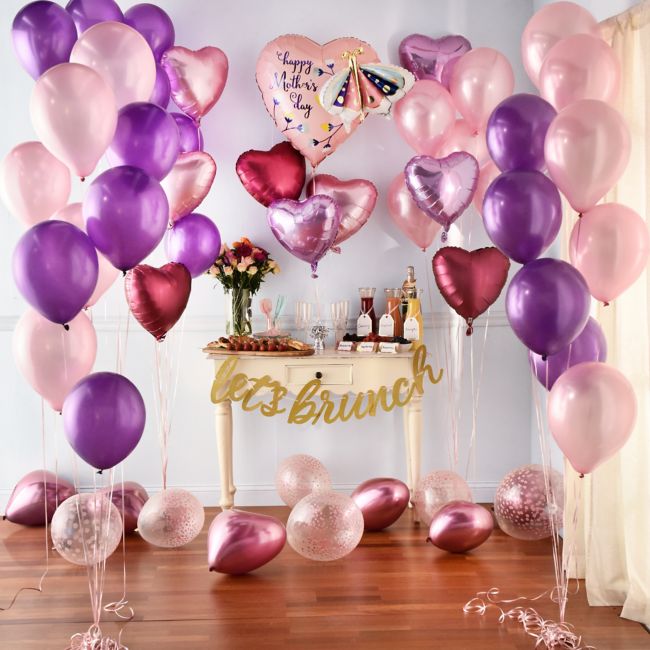 1. Inflate Her Day with a Balloon Display
Go all out for Mom with a beautiful brunch setup and lots of balloons! With our Mother's Day balloon kits, you'll find everything you need to celebrate her. Set the scene by hanging up a "Let's Brunch" banner and lay out a spread of her favorite foods—don't forget the Mom-osas! Elevate the setup with a Mother's Day balloon bouquet and scatter balloons all around to create a picture perfect scene she'll love.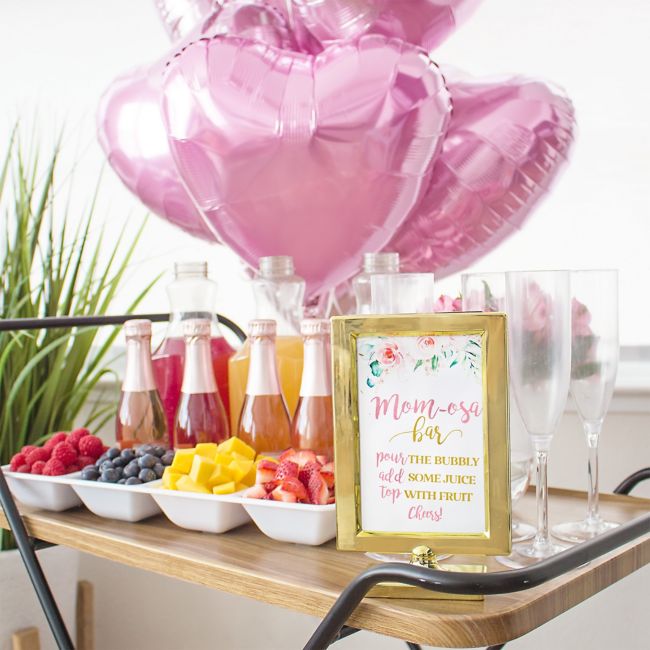 2. Set Up a Mom-osa Bar
Start off Mom's special day with some bubbly! Give her a break to relax with friends at a mom-osa happy hour. A DIY mimosa bar is an easy yet impressive refreshment option. Arrange a few juices and fruit garnishes so that guests can mix and match their favorite flavors while they catch up.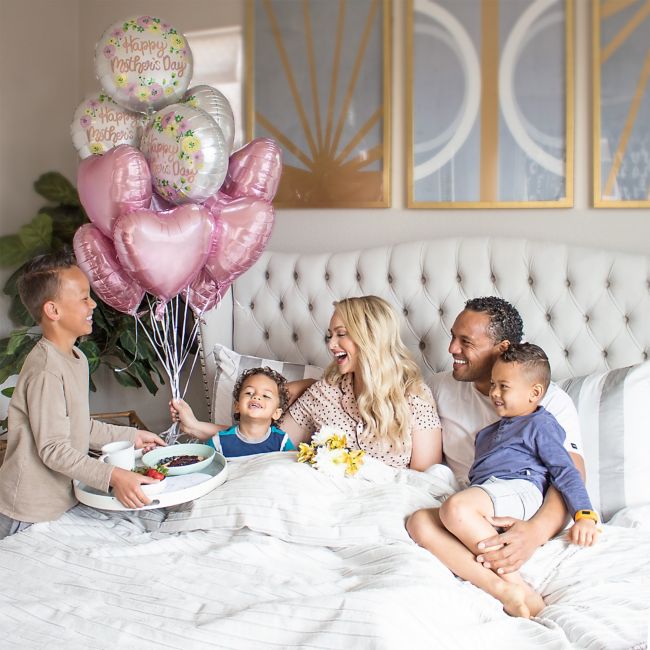 3. Surprise Her with Breakfast in Bed
It's the sweet breakfast that Mom looks forward to every year. Add a twist to your tradition with a balloon bouquet. Have your child present the balloons to Mom while you carry in the breakfast tray. Time for the whole family to pile in for extra cuddles!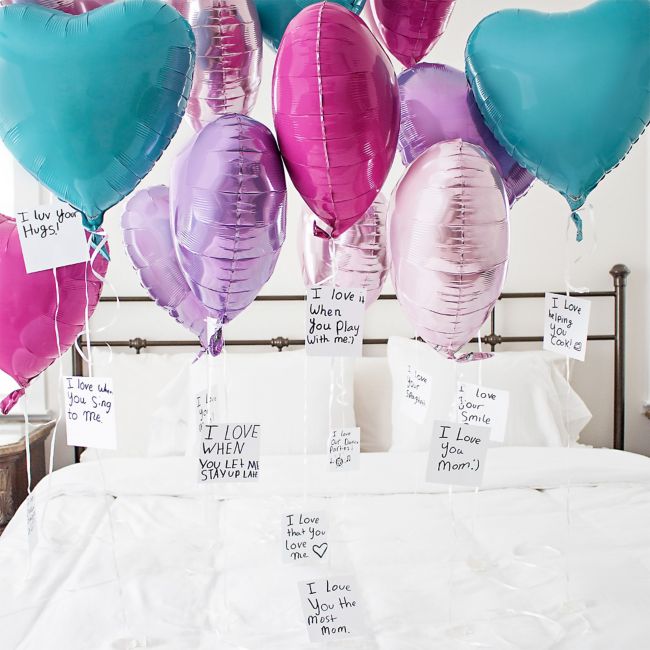 4. Tell Mom Why You Love Her
How much do you love Mom? Let her count the ways! Write little notes of your favorite things about her, from her laugh to the thoughtful gestures she thinks you don't notice to all the ways she keeps your family going. The kids can join in for a few, too! Tie a note to each balloon ribbon and watch your love soar.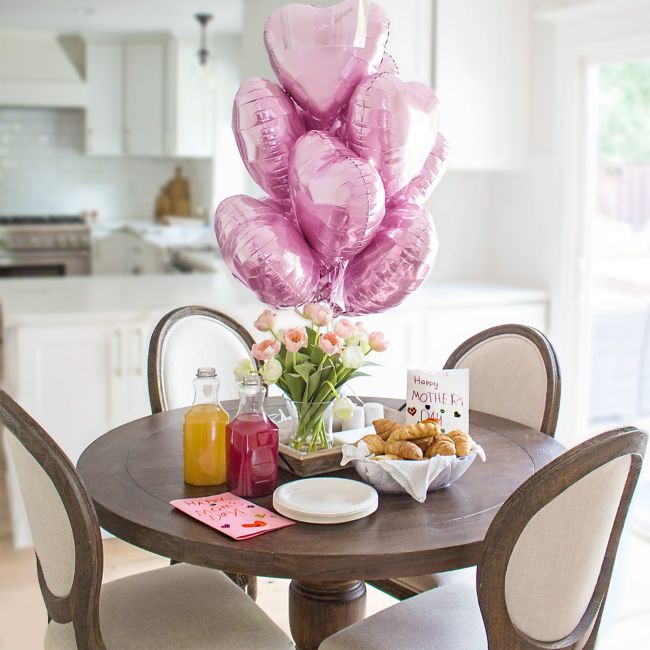 5. Enhance a Floral Arrangement
Mom loves to be surprised with her favorite flowers. This year, turn that dozen into two for double the wow factor when you pair flowers with a bouquet of balloons.
6. Add Pizzazz to a Picnic
Make your Mother's Day picnic a party! Whether you set up a gourmet dinner in the backyard or carry an elaborate basket of snacks to the park, a bunch of balloons sets a festive tone.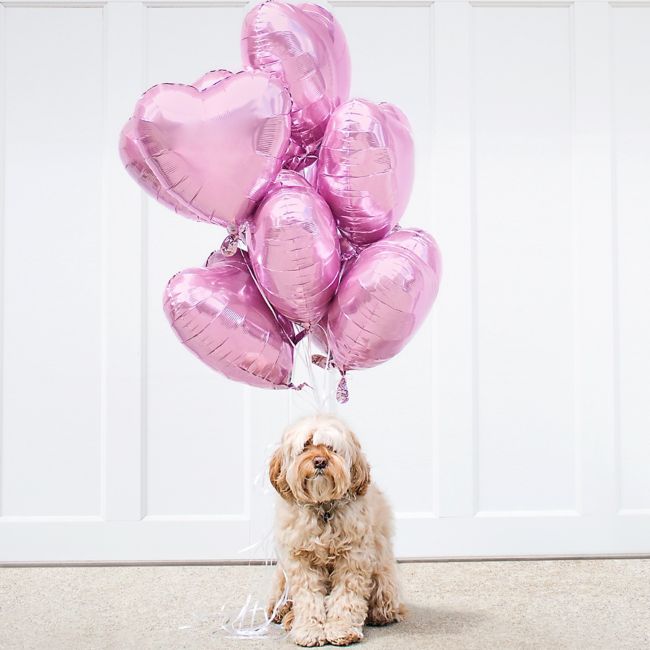 7. To Mom from Her Fur Babies
Balloons are fun fur every Mom! Have your four-legged children get in on the love by lending a helping paw. Tuck the ribbons of a lightweight bunch into their collars. Mom will be so happy to receive a balloon bouquet and lots of slobbery kisses.
8. Write Messages from the Heart
Here's a Mother's Day craft that gets the kids involved! Instead of traditional handmade cards, have them write cute messages and decorate each balloon with brightly colored markers. Mom will smile every time she sees their sweet artwork.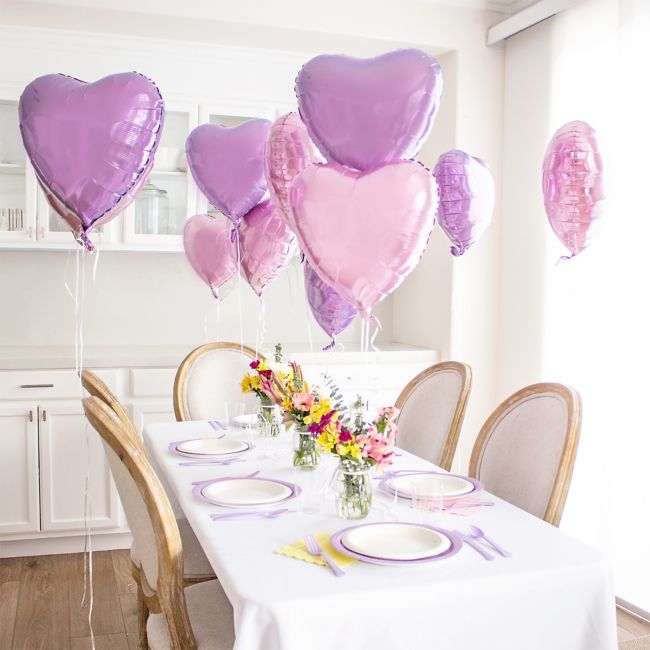 9. Decorate for a Mother's Day Brunch
There are so many Moms and mother figures in our lives to celebrate. Grandma, the neighbor who loves to babysit, the aunt who spoils your kids—invite them all for brunch to show your appreciation. Tie a balloon to every chair for an easy decoration that doubles as a party favor.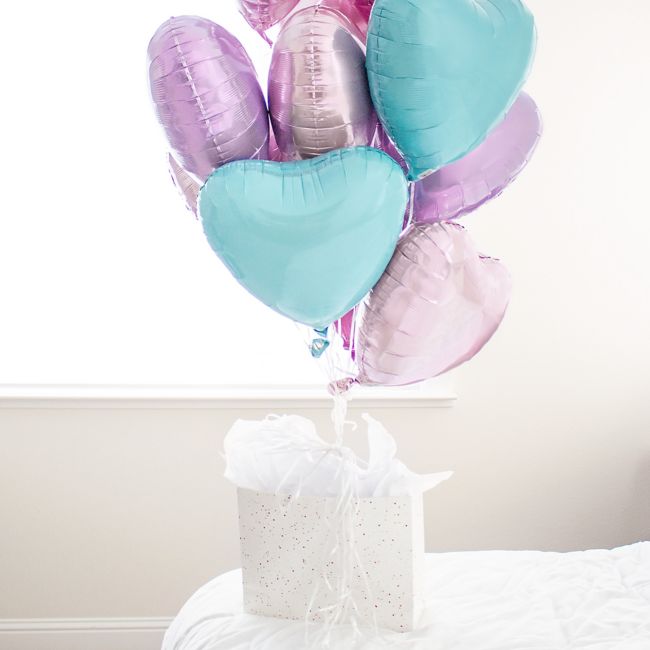 10. Tie Balloons to a Gift
Wrangling wrapping paper not your strong suit? Mom will be completely wowed when you tie balloons to a gift bag or loop the ribbons around a box. Now that puts the "present" in "presentation!"