Serve up a cake that's to die for!
Make the party even more freaky fabulous with a beautiful cake and Monster High tableware and birthday candles! Whether you order it from your favorite bakery or are inspired by our photo to bake your own, see our Monster High Fondant Cake How-To below for decorating tips on this creeporific cake.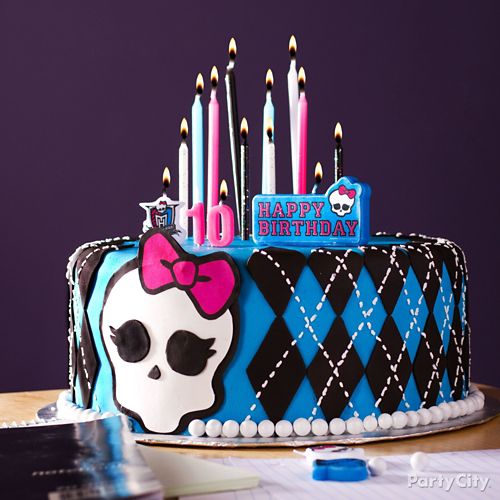 How-To
Ingredients:
A frosted cake
White Fondant
Black Fondant
Blue Fondant
White Icing
White Sixlets®
Supplies:
Fondant Roller
X-Acto knife
Edible Food Markers
Decorating Bag
Decorating Tip
Couplers
Monster High and Solid-Colored Candles
1) Create fondant shapes
Roll out your black and white fondant. From the black fondant, cut out triangles for the argyle pattern and eye sockets and nose for the Skullette. Cut out a white skull and bow as well for the Skullette. You can freehand if you feel comfortable or print out images and cut the fondant with an X-Acto knife to the shapes.
2) Sketch Skullette details
Using an edible black food marker, outline and draw on the details of the Skullette and the pink bow.
3) Attach fondant shapes
Dab the fondant shapes you've cut out with water and attach to cake.
4) Pipe argyle dashes
Fit a decorator bag with the tip coupler, tip 2 and white icing and pipe dashes for the argyle pattern.
5) Put the finishing touches
Finish by pressing white Sixlets® into the fondant at the base of the cake and top with Monster High candles.