Monstrously cute argyle pretzels!
Make sure your birthday girl has the tastiest day of her unlife with dipped pretzels. Icing decorations and little diamonds of fondant seamlessly mimic the famous pattern while the candy and salt make a delicious combination. The Monster High Argyle Pretzel Pops How-To has the details to decorating this argyle candy!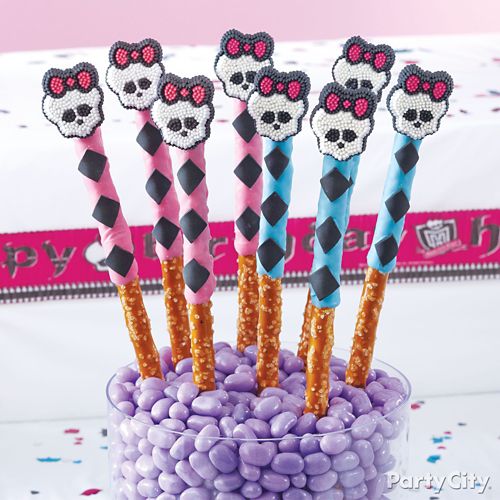 How-To
Ingredients:
Bright Pink Candy Melts® Candy (12 oz. makes 20 to 24 treats)
Blue Candy Melts Candy (12 oz. makes 20 to 24 treats)
Pretzel rods
Black Decorator Preferred Fondant (12 oz. makes 20 treats)
Monster High™ Icing Decorations
Supplies:
Microwave-safe bowls
Parchment or waxed paper
Cookie sheet
9 in. Fondant Roller (purple guide rings used)
Knife
Plastic ruler
12 in. Disposable Decorating Bags
Food-safe scissors
1) Dip pretzels
Melt bright pink and blue Candy Melts candy, separately, in microwave-safe bowls according to package directions. Dip pretzels in melted candy (about half in each color). Gently tap against edge of bowl to smooth and remove excess candy. Place on parchment paper-covered cookie sheet. Chill until firm, about 10 to 15 minutes. Transfer remaining melted candy to disposable decorating bag.
2) Decorate pretzels
Use fondant roller with purple guide rings to roll out black fondant 1/8 in. thick. Use knife to cut three diamonds for each treat, 1/2 in. wide x 1/2 in. high.
3) Attach fondant
Cut small point off of decorating bag. Use melted black candy to attach diamonds and icing decoration to pretzel. Chill until firm, about 3 to 5 minutes.