Recreate Minnie's Bow-Tique for your mini with our fun party ideas! We used Minnie Mouse's signature bows and playful polka dots to doll-up the party with pretty decorations, games and favors.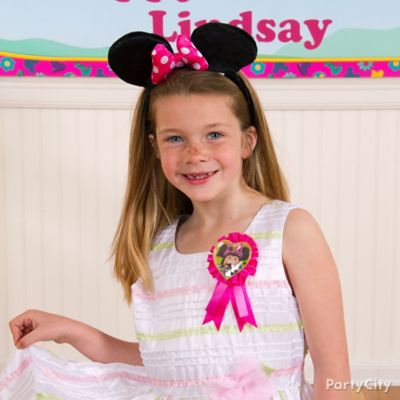 Idea 1: Give her minnie-riffic accessories!
If the birthday girl wants to wear her own dress instead of a costume, she'll still love wearing something that shows everyone she's the birthday girl! Give her authentic Minnie Mouse dress-up accessories that will make her feel extra-special.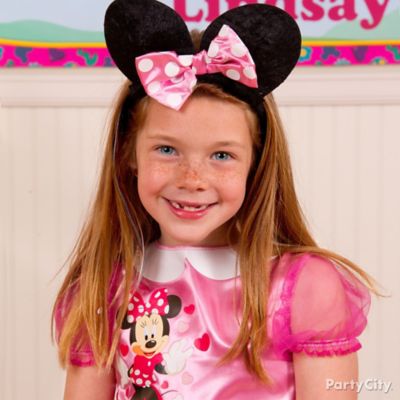 Idea 2: A Minnie costume makes her day extra-special!
Let your favorite Minnie Mouse fan dress the part! Give your girl an early birthday gift by letting her dress up for her special day in a Minnie Mouse costume. She'll be ecstatic to look just like Minnie for her party!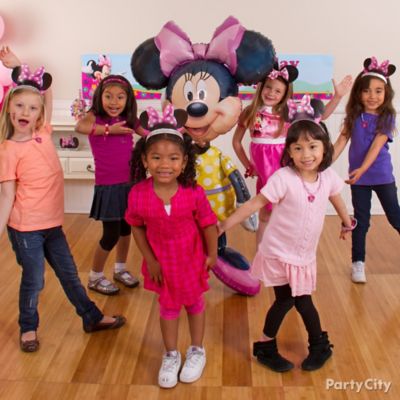 Idea 3: Snap the best party pix with a giant, gliding Minnie!
What's the easiest way to guarantee adorable party photos and memories for your birthday girl and her friends? A larger-than-life giant gliding Minnie Mouse balloon! It's a perfect photo prop that gets all the girls smiling, giggling and posing!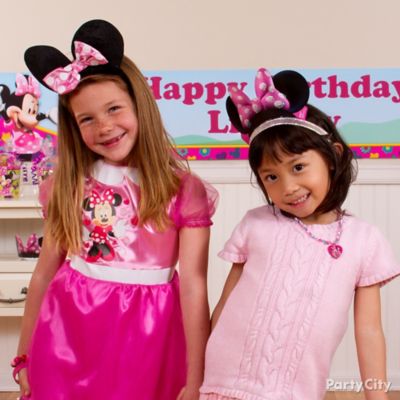 Idea 4: Ears, bows and polka dots for all!
Hand out Minnie party headbands and jewelry accessories when guests arrive at the clubhouse, and everyone can channel their favorite girly mouse!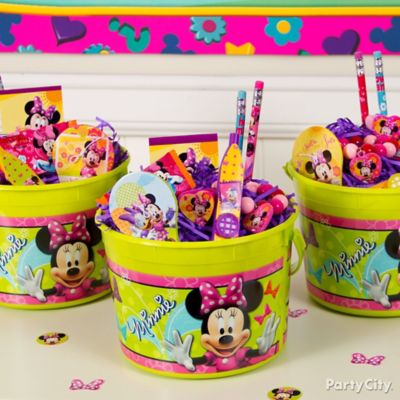 Idea 5: Fill up bow-tiful favor buckets for your little mice!
It's been a fun-filled day of dancing and games, but now it's time to go home. They'll be no sad faces among your Minnie fans when they set their eyes on these colorful Minnie Mouse favor containers filled with favors that make it easy to continue the Minnie Mouse party fun during playtime at home!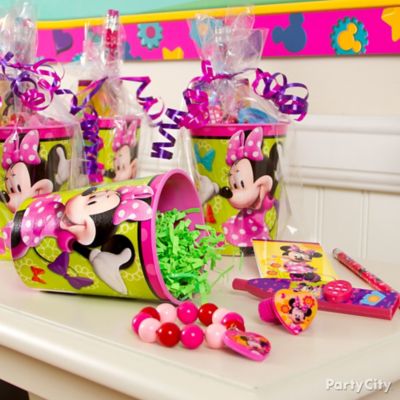 Idea 6: Transform Minnie Mouse party cups into adorable favors
This is one of our favorite party favor ideas because it's so easy and affordable but looks like you went all-out! And you won't see these at just any Minnie Mouse party. Start with reusable Minnie Mouse party cups and add a mix of adorable Minnie Mouse favors.
Idea 7: Easy favor sets have Minnie goodies for 8!
If you're short on shopping and setup time but still want to thrill those Minnie fans, you'll love these complete Minnie Mouse favor sets. The Minnie Mouse favor value pack includes eight treat bags and a set of fun Minnie party favors.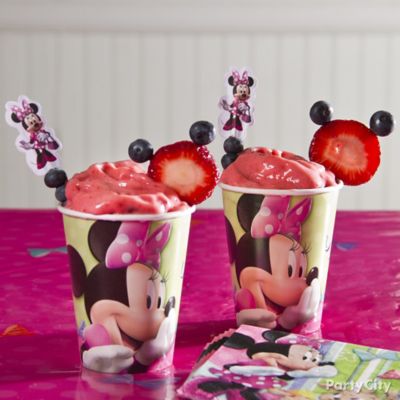 Idea 8: Minnie would love sipping these fruity float drinks!
These charming Minnie floats are just as delectable as they look. Pour strawberry soda into Minnie Mouse cups and top with a scoop of raspberry ice cream or sherbet. Serve with fruit and Minnie Mouse fun picks placed on top.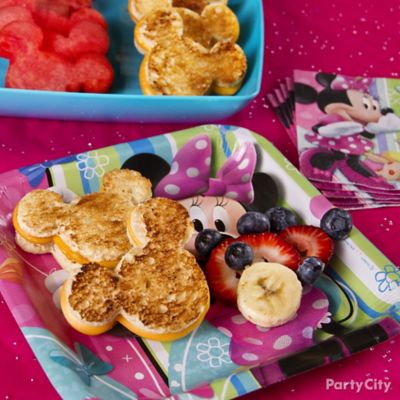 Idea 9: Make a Minnie-shaped meal
Your birthday girl will be thrilled when she sees the Minnie Mouse meal you've created. Use cookie cutters to make grilled cheese sandwiches and fruit slices shaped like Minnie herself! Serve your meal on cute Minnie Mouse plates with matching napkins.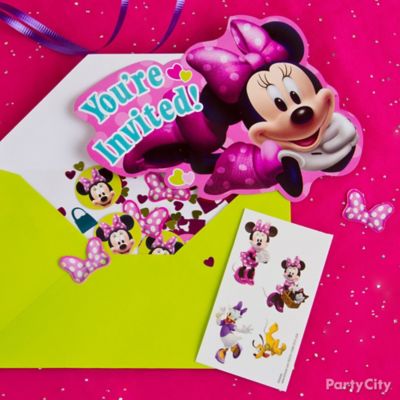 Idea 10: Jazz up fill-in invites with tattoos to wear to the party
You can save time with fill-in invitations but still include extras that create excitement about your party! Slip a fun Minnie Mouse tattoo inside the envelope with fill-in Minnie Mouse invitations and tell each guest to wear it to the party as a secret party pass!
Idea 11: Accent Minnie decorations with pink and polka-dots!
Make some Minnie Mouse party magic with these easy-to-put-up Minnie Mouse decorations that coordinate with other pink and polka-dot decorations to create a really pretty party scene. To complete the room, check out our table decorating and scene setter ideas below!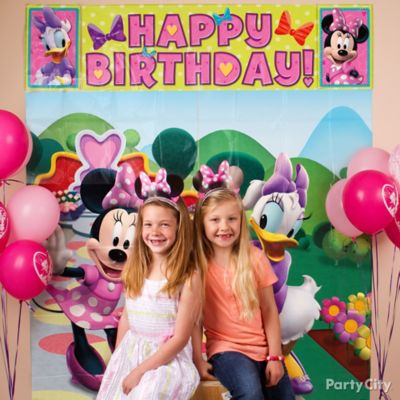 Idea 12: Set the scene for delightful Minnie Mouse party photos!
Create an instant Minnie Mouse playland photo backdrop with a Minnie Mouse scene setter! It's great for photo opportunities or just to bring a touch of Minnie to your party.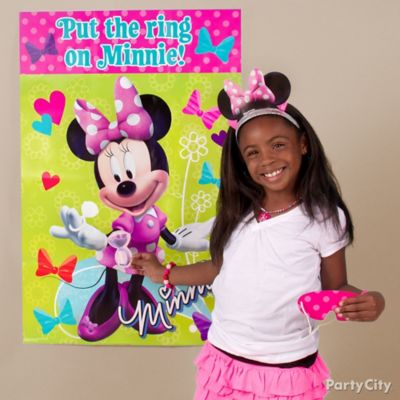 Idea 13: Pin the ring on Minnie's hand!
Give the classic birthday party game a Minnie-fied spin by playing pin-the-ring-on-Minnie with the Minnie Mouse party game. Give players the rings from the included sticker sheets, and see who can come closest to placing the ring on Minnie's finger.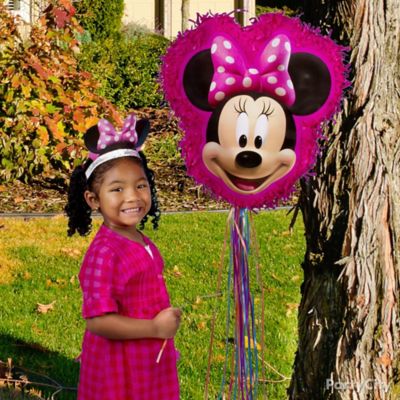 Idea 14: Fill your pinata with favors to make it more Minnie!
We love how this Minnie Mouse pinata will match perfectly with your Minnie Mouse party theme! Include Minnie-approved favors inside and don't forget some candy, too!
Idea 15: Minnie-fy the table with Minnie Mouse favors!
Create a table that every little Minnie fan will absolutely adore by using Minnie Mouse favors on your table! Your favors will match well with your Minnie Mouse tableware and will double as decorations.