Try our Mickey Mouse party ideas for decorations, favors and more… and you'll be ready to celebrate this birthday before you can spell M-O-U-S-E!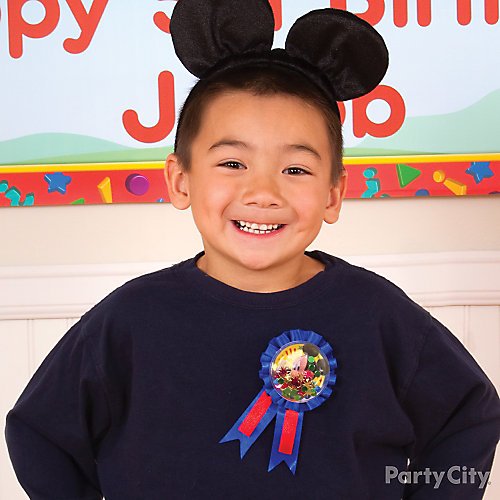 Idea 1: Turn any outfit into a Mickey Mouse party outfit!
If your birthday boy has his own special outfit picked out for the party, you can still add some Disney magic to his look by adding a Mickey Mouse ribbon and mouse ears.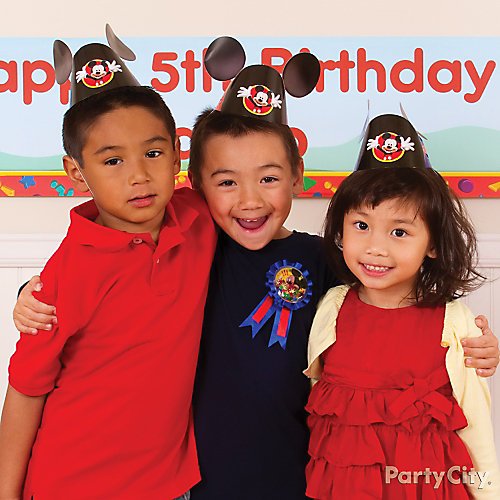 Idea 2: Mouse ears for everyone!
Get everybody into the Mickey Mouse Clubhouse spirit by having the birthday boy pass out Mickey Mouse party hats when friends arrive.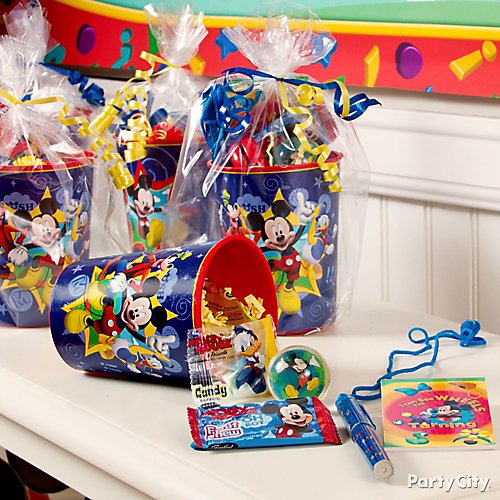 Idea 3: Fill up a cup o' Mickey Mouse favors!
This is one of our favorite Mickey Mouse party favor ideas because it's so easy and affordable but looks like you went all-out! Guests will giggle with glee when they see this reusable Mickey Mouse party cup overflowing with cool Mickey favors!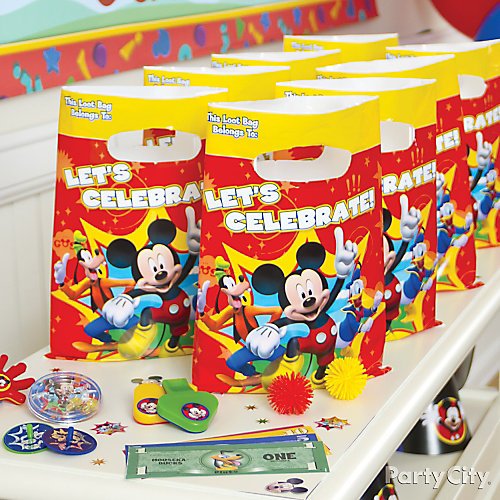 Idea 4: Finish Mickey favors in a flash with a value pack
If you're pressed for time when it comes to making party favors, pick up a Mickey Mouse favor value pack that includes enough favors for eight guests.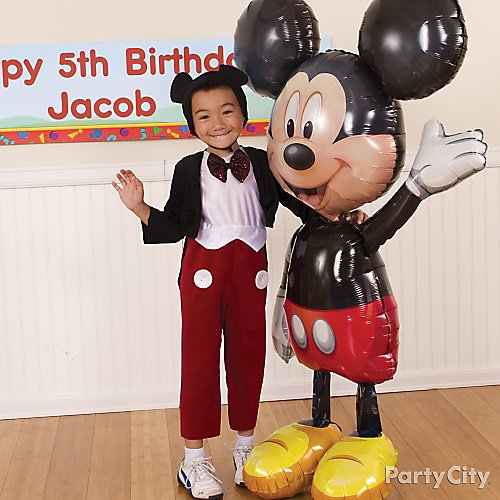 Idea 5: Snap the best party pix with a giant, gliding Mickey!
What's the easiest way to guarantee magical party photos and memories for your birthday boy and his friends? A larger-than-life gliding Mickey Mouse balloon! It's a perfect photo prop that gets kids smiling, giggling and posing!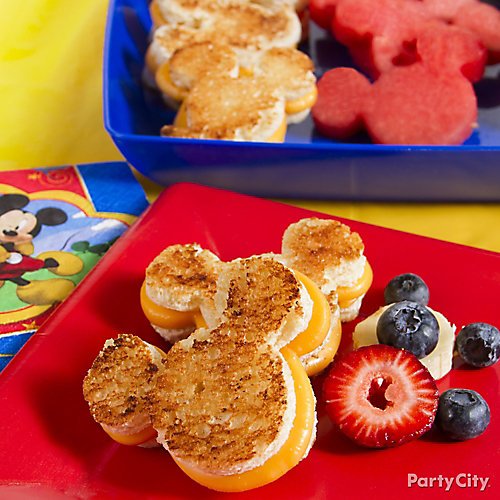 Idea 6: Make Mickey-shaped munchies
Your birthday boy will be thrilled when he sees the Mickey Mouse meal you've created. Use cookie cutters to make grilled cheese sandwiches and fruit slices shaped like Mickey! Serve your yummy creations on cute Mickey Mouse plates with matching Mickey Mouse napkins.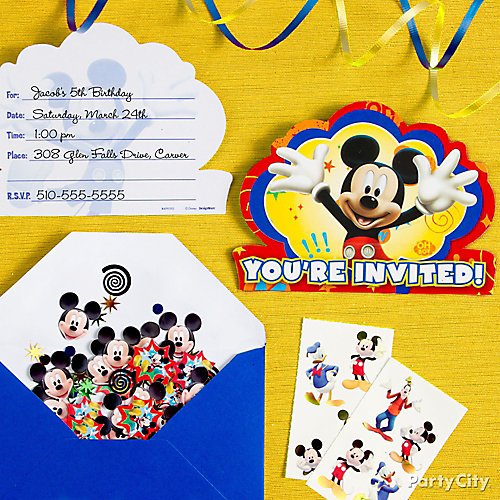 Idea 7: Add a secret party pass to your invites!
Give every guest a Mickey tattoo in your invitations and be sure to tell your guests to wear their new tattoo to the party as a secret pass!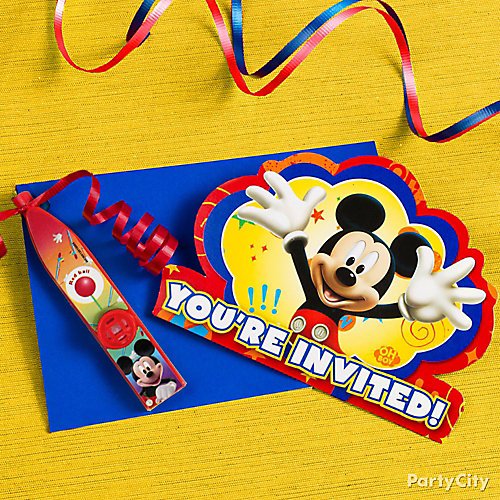 Idea 8: Hand-deliver invites with a Mickey favor attached!
You can make your guests feel special by hand-delivering your Mickey Mouse invites with a tie-on favor. Start by punching a hole in the corner of the envelope and attaching a favor with curling ribbon.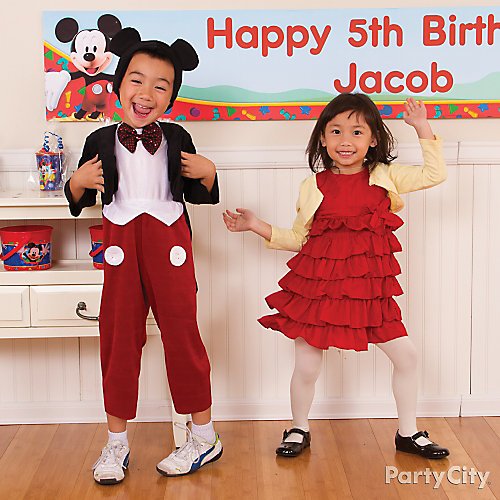 Idea 9: Spin a Mickey music CD for dancing or musical chairs
Kids love to dance to their favorite music, so why not have all your little Mousketeers start a dance party? Put on the Mickey Mouse Clubhouse CD, get them dressed up in Mickey wearable accessories and let them freestyle, or try a classic party game like musical chairs!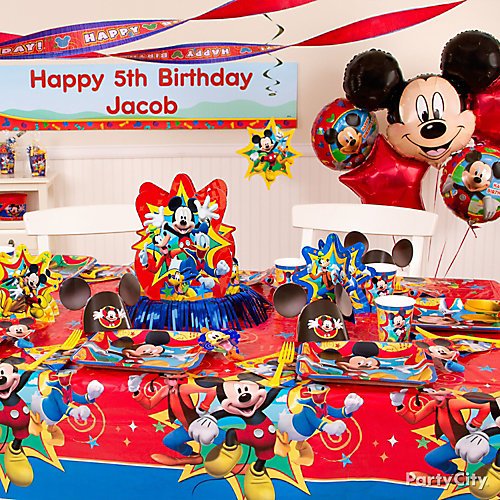 Idea 10: Make your Mickey's Clubhouse the coolest ever!
Themed tableware — plates, cups, napkins and a table cover — is a must-have. Add meeska-mooska Mickey magic with confetti and dazzling table centerpieces. Y'know what makes everything better? Favors, toys and party hats! Make sure there are plenty for guests to play with before snack time!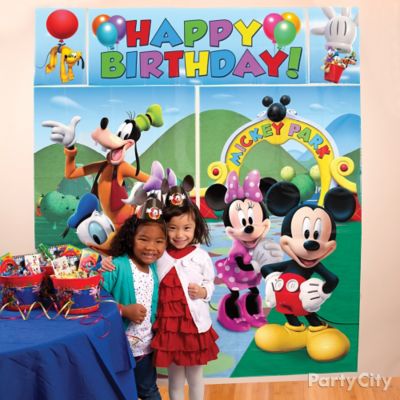 Idea 11: Set the scene for unforgettable Mickey Mouse party photos!
Create an instant Mickey Mouse Clubhouse photo backdrop with a Mickey Mouse scene setter! It's great for photo opportunities or just to add some extra Mickey magic to your party. You can instantly transform any room into a Mouseketeer play land!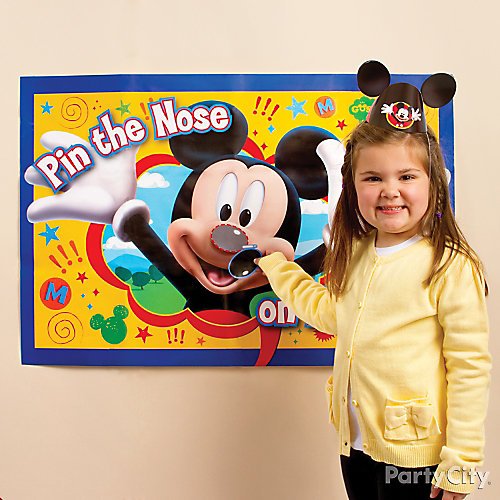 Idea 12: Pin the nose on Mickey Mouse!
Let players take a chance trying to stick Mickey's nose on his face! Just put up the Mickey Mouse game poster and let all your little Mouseketeers take turns.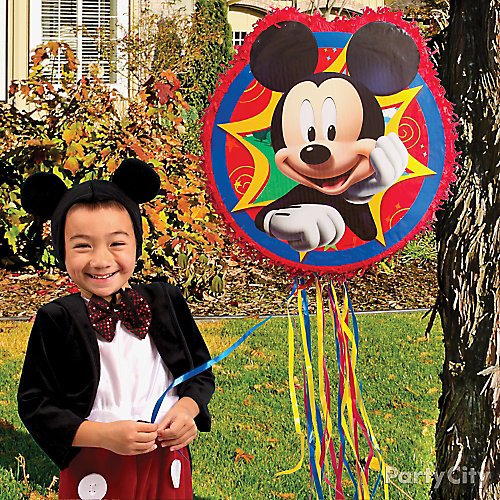 Idea 13: Put together a Mickey party pinata!
What's almost as fun as a visit to Disneyland? Pulling open a Mickey Mouse pinata filled with Mickey goodies that any child will love! A Mickey Mouse pull string pinata is a safe and fun way for younger kids to enjoy pinata time, too. Kids take turns pulling one ribbon each ... until the "magic" ribbon spills out the treats!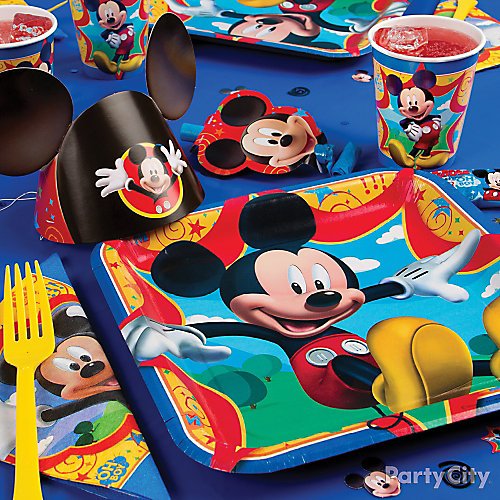 Idea 14: Set a Clubhouse table fit for a mouse!
The Mickey Mouse Clubhouse bunch loves to have fun – no matter what they're doing! Set the scene for Mickey Mouse party food and drinks with fun Mickey Mouse tableware and including Mickey Mouse ears and favors at each place-setting.