Mickey's a star, and so are these fruit treats!
Make Mickey the star with a sweet and tangy fruit treat that's fun to see and eat! Star Double Cut-Outs create the star-shaped pineapple background, then assemble Mickey with grapes and blueberries. For more fun, get dippin' to add extra sweetness to apples and strawberries.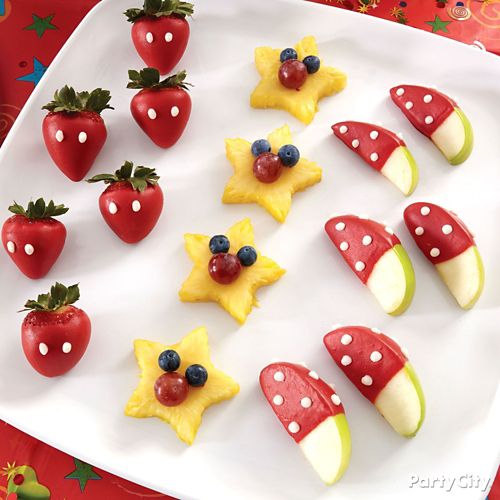 How-To
Ingredients:
For stars: pineapple, sliced 1/2 in. thick, red grapes, blueberries
For dipped fruit: washed and dried green apples and strawberries, lemon juice, red and white Candy Melts
Supplies:
For stars: Star Double Cut-Outs Set ("A" cut-out used), knife
For dipped fruit: microwave-safe container, knife, waxed or parchment paper, cookie sheet, 12 in. Disposable Decorating Bags. food-safe scissors
1) Make fruit stars
Use straight side of cut-out to cut pineapple star background. Use knife to trim grapes and blueberries so each has a flat side. Lay pineapple flat. Position grape head and blueberry ears, flat side down, on top of pineapple.
2) Make dipped fruit
Melt red Candy Melts candy in microwave-safe container according to package directions. Cut apples into wedges. Brush lightly with lemon juice to prevent browning. Let dry before dipping. Dip apple wedges and strawberries halfway into melted red candy. Place on waxed paper-covered cookie sheet. Chill until firm, about 10 to 15 minutes. Melt white Candy Melts candy in disposable decorating bag according to package directions. Cut small point off of bag. Use melted white candy to pipe two small oval buttons on front of each strawberry, and dots on red part of apples. Chill until firm, about 3 to 5 minutes.