A tower of Clubhouse-approved cupcakes!
Serve up Mickey Mouse mouthfuls with these darling cupcakes! Your treats will be irresistibly cute in matching Mickey Mouse baking cups and cupcake picks on a printed cake stand. Check out our Mickey Mouse Cupcake Tower How-To below for easy tips to decorate these tasty treats.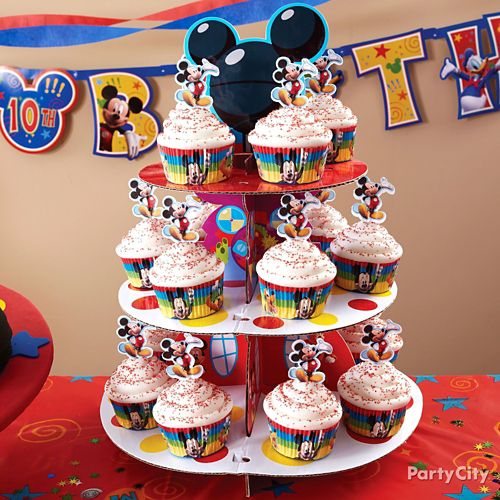 How-To
Ingredients:
Favorite cupcake mix or recipe
4.5 lb. White Ready-To-Use Decorator Icing
Red Colored Sugar
Supplies:
Mickey Mouse Clubhouse Baking Cups
Standard muffin pan
12-Pc. Cupcake Decorating Set (Tip #12 and disposable decorating bag used)
Food-safe scissors
Mickey Mouse Cupcake Picks
Mickey Mouse Cupcake Stand
1) Make cupcakes
Prepare batter following recipe directions and bake in Mickey Mouse baking cups. Cool.
2) Decorate cupcakes
Use tip #12, cut disposable decorating bag and icing to pipe swirl on cupcake tops. Sprinkle red sugar on cupcake tops. Insert picks.
3) Assemble stand
Assemble cupcake stand according to package directions. Position cupcakes on stand.