Make like a mouse and say "cheese!"
Assemble ear-resistible appetizers! Whip up marvelous Mickey bites with the help of our Mickey Mouse Crackers and Cheese How-To below. Butter crackers and cheese slices are a yummy appetizer to serve alongside sweets.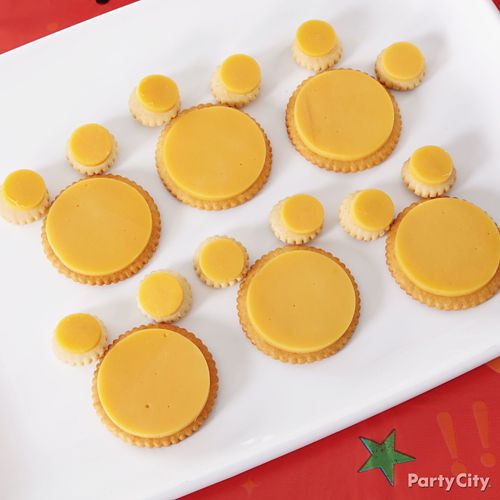 How-To
Ingredients:
American cheese slices
Oyster crackers
Butter-flavor round crackers
Supplies:
Star & Round Decorating Tips #3/#16 (Tip #3 used)
Round Double Cut-Outs Set ("D" cutter used)
1) Cut cheese slices
For ears, use wide end of tip #3 to cut two cheese circles for each snack. For face, use straight edge of "D" cut-out to cut one cheese circle for each snack.
2) Assemble Mickey
Position cheese ears on oyster crackers. Place cheese face on butter-flavor round cracker. To serve, position ears along top edge of head.