Serve this cool cake at your Mickey Mouse Clubhouse
Forget cheese... your Mouseketeers want cake! They'll smile ear to ear when you bring out a marvelous fondant cake decorated Disney-style. And don't forget: an official Mickey cake needs official Mickey Mouse tableware and birthday candles. Check out our Mickey Mouse Fondant Cake How-To below for decorating details!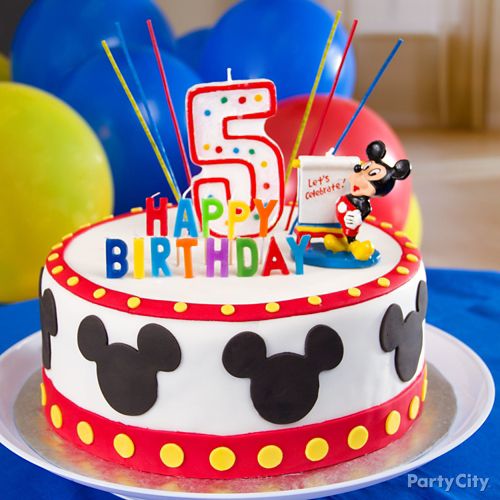 How-To
Ingredients:
2 - 10 in. cake rounds
Buttercream icing mix
Pre-rolled white fondant
Pre-rolled black fondant
Pre-rolled red, blue and yellow fondant (in set)
Supplies:
Mickey Mouse and other birthday candles
Happy Birthday toothpick candles
Sparkling candles
Number candle
Mickey Mouse cookie cutter set
Fondant roller
Fondant smoother
Pizza cutter or paring knife
16 in. round cardboard platter
1) Ice cake
Serve a clubhouse-worthy cake! First prepare your cake for the fondant by icing it with a layer of buttercream icing.
2) Cover cake with fondant
Roll out the white fondant, place over the cake and smooth the surface with a fondant smoother. Trim off excess with a pizza cutter or paring knife.
3) Create mouse silhouettes
To make the black mouse ears, roll out your black fondant and use a Mickey Mouse cookie cutter to cut the shapes. Set your mice aside on a flat surface.
4) Create borders and dots
To create the red bands with yellow dots, roll out the red and yellow fondant. Use a small round cookie cutter or a paring knife to cut out the dots. Cut the red strips with a pizza cutter or paring knife. For another fun way to do the yellow spots, try yellow chocolate drops or Sixlets® – just "glue" them on with royal icing.
5) Attach borders and dots
Dab the fondant with water to adhere to the cake. Add the red strips then the yellow circles (or candy).
6) Top with candles
Add a colorful array of birthday candles to complete this adorably Disney cake. The birthday boy will be thrilled to blow them out!