Cupcake roses + paper flowers = sweet fiesta centerpiece
Take time to eat the roses – cupcake roses! To make this delicioso edible "bouquet," place some craft foam inside a clear container and decorate the sides with stripes of licorice (available at stores). The cupcakes are held in place by bamboo skewers stuck into the foam! Use colorful baking cups and tuck in pink and red paper flowers for a perfecto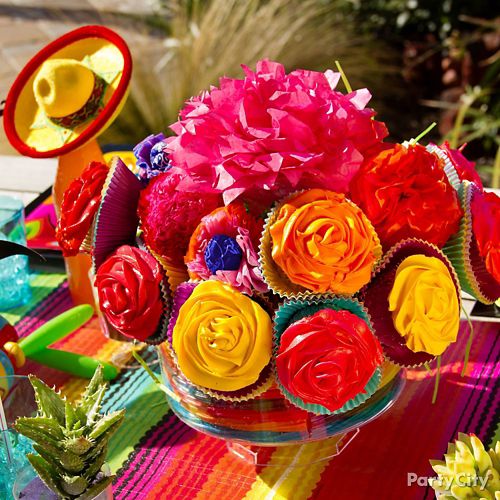 How-To
Supplies:
Clear trifle container
Rainbow Twizzlers(R) licorice*
About 12 cupcakes
1M tip and hues for icing
Colorful baking cups
Assorted colored tissue paper
Citrus-green curling ribbon
Bamboo skewers
Green shred
Craft foam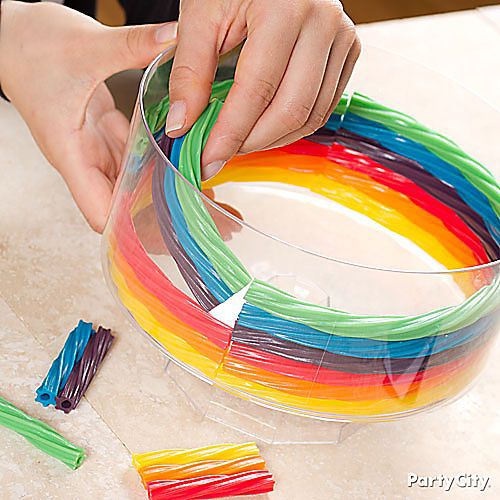 1) Create the base
Line the inside of the container with Rainbow Twizzlers (it's okay to snack on a few as you go!). Place a chunk of craft foam in the center.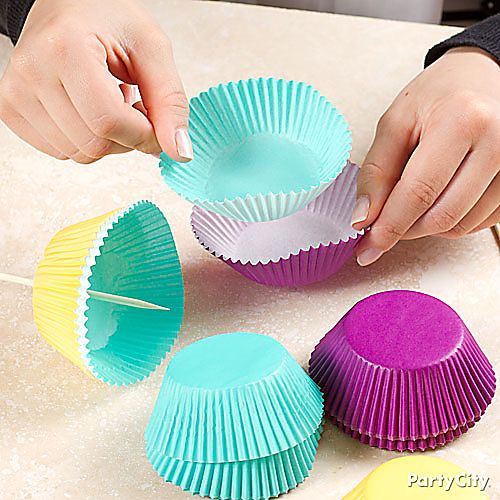 2) Stack baking cups
Time to have fun with color! Choose several colors of baking cups to pair up in fun combinations. To create the top layer, flip a baking cup inside out so the color is on the inside of the cup. Stack on top of a baking cup in a contrasting color.
3) Make cupcake skewers
Cover skewers with Twizzlers in different colors. Poke a skewer through the center of the baking cups so that about 1.5" of the skewer comes through. Secure with tape underneath the baking cups. You can trim down several skewers at this point if you'd like to create a variety of heights. (Don't place cupcakes yet!)
4) Place skewers in foam
Plant your "rose stems" into the foam, leaving some room to add tissue paper flowers later.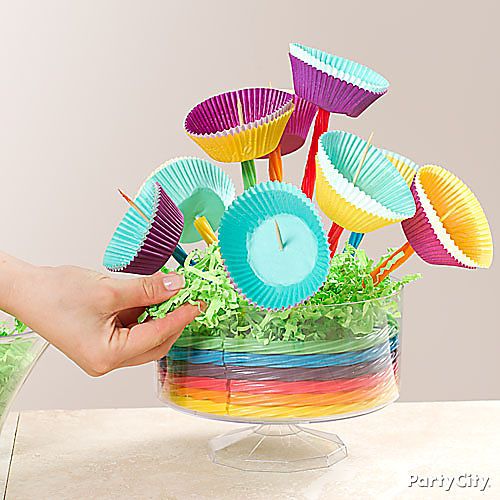 5) Fill with shred
Cover the foam with green paper shred. Your cupcake garden is about to bloom!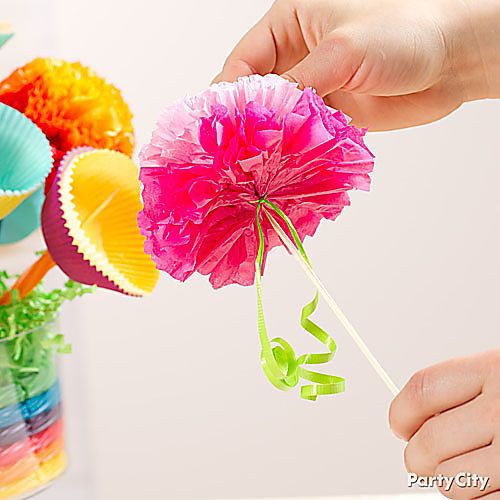 6) Add paper flowers
To make these vibrant paper flowers on bamboo skewers, see our Tissue Paper Flowers How-To. Make 3 or 4 in your favorite colors. You can cut your flowers down with scissors for a perfect fit!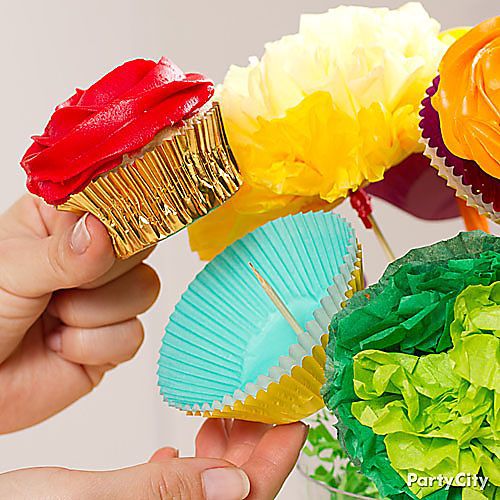 7) Add cupcakes
For the rose petal icing effect, tint 3 batches of buttercream icing yellow, orange and red. Decorate with icing tip 1M (comes in Wilton's 25-pc. Set). Note: Carefully add the cupcakes by alternating from side to side (this prevents the base from tipping!). You'll also want to keep your cupcakes out of direct sun.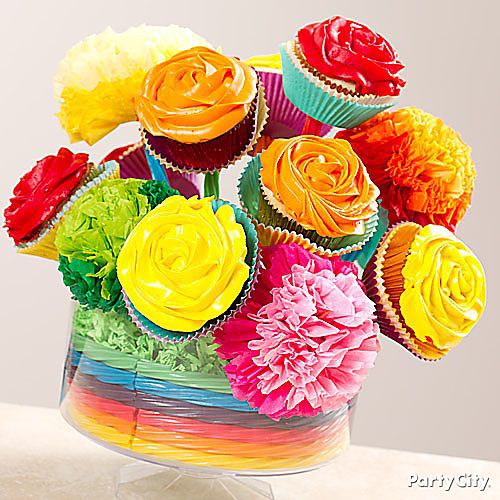 8) Show it off!
Time to eat the roses... cupcake roses! Display your gorgeous centerpiece for all to see, and let them eat it up to end the party on a sweet note!