A fiesta theme works for all types of parties in the summer months. When planning a fiesta-theme celebration, you can find inspiration in colorful paper plates and decorations. Browse this idea gallery to see how you can set the scene with a south-of-the-border feel. On-point trends like DIY succulent favors, colorful Mexican soda bottles on the table, and a bandana garland make your party one-of-a-kind and fun for all.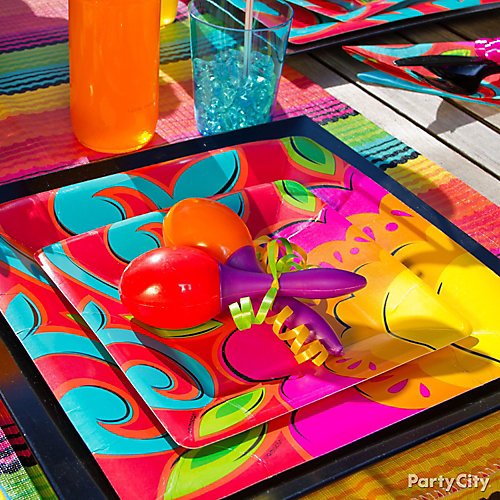 Idea 1: Shake up your table settings with maracas on every plate!
Make each place-setting magnifico with maracas! First, make your plates pop by stacking two brightly hued fiesta plates on top of a square black charger. Tie two mini maracas together with coordinating curling ribbon in kiwi green and bright orange. After the conga line, your amigos can shake them all the way home as fun party favors.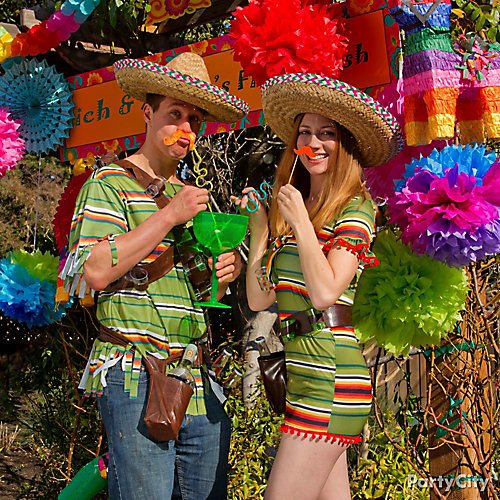 Idea 2: Eat, drink & be merry under a colorful fiesta arch!
Create a festive fiesta archway for your friends to salsa dance under! Hang up a Fiesta Caliente banner printed with a custom message and surround it with fluffy decorations, pinatas and large paper fans. Señores and señoritas will feel right at home standing under the rainbow of fiesta colors in their Cinco de Mayo costumes with margaritas in hand. You'll need a siesta after this fiesta!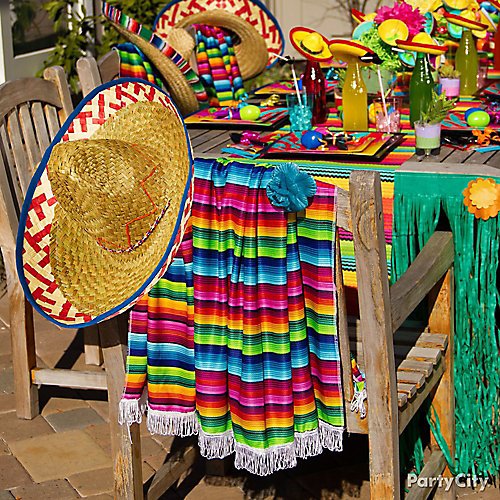 Idea 3: Serapes and sombreros make excelente decor!
Get everyone dressed in fiesta funwear – including the furniture! Snazz up the table with a tropical fringe tableskirt and decorate chairs with serapes. Add sombreros and fabric flowers for extra south-of-the-border charm. Everything can double as party props and wearable accessories for your guests – tell them to let loose and shake their maracas! Find more sombreros and flower hair clips at your store.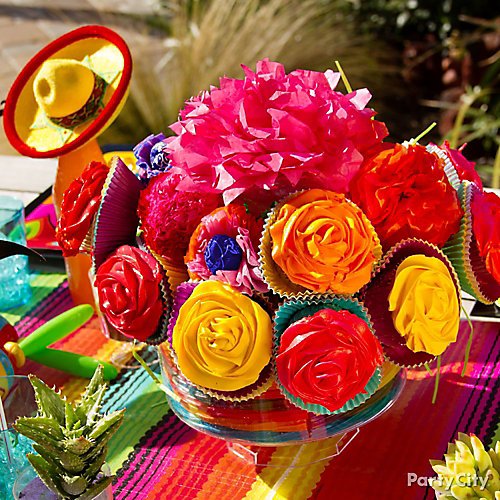 Idea 4: Cupcake roses + paper flowers = sweet fiesta centerpiece
Take time to eat the roses – cupcake roses! To make this edible "bouquet," place some craft foam inside a clear container and decorate the sides with stripes of licorice. Use multiple layers of colorful baking cups, add a skewer and insert into the foam. To create the roses from icing, use a 1M icing tip. For a fiesta feel, make a few small DIY paper flowers from tissue paper and tuck in to fill in the spaces.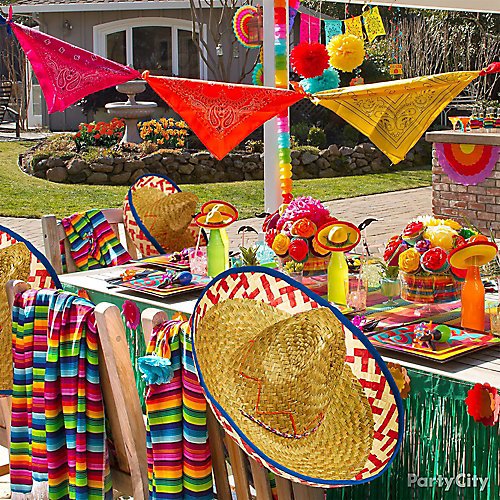 Idea 5: Well-chosen elements take your table to the next level
For an on-point fiesta tablescape, string up a colorful bandana bunting over a table styled with sombreros, serapes and Mexican soda bottles. Mini sombreros, maraca favors and moustache straws create a celebratory tone. Hanging decorations like fluffies and traditional papel picado (cut paper) garland add a rainbow of saturated color.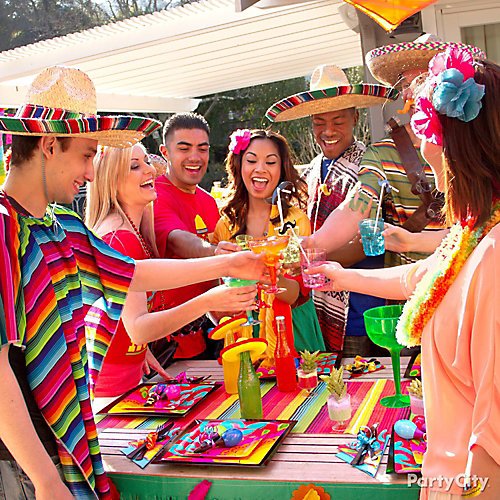 Idea 6: Make it a party with colorful fiesta glasses
Your cantina will be the new hot spot when you serve up margaritas, tequilas, sangria and agua fresca in stylin' fiesta-bright shot glasses, tumblers and margarita glasses. Hand out moustache straws so the señores and señoritas can get their 'stache on!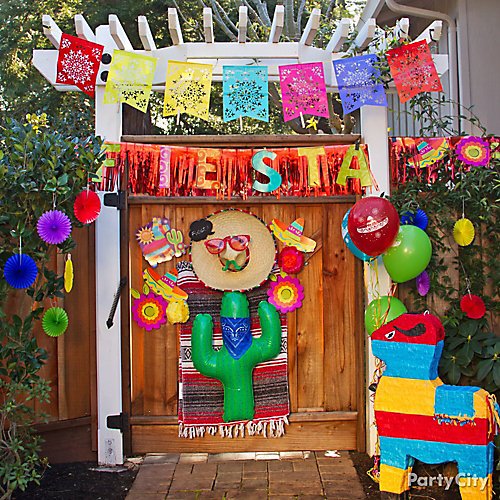 Idea 7: Say mi casa es su casa with an explosion of fiesta color
This festive welcome will get your friends dancing through the front gate. Stand up a giant bull pinata at the front walk to set the scene for a day in Mexico. They'll know where the fun is when you string up a metallic fiesta banner and a pretty garland of papel picado. Dangle little fans here and there and give el toro his own bouquet of helium balloons in Cinco colors.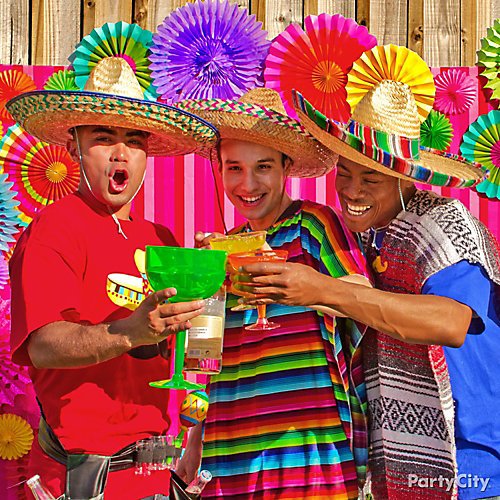 Idea 8: Make a grande toast with oversized margarita glasses
Amigos, musica and margaritas… this is the life. Add to the festivities by stocking the bar with colorful jumpo margarita glasses. Have extra serapes and sombreros for photo booth shenanigans.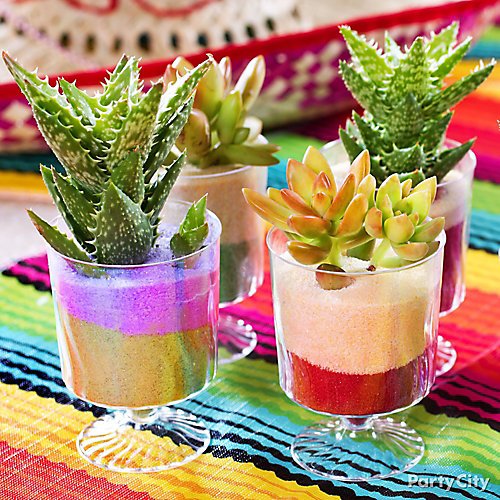 Idea 9: Succulents and sand in mini cups How cute is that?
Here's a fun idea you may not have thought of, and it's super-easy! Place layers of colorful sand in clear pedestal cups and stick in little desert plants like succulents and cacti. Place these cuties around the table for a dynamic display, then send them home with your amigos. They will remember the fun and enjoy your creativity.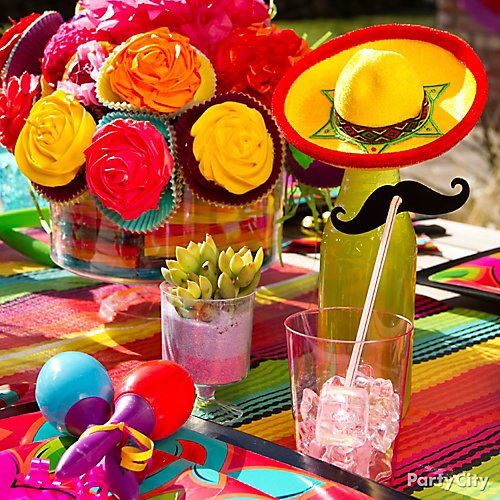 Idea 10: Sombreros for all – even the beverages!
It's impossible not to get into the fiesta spirit when even the sodas are wearing sombreros! Jarritos are authentic Mexican-made sodas in glass bottles with colors as bright and refreshing as the flavors – and they're available at your local grocery store! Dress them up in mini sombreros and place around the table next to glasses with moustache straws. Treat each guest to mini maracas tied with ribbon and a succulent in sand – perfect little party favors. !Muy bien!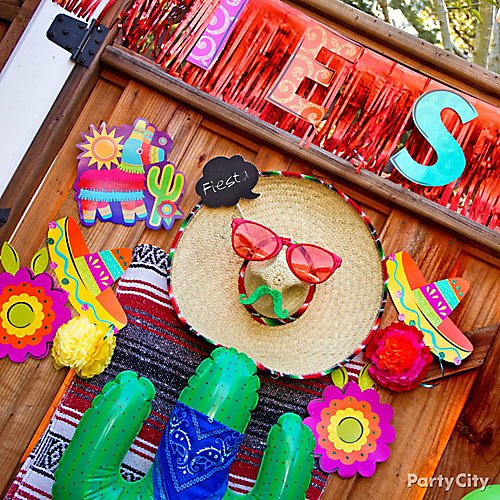 Idea 11: A funny sombrero face for the front gate!
Guests will know they're in the right place to party with this silly sombrero guy out front! Stick giant sunglasses and a colorful moustache on a sombrero and perch red sunglasses above the mustache – instant amigo! Decorate it up with a serape, bright paper cutouts and flowers, a big fiesta banner and a chalkboard sign on a stick.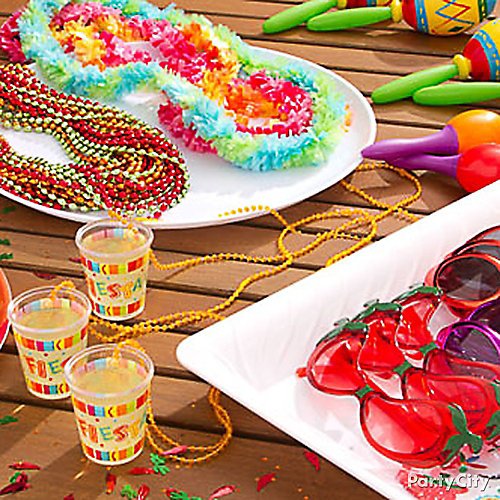 Idea 12: Kick off the celebración with fiesta accessories
Give everyone silly accessories to get their fiesta on! Spicy novelty glasses shaped like chili peppers, shot glass necklaces and maravilloso maracas will get everyone shaking it as soon as they arrive. Leis and beads in vibrant fiesta colors are great for layering and go with every outfit!