If you're planning a fiesta or Cinco de Mayo celebration, you can use one or all of these colorful ideas to create a vibrant dessert table filled with sweet treats. Explore our ideas like mini cupcakes displayed in margarita glasses brimming with candy, beautiful candy favors inspired by the Mexican flag, and clever cookies in the shape of tacos and teensy somberos. Have fun decorating with bright paper fans and tissue flowers, serapes as table covers and a sprinkling of colorful confetti.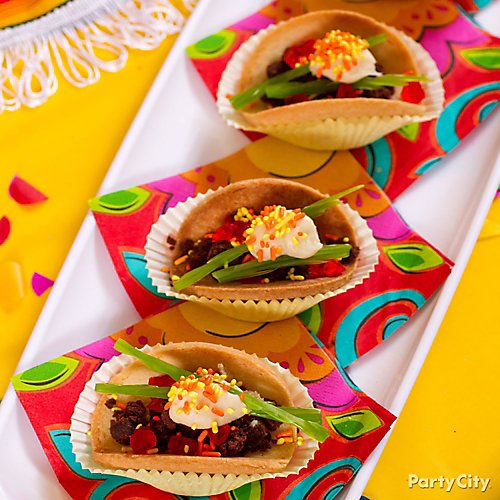 Idea 1: These dessert "tacos" have a sweet twist!
Get them talking with savory-looking tacos that are actually made of sweet treats! Make sugar cookie taco shells by shaping cookies straight out of the oven with aluminum foil. Set up a taco bar of everyone's favorite dessert fixin's like crushed brownie "beef," cut-up red gummy worms as tomatoes, and green licorice "lettuce." Add a dab of fluffy white frosting "sour cream" and orange and yellow sprinkles as shredded cheese – muy delicioso!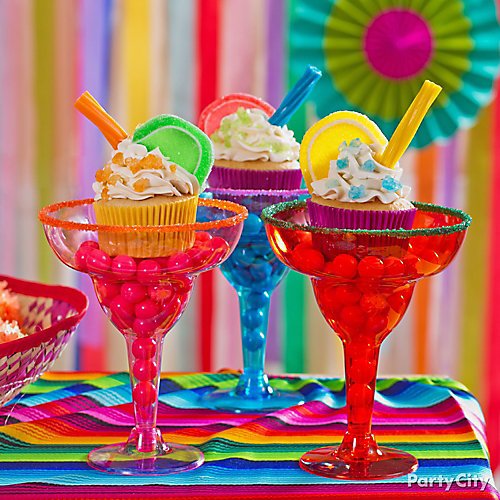 Idea 2: Sweet display for muy bien margarita cupcakes
Try this combination of a stiff drink and a sweet treat! Bake your cupcakes in bright baking cups, then sprinkle broken-up rock candy over the frosting with a gummy fruit slice and a colorful rainbow Twizzler "straw" (available at Party City stores). Display your cupcakes in colorful plastic margarita glasses with sugar sprinkle rims and Sixlets® fillings. Mmm-margaritas!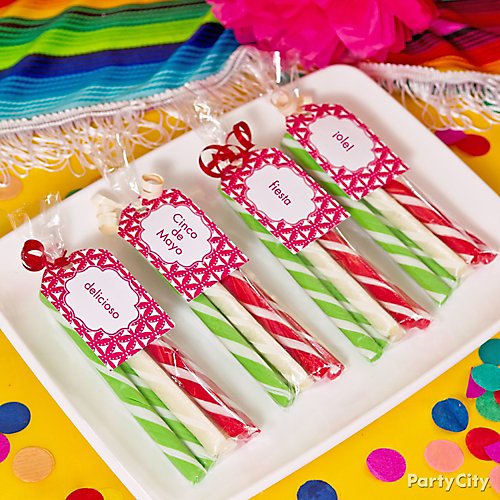 Idea 3: Cinco-style candy favors inspired by the Mexican flag
Viva candy favors in green, white and red! If you're crafty, you'll love making DIY tags that give a custom look to your party. You can use online templates to type fun fiesta phrases like ¡olé! and delicioso, and print the labels out on your printer. You can also handwrite them so everyone can bring some fiesta home.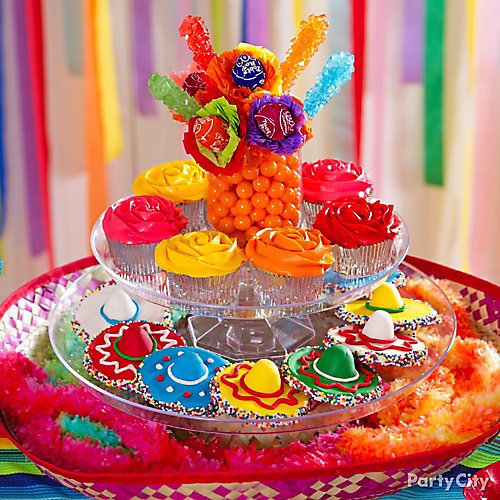 Idea 4: Sweet sombrero!
Yum. Dessert never looked so good! This DIY idea will be the numero uno attraction on the dessert table. It's super-easy to make: just snip off the top of a straw sombrero and place a large cake stand inside the hole with a slightly smaller stand on top. It's the perfect way to display your cookies, cupcakes and candy. Your amigos will eat it up!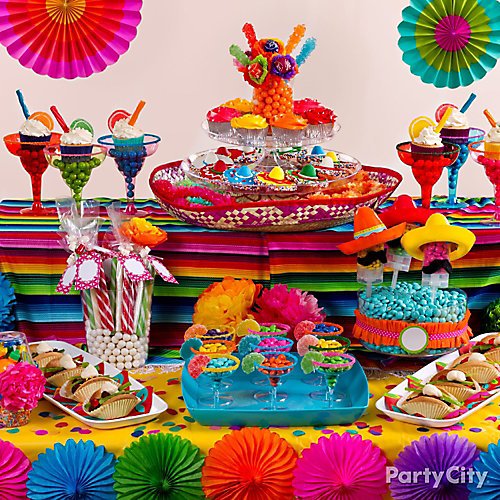 Idea 5: Make the table muy caliente!
It's easy to prepare a colorful feast for the eyes with mix-and-match solid-color decorations. These desserts are already vibrant and beautifully decorated, so we kept the table simple with a yellow tablecloth and matte solid-color round paper fans and confetti.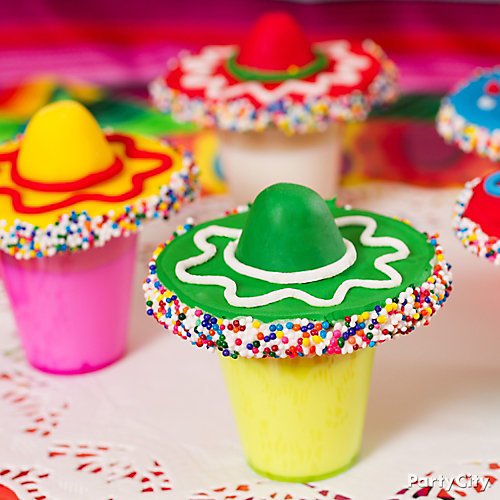 Idea 6: Make sombrero cookie & milk shooters!
You'll want to do the hat dance for these milk and cookie treats! To make, take a cooled batch of sugar cookies and pipe royal icing along the border, then thin your icing and flood the center. While the cookies dry, make the crown of the hat by dyeing a gumball-sized portion of fondant to match the color of the cookie and attach to the center. Pipe decorative lines on the cookie "brim" and roll the edges in sprinkles, then place on top of bright shot glasses filled with milk or horchata.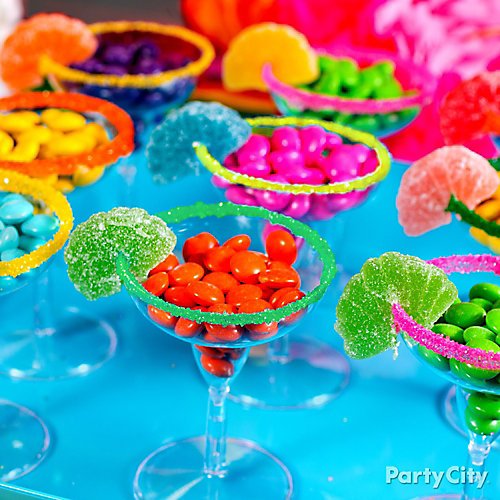 Idea 7: Cinco de mini candy margaritas!
Your mini candy margaritas will disappear fast, especially when you dip the rims in yummy sugar sprinkles. For the candy, chocolate drops work great, or you can also use mini gumballs or Sixlets®. (Visit your Party City store for an awesome selection of candy). Add a gummy fruit slice on the rim and raise your glass!