Dive into these DIY Mermaid ideas for your birthday or baby shower shell-abration! The deep waters of inspiration will flow with decorations you can make right at home. Seas the day to create the mermaid fantasy of your dreams with a themed table setting, photo props, balloon decorations, centerpieces and favors. Get all the mermaid party supplies you need to make a splash!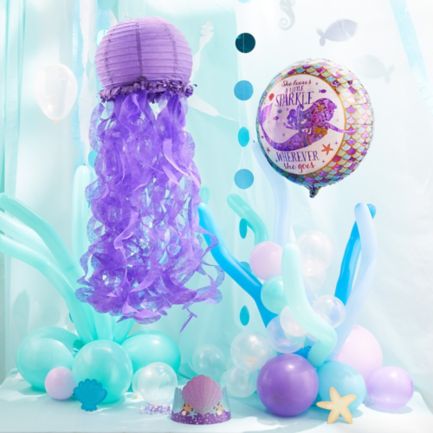 Under the sea balloon scene
Create an underwater world of wonder with a jelly fish lantern, twist balloons (twisted slightly to resemble aquatic plants), round latex balloons in blues and purple and a hanging decoration, cut-outs of starfish and seashells and a foil mermaid balloon. This scene makes a stunning photo backdrop to snap all your mermaid party memories.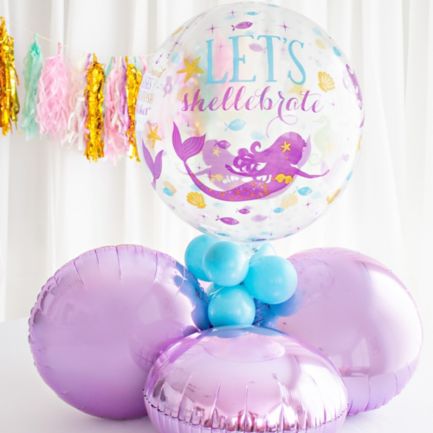 Magical mermaid balloon centerpiece
Plunge into the deep waters of DIY inspiration with this mermaid themed balloon arrangement. The centerpiece is held upright using a balloon stick, so no helium is needed. The balloon stick is hidden by a base layer of lavender mylar balloons tied together. The second layer of blue latex balloons are tied together in knots to form a cluster, then tied around the balloon stick with fishing line or thread.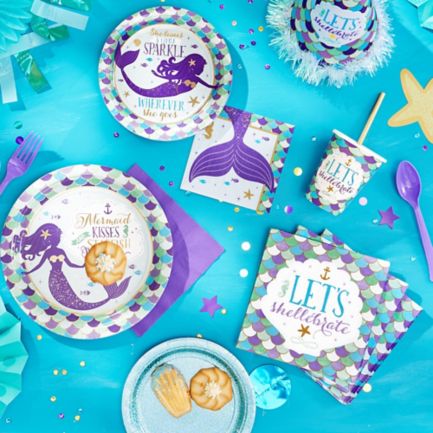 Tail flipping tableware
Set a table fit for a mermaid with themed plates, cups, napkins and cutlery. The bright colors the illuminate party atmosphere with upbeat party vibes. The beautiful designs create shareworthy photos that will last a lifetime!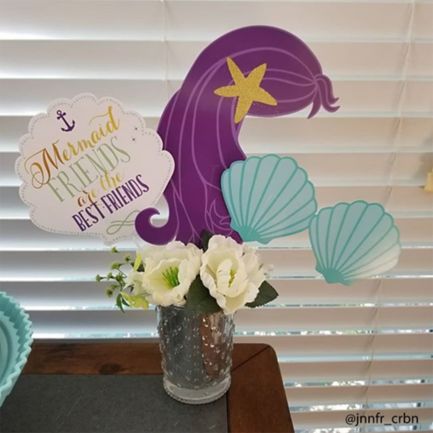 Photo prop flower arrangement
Think outside the vase with this super simple decoration. Create a floral arrangement that includes fresh flowers with photo booth props! This unique idea is a must-do DIY!
Fishing net decoration
An easy way to elicit the look and feel of the sea is to add a net to your balloon decoration. Pearl, iridescent and gold confetti filled balloons covered with white fishing net is a simple way to catch an amazing reaction from your party guests! You can't go wrong with balloons, they take style to new heights.
Let your imagination fly! 
Irresistible iridescence
Make waves with a shimmery iridescent table setting and decorations. Iridescent balloons, plates and cups, and hanging decorations transport your guests to a magical underwater world where their cares drift away as they enjoy the day!
Shop for sparkle and shine
Fun with mermaid favors
Tell your party guests "sea you later" with party favors they can treasure as keepsakes! Fill mermaid favor bags or containers with goodies that will remind them of the magical day they shared with you.
Create fantasy with favors