Wearing new pajamas on Christmas morning is a popular holiday tradition, but if your social media feed is any indication, it's clear that holiday PJs are perfect all season long. Everyone and their dog is dressing in comfortable and cuddle-worthy family pajamas—famjams for short. With the variety of prints, patterns and colors, it's no wonder that Christmas pajamas are the perfect outfit for getting your tribe decked out in holiday style and embracing the merriment of the season.
Stuff the stuffy formal attire and get jamming with jammies—here are seven reasons why family pajamas are a must for holiday photo cards, events, and of course, Christmas morning.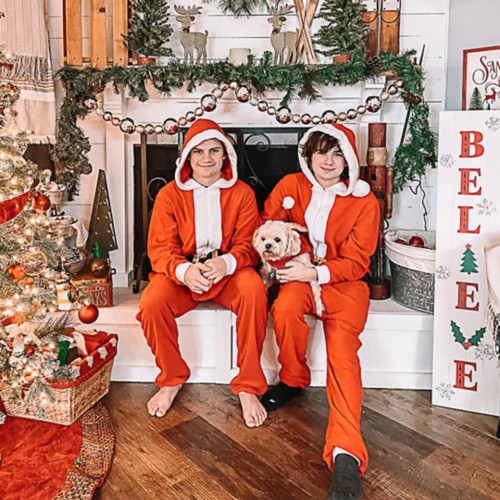 Reason 1: DIY Santa Photos
I knew I needed an alternative idea for Santa photos, and Party City did not disappoint! The Zipster Santa One Piece Costume is perfect for family photos this year, and ridiculous Christmas parties next year! I ordered each of the boys onesie style Santa jammies, a sweet BELIEVE sign, pine needle garland, and a beautiful strand of gold ornament garland. Then, I asked them to dress up and sit in front of the cozy fireplace. The boys were so silly in their new jammies, and I am in love with our new family tradition!
Reason 2: An excuse to dress up as a character
Thought dressing up in costume was only for Halloween? With Christmas pajamas like these Grinch onesies, you get comfortable and in character. Each one-piece has a curmudgeon-dy saying, menacing eyes on the hoodie and a feathery tuft of hair—all creating the perfect look for your fam to steal the holiday spotlight.
Reason 3: Embrace the love-hate (but love!) of the holidays
Christmastime is the most joyous time of the year, but let's admit it, it can also be stressful. Shopping for presents in crowded malls or weaving through parking lot traffic to get to holiday parties can make anyone feel a bit grinchy. Pajamas like these reflect what we love and hate (but mostly love) about the holidays. The striped pattern in red, white and green is a nod to the classic look of Christmas PJs, and the Grinch's grumpy phrases on the pajama shirts pretty much says it all. Every who down in Whoville and beyond will agree: this famjam idea makes the Grinch look good.
Reason 4: Get away with wearing pajamas all day
We know you wish you could wear pajamas all day—or maybe you already do. With a trendy pattern like buffalo plaid, no one will think it's out of place! A checkered black and red pattern is pretty much synonymous with getting cozy and comfortable during the wintertime. Your family could wear these PJs all day and no one would think they just rolled out of bed—the jammies look that fashionable!
Reason 5: Sassy sayings sum up your life
Bear cubs keeping you awake at night? And when we say bear cubs, we mean children. The saying "bearly awake" for adult pajamas and "wide awake" for the kids embody what life is like even though you wish you could hibernate in peace.
Reason 6: Teamwork makes the (Christmas) dream work
Keep things merry and bright by showing them what your squad is all about—team Santa! The playful pattern of holiday lights keeps your family looking festively coordinated, but what will make your Christmas card totally lit is holding a string of holiday lights as you pose for a photo op.
Reason 7: Be abominably cute
These one piece jammies show your family is ready—ahem, yeti—for anything this holiday, even dressing up as a cozy abominable snowman. They're perfect for a quick holiday photo op as a family of yeti playing in the snow or just getting cozy by the fireplace. When it comes to go big or go home, these PJs show you can do both.
Reason 8: Embrace new traditions
Show them your team has spirit, as in Christmas spirit. The Elf on the Shelf tradition is a story about a Scout Elf visiting the home and then reporting on the family's adventures to Santa. For parents, the tradition means setting up a Scout Elf doll in different poses or scenes every day throughout December. Have your family show support for your Scout Elf with team gear—and by team gear, we mean matching family pajamas. You can even turn your littlest one into a Scout Elf-in-training by having him or her wear a Santa hat.
Give "I-woke-up-like-this" a holiday makeover. Matching family Christmas pajamas are just the thing to fully embrace the coziness of the season with the people you love.