Cute edible daisies on pretty pink marshmallows!
Satisfy your sweet tooth with these adorable marshmallow pops. Make the base with a clear flared container filled with green and blue paper shred, and follow our How-To below to complete this treat. Delicious!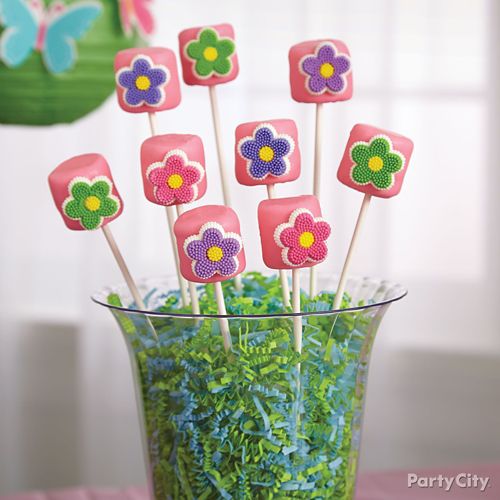 How-To
Ingredients:
Bright Pink Candy Melts® Candy (12 oz. makes 24 treats)
Large Marshmallows
Supplies:
Dancing Daisy Icing Decorations
8 in. Lollipop Sticks
1) Dip marshmallows
Melt bright pink Candy Melts candy in microwave-safe bowl according to package directions. Insert sticks in marshmallows. Dip marshmallows in melted bright pink candy. Tap stick gently against side of bowl to smooth and remove excess candy. Insert stick in craft foam block. Chill until firm, about 10 to 15 minutes.
2) Attach icing decorations
Use a knife to spread a small amount of melted bright pink candy on back of icing decorations. Attach icing decorations to marshmallows. Chill until firm, about 3 to 5 minutes.
3) Assemble display
Cut craft foam block to fit and place in serving bowl. Fill bowl with plastic grass or paper shred. Insert sticks in craft block.