Marshmallows + candy sticks + chocolate drops = yum!
These Candy Melts®-dipped marshmallows create a delicious ambiance as party snacks or dessert – maybe even add one to a gingerbread house. Recreate this Christmas discovery in your kitchen by following the how-to below!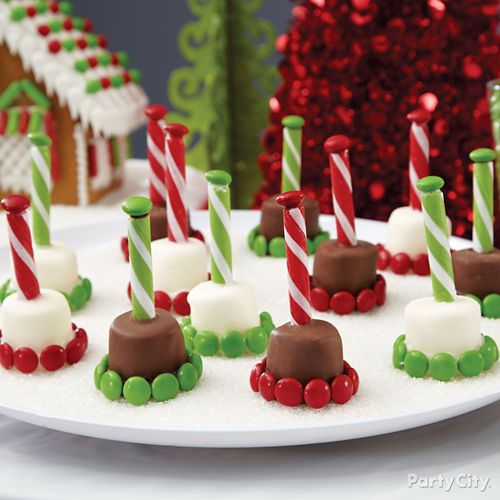 How-To
Ingredients:
Red and green candy sticks
Marshmallows
White Candy Melts® Candy (12 oz. makes 30 to 32 treats)
Light Cocoa Candy Melts® Candy (12 oz. makes 30 to 32 treats)
Red and green candy-coated chocolates
Supplies:
Knife
Microwave-safe bowl
Waxed or parchment paper
Cookie sheet
12 in. Disposable Decorating Bags
Food-safe scissors
1) Dip marshmallows
Use knife to cut green and red candy sticks to about 3 in. long. Insert cut end of stick into top of marshmallow. Melt white and light cocoa Candy Melts candy, separately, in microwave-safe bowl, according to package directions. Dip marshmallows in melted candy. Tap to smooth and remove excess candy. Place upright on parchment paper-covered cookie sheet. Chill until firm, about 10 to 15 minutes. Place remaining melted candy in disposable decorating bags, use scissors to cut small point off of bag.
2) Attach candy drops
Use melted white or light cocoa candy to attach chocolate drops around base of marshmallow and at top of matching-color candy stick. Chill until firm, about 3 to 5 minutes.