Explore madcap ideas for decorations, food ideas and more! Follow us down the rabbit hole for a Wonderland party! Is it your unbirthday today? Host a bright and zany Mad Tea Party unique enough for any occasion. We added touches from Alice in Wonderland to each of these ideas, from cookies and fruit mason jars to dipped pretzels and a magical taller-smaller iced tea idea. You may find this is the kind of party that's not just fun to attend—it's fun to throw, too! Looking for more tea party inspiration? It's here.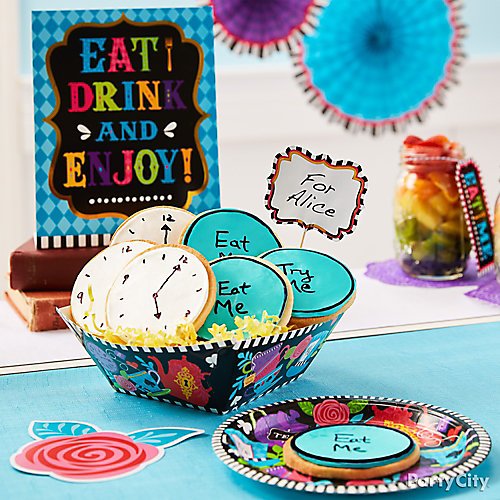 Idea 1: Decorate "Eat Me" cookies
How delightful! Decorate round sugar cookies with cookie frosting and let harden, then use a piping bag to write Eat Me, Try Me, or Take One to match Alice's classic cookies, or draw little clocks like the White Rabbit's pocket watch!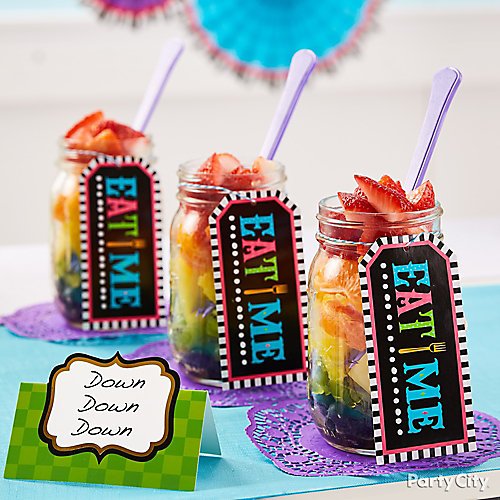 Idea 2: Serve colorful fruit cups
One look at these colorful fresh fruit cups and everyone will want them to go down, down down the hatch! Layer fruit in a mason jar and serve them on doilies with forks and large Eat Me tags.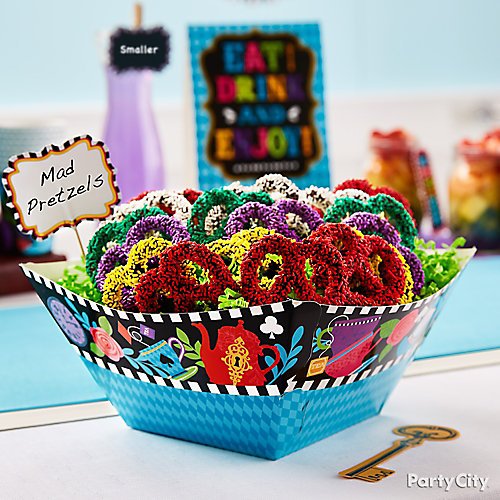 Idea 3: Go mad for this sweet and salty combo
These sprinkle-dipped pretzels are crazy easy, and taste so good you'd be mad to only eat one! Dip a pretzel twist in chocolate Candy Melt and use a fork to remove it, letting the excess drip off. Place on wax paper and cover in sprinkles. Use multiple colors to complete the look!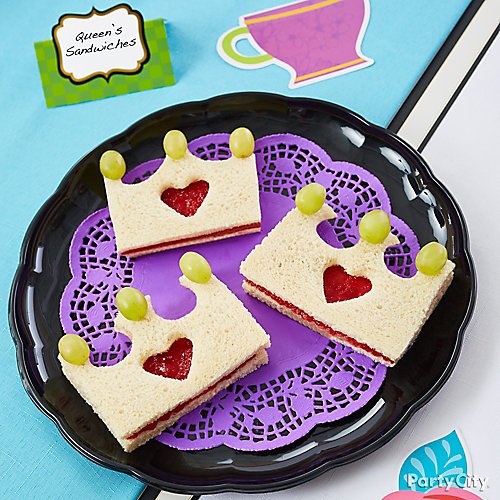 Idea 4: Snacks fit for a Queen (of Hearts)
Turn simple jam sandwiches into whimsical crowns using a knife and heart cookie cutters, then adorn them with green grapes as jewels! Throw in a pop of royal purple by plating them on top of a vibrant doily. These sandwiches will be snatched up and eaten faster than you can say "off with their heads!"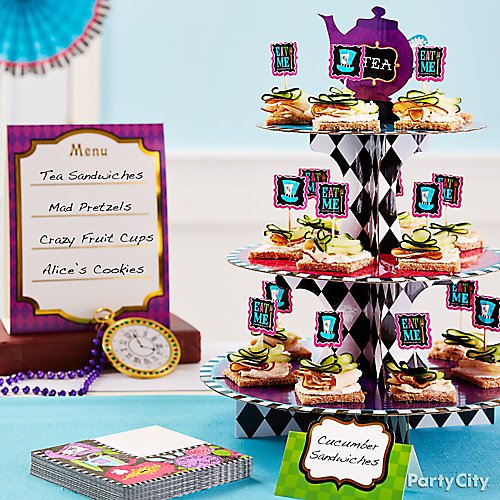 Idea 5: Serve cucumber tea sandwiches
The only thing better than sipping on a cup of your favorite tea is pairing it with a savory tea sandwich! Spread cream cheese onto small squares of rye bread, then hold turkey and cucumber on top with a cute Eat Me pick. Stack up your sandwiches on a teapot treat stand and set out a menu with a wacky print.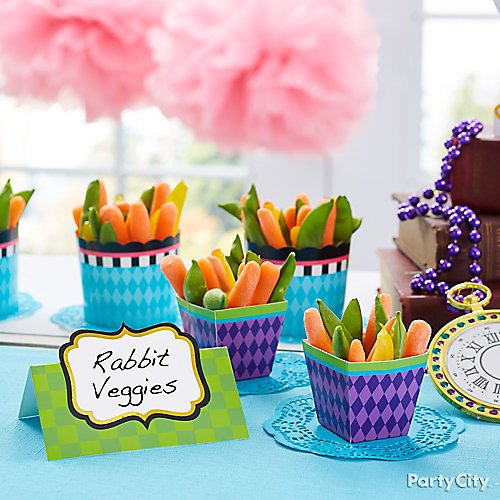 Idea 6: Reserve veggies for the White Rabbit
Traditional tea party fare is light, so arrange veggie sticks in cute patterned paper boxes, and set out a little sign to add a thematic Wonderland touch to this "rabbit food!"