Decorate with raffia for a tropical tiki bar, buffet table and more! Use our inspiration for a tropical tablescape, tiki drink bar, breezy buffet and more for a tiki-tastic party! Get easy ways to combine natural raffia grass and palm fronds with other colorful luau-themed decorations to create a simply breezy summer party. We carry everything you'll need – right down to the tableware. Aloha!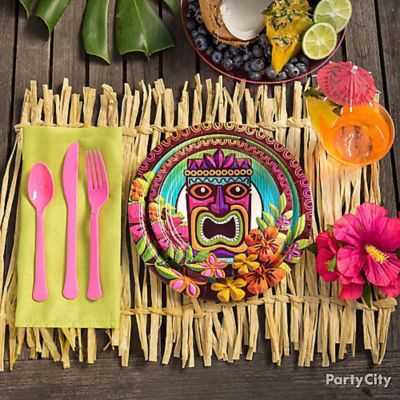 Idea 1: Weave a crafty DIY raffia placemat… lu-wow!
Whether you're styling a buffet or a sunny sit-down, take the time to create a raffia place mat. Use a child's hula skirt and take strips for the mat and lay them out in the desired spacing. Once that's done use a longer strip to weave the strips securely together. Make one for each place and give everyone an umbrella drink and tiki plates to wrap the theme together. Your guests will want to pull up a chair and stay awhile!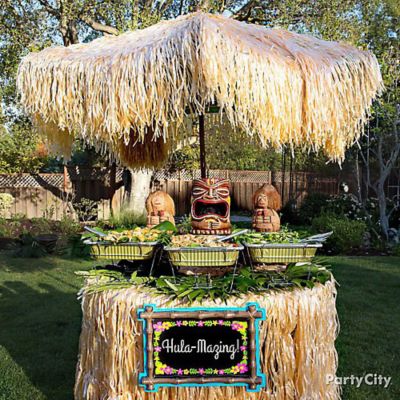 Idea 2: Feast in paradise!
Play up the tropical theme on your buffet table by adding special touches like palm fronds for a bit of shade and natural raffia skirts to be extra authentic. Spice up the decorations with matching coconut sculptures of a man with a guitar and a woman with maracas, as well as a tiki bubble machine to make conversations start bubbling up. Add a sign to entice everyone to the buffet and you've got good food and good company!
Idea 3: DIY this tiki-tastic chair decoration!
It's easy to lei around in a chair like this, so make it part of the decor! All you'll need is a child's grass skirt, a tiki paper cutout and a hibiscus hair clip (and palm leaves if you wish). Wrap the hula skirt around the chair and secure it, then use the hair clip to attach the tiki cutout and extra palm. Then if you want it extra hula-mazing, hang a lei as a party favor!
Idea 4: Create a mini paradise with raffia!
Say "Aloha" to summer with a bar of tropical drinks – it's a perfect addition to the raffia decorations! Here we paired brightly colored tumblers, shot glasses and jumbo margarita glasses with a raffia table skirt and coconut figurines. Then we just made a thematic drink sign for a bit of color pop. Who's thirsty?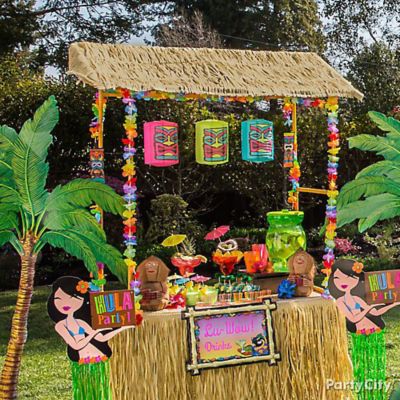 Idea 5: A raffia tiki bar invites sea breezes!
Decorate with raffia to make any outdoor space feel like the islands. Start with a breezy tiki bar thatched roof and make it more lei'd-back by setting it up on a surface decked out with a raffia table skirt. Add colorful tiki lanterns, more leis, hula dancers and palm tree decorations to complete the scene. Between the festive design and the thirst-quenching libations, this could easily be the site of the best conversations all afternoon!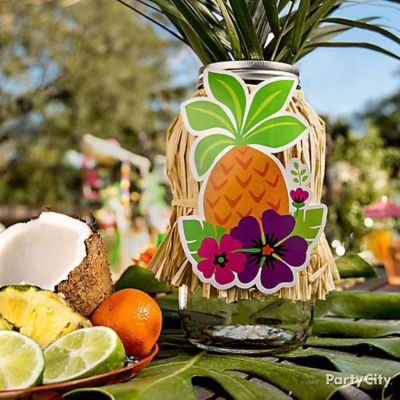 Idea 6: Create fruit-inspired centerpieces!
Mason jars make more than trendy drinkware - they also make breezy centerpieces and plant pots! Grab a jar, available at select Party City stores, and wrap it in raffia for a natural flavor. Add on a fruit cutout and a few palm leaves, and pop it next to any tropical fruit you have at the party. It's the art of transforming the mundane to the tropical!