Bites and beverages that say aloha! A tropical mini tasting party is the perfect way to present your luau menu. Everyone will be dreaming of sand and sun with these tiki-rific mini-tasting ideas! Lu-wow your party guests with tropical decorations and a table of island-inspired cuisine, served in trendy mini containers for munching and mingling!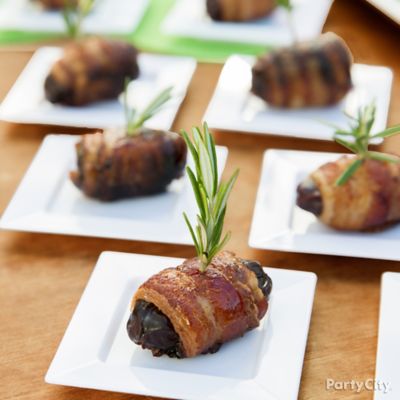 Idea 1: Who doesn't love bacon?
Crispy bacon bites have a sweet surprise in the center! Take pitted dates, roll them up in bacon and secure with a toothpick. You can add crunchy pistachios or blue cheese to the center of the dates for extra flavor. Bake at 400 degrees for 10-15 minutes until the bacon is nice and crisp. Dress up these sweet and salty bites with sprigs of rosemary for a look that's almost too pretty to eat – almost!
Idea 2: Add that island crunch to your party snacks!
Crunch your way through the luau with this tasty snack! Scoop your favorite salsa into mini cups. For a Hawaiian variation, finely chop smoked salmon and add to your favorite pico de gallo recipe to turn it into "lomi lomi salmon," a Hawaiian favorite. Top it off with a chip or two and you're all ready!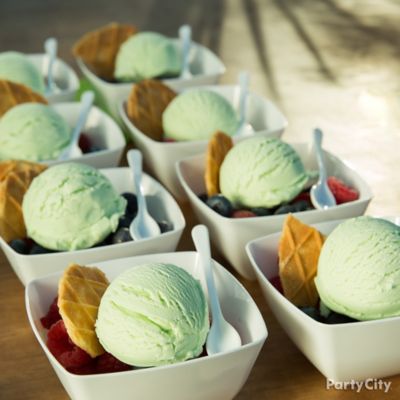 Idea 3: No sharing necessary for this cool tropical treat!
Keep it cool with these yummy party treats! Guests will love having their very own dessert all to themselves. Layer fresh berries at the bottom of mini bowls with one scoop of your favorite ice cream or sorbet. Break waffle cones into pieces for added crunch and watch everyone scramble to get theirs!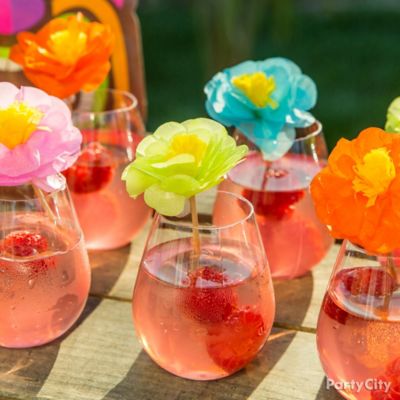 Idea 4: A drink that's pretty in pink!
This refreshing drink is like a cool island breeze in a cup! Mix equal parts guava nectar with sparkling citrus mineral water and pour over ice. Drop a few fresh raspberries into each glass and finish with a pretty flower pick.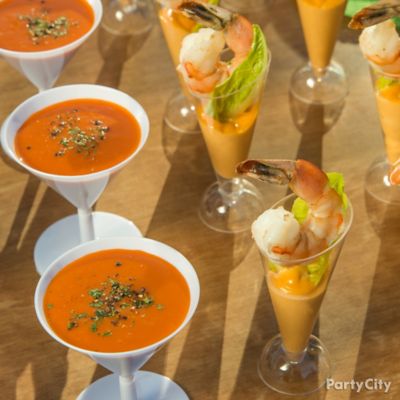 Idea 5: Chill out with this perfect pairing!
Keep it cool with a tropical take on gazpacho and creamy shrimp cocktail! Take your favorite gazpacho recipe and add finely chopped pineapple and mango, then pour into mini martini glasses. To make the creamy cocktail sauce, whisk together mayo, rooster hot sauce and lime juice until smooth. Put a dollop of the cocktail sauce into a mini cocktail glass, then layer on a small leaf of lettuce and one plump shrimp.
Idea 6: Luau shrimp lettuce cups, yum!
This simple recipe tastes anything but basic! To make these crisp shrimp lettuce cups, first julienne daikon (or radish) and carrots and soak in equal parts white vinegar and water and 1/2 part sugar for one hour. Next, marinate shrimp in lime juice, honey and garlic then grill to your liking. To serve, take a leaf of Bibb or butter lettuce and spoon the pickled veggies in the center. Add the grilled shrimp on top and your luau just became lu-WOW!
Idea 7: Sweet and savory bites of tropical goodness!
If you enjoy both sweet and savory flavors, these delicious bites are guaranteed to be a hit! Grill or bake up your favorite meatball recipe and stack one on top of a fresh slice of pineapple. Drizzle sweet teriyaki sauce and top with a sprinkle of toasted sesame seeds and scallions. Pro tip: put each bite on a mini plate and pierce with a bamboo pick to add a special touch.