Serve up a delicious Hawaiian spread with these luau party food ideas! We've got a menu full of Big Island favorites like poke, pork sliders, and kabobs. Find tropical-inspired drinks and other luau food ideas that'll get everyone in the mood to hula!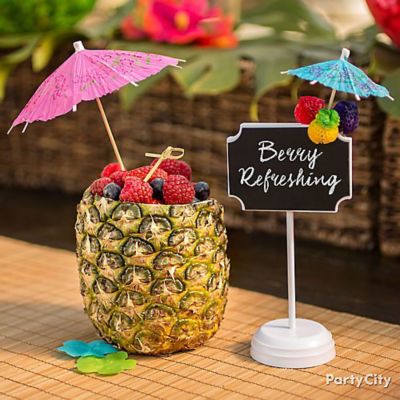 Idea 1: A tropical bowl bursting with fruit
Inspired by island cocktails, this fruity luau dish can be enjoyed by guests of all ages. Chop the top off of a pineapple, scoop out the insides and fill with bright berries. Insert a bamboo pick and a giant umbrella for easy nibbling by your guests. A mini chalkboard sign with an umbrella pick and a couple tropical fruits from some party picks make a berry refreshing island sign!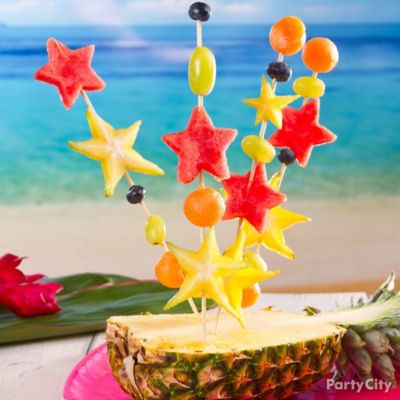 Idea 2: Add some star power to your shindig!
The torches are lit, the scene is set… bring out the stars! These fun fruit skewers look as great as they taste, and they don't take long to prepare. Use starfruit and watermelon to make the star shapes and thread them on bamboo skewers with other colorful fruit. Grapes, blueberries and melon balls add some juicy variety to this refreshing luau delight. Slice a pineapple in half and stick in your skewers for a fun tropical display!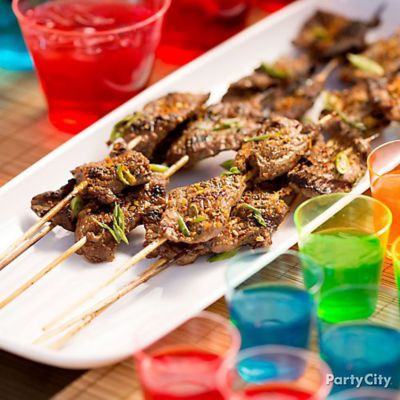 Idea 3: Grill up beef kabobs
Beef kabobs are an island favorite! Marinate your meat overnight, or make a quick rub with salt, pepper, paprika, cumin, garlic, and olive oil. After cooking for about 5 minutes on each side, show off those beautiful grill lines on a long platter with a sprinkling of green onions. Here's a pro tip for grilling kabobs: soak the bamboo skewers in water overnight to keep them from burning!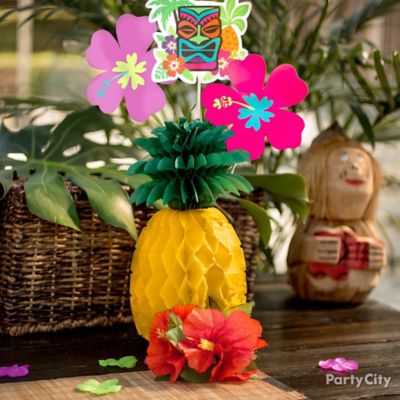 Idea 4: Add island spirit with a pineapple centerpiece!
Give the table some summer love with a tropical centerpiece made from a paper pineapple and some luau decorations. Attach the cutouts to bamboo skewers and stick behind the honeycomb pineapple with a couple of hair clips in front – easy! Even if the party's in your backyard, this aloha-worthy centerpiece will have everyone feeling the imaginary sand between their toes.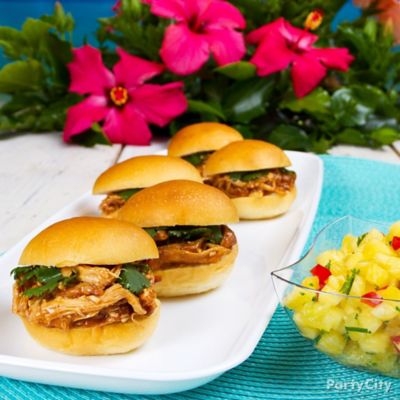 Idea 5: Serve up a light and fresh fruit salsa
No spit is required for this roasted pig recipe! Pork sliders with a side of pineapple-mango salsa are a great alternative for your lei-d-back luau. Serve these sliders for a smaller-sized meal that tastes delicious but leaves your guests limber enough to limbo! To make the salsa, combine: 2 cups diced fresh pineapple, 1 cup diced red pepper, 1/2 cup chopped cilantro, 1/4 cup finely chopped red onion, 3 tablespoons finely chopped jalapeno pepper (stemmed and seeded), 1 clove garlic (minced), juice of a lime and salt to taste. Yum!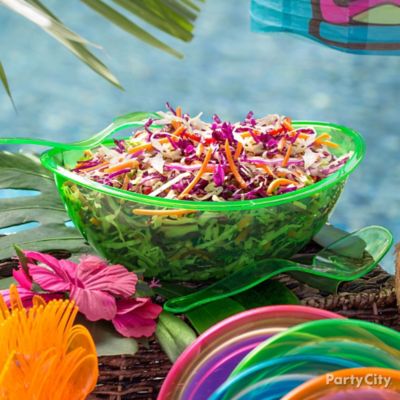 Idea 6: Coleslaw in a gorgeous green bowl = yum!
Colorful coleslaw makes the perfect side dish to grilled kabobs! The mix of veggies in a vinaigrette dressing will look even more summery in a gorgeous green bowl with matching serving spoons.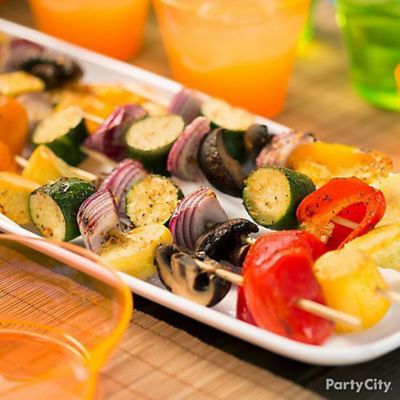 Idea 7: Skewer veggies for fun kabobs!
Grilling isn't just for meat! Slide yummy summer vegetables like squash, red bell pepper, red onions, and mushrooms onto a bamboo skewer with a sprinkling of paprika, chili flakes and garlic before popping them onto the barbecue. After you've grilled the kabobs until just cooked through (about 5 minutes on each side), serve 'em up on a long platter – lu-wow!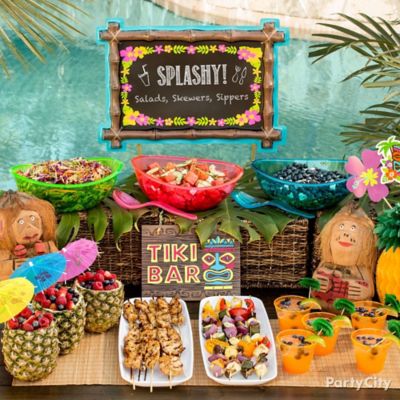 Idea 8: A tiki-rific table spread
Let's luau! It's not summer until you break out the tiki bar and mini umbrellas. Decorate your buffet table with plenty of raffia, large leaves, tiki signs and plenty of brightly colored serving bowls. Shop all of our luau-themed props, and then lei back, relax and enjoy the party!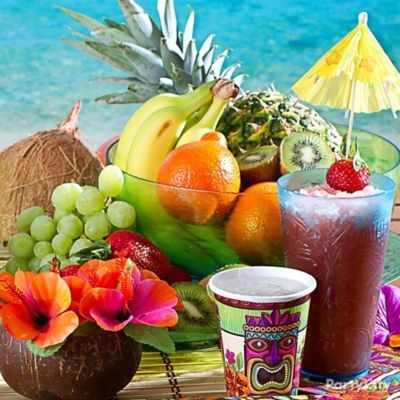 Idea 9: Fun-in-the-sun fruit display!
Nothing says luau like a big bowl of tropical fruit and icy drinks with umbrellas! Arrange yummy citrus fruits, bananas, kiwis and pineapples in a brightly hued bowl for table decor guests can munch on. Puree some fruit for tropical margaritas and serve in tiki-rific glasses with umbrella picks for the ultimate tropical island experience!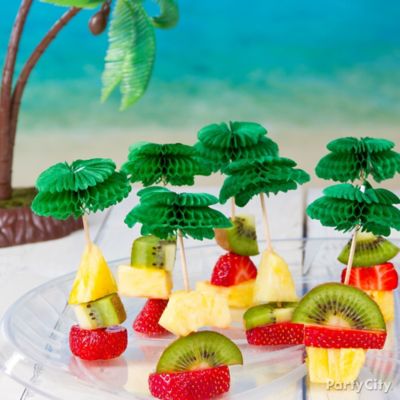 Idea 10: Serve up bite-sized tropical tasters
Say aloha to fun finger food! This fruity treat not only adds to the tropical atmosphere, but also gives your guests a healthy alternative to heavier luau fare. Serve slices of cut-up kiwi, strawberries and pineapple on Palm Tree Party Picks for a treat that's as delicious as it is nutritious!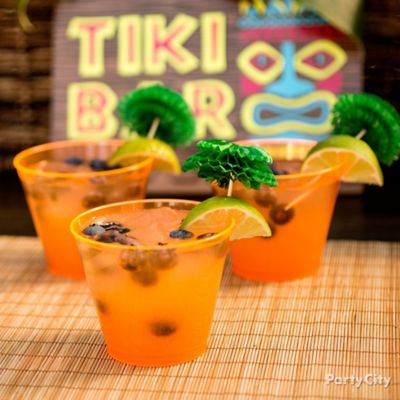 Idea 11: This fruity drink will make their taste buds limbo!
Greet new arrivals to the party with a taste of the tropics! Just mix a fruity-flavored juice like guava-orange, some sparkling water for fizz, and a handful of blueberries for a refreshing beverage. Give the drink umbrella an island twist with a palm-tree pick and a slice of lime. For more adult tastes, you could easily make this drink a cocktail with a splash of rum.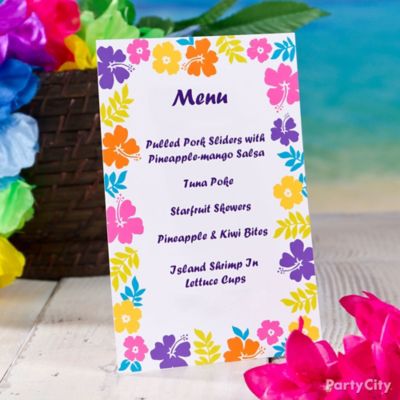 Idea 12: Give guests a "taste" of what's in store with custom menus
Watch guests line up to load their plate when they get a glimpse of the pre-printed menu. Have your course list printed on custom menus bordered with an exotic flower print to get guests excited for the tempting feast!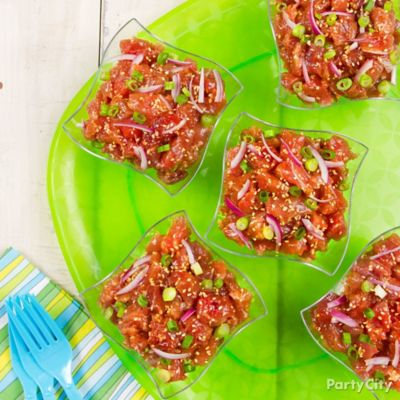 Idea 13: Give your taste buds a treat with Tuna Poke!
This quick-fix dish is an island favorite! Tuna Poke is a raw seafood salad, but your guests don't have to love sushi to enjoy this flavorful fare. Place diced sushi-grade tuna (purchased from a reputable seafood store) in plastic bowls and top with diced scallions and red onions. It looks as good as it tastes!