Relax with simple recipes for Hawaiian cocktails and drink fusions. Transport guests to a tropical paradise with these summer sippers. Help guests kick up their feet and relax with a taste of the tropics! These simple Hawaiian-inspired cocktails and drink fusions and easy to make at home using fresh fruit and widely available liquors. Browse our recipes, and then shop online for a wide selection of cocktail glasses, colorful swizzle sticks, party picks and even tiny drink umbrellas. Aloha, paradise!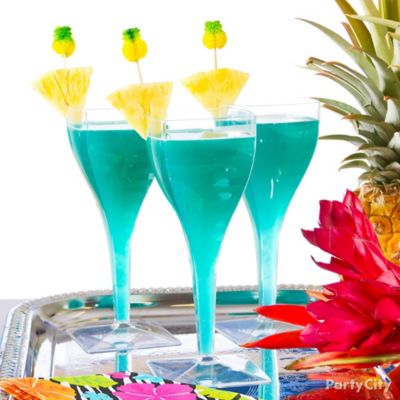 Idea 1: Kick back with some refreshing Blue Hawaiians
If you're creating an island oasis, Blue Hawaiians are a must. We've got a killer recipe for this cool blue cocktail that'll knock the leis off your guests. Mix 1oz light rum, 2oz pineapple juice, 1oz Blue Curacao liquor and 1oz coconut cream, and serve your creations in clear goblets to let their cerulean blue color shine. Garnish with pineapple slices and Tropical Fruit Picks for a fun island touch.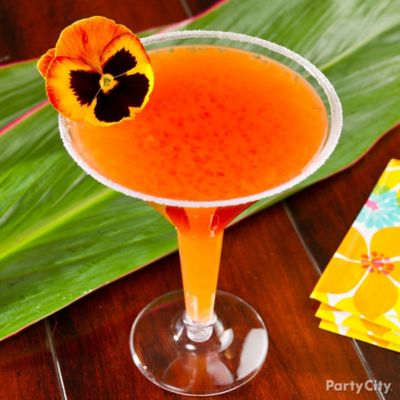 Idea 2: Transport guests to a tropical paradise with these summer sippers
Start things off with one of our faves, the Guava-tini! To make this fruity martini, shake up 2oz vodka, 2oz guava nectar and a splash of lemonade, and serve in martini glasses with a couple of ice cubes. Garnish with an edible flower, such as an orange pansy, to match the colorful cocktail.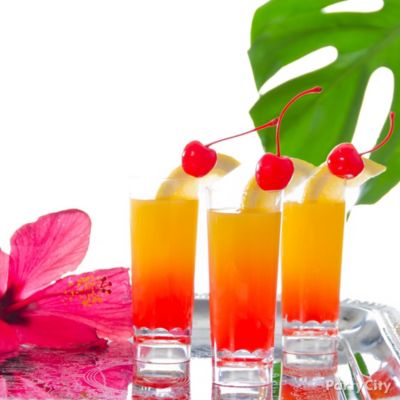 Idea 3: Make your taste buds say "Aloha" with this tasty cocktail!
Try a Mini Island Sunrise Shooter, a fun twist on the Tequila Sunrise. To make these yummy cocktails, pour tequila and orange juice into mini cordial glasses and stir. Tilt the glasses and pour grenadine down the side by quickly flipping the bottle vertically. The grenadine will go straight to the bottom, then rise up slowly through the mixture, creating a sweet treat for the eyes and taste buds. Raise a glass to this mini portion of paradise!
Idea 4: Tempt your taste buds with a Lava Flow cocktail!
Don't let the name of this tasty blended drink fool you! Lava Flows are a refreshing mix of fruit and rum that will have your guests running back for refills. For this cool concoction, blend banana, coconut cream and pineapple juice in a blender and set aside for later. In your serving glasses, stir together 1oz light rum, 1oz coconut rum and 2oz blended strawberries. Pour the banana mixture slowly into your glasses, and watch the rum and strawberry mixture creep up the sides for an instant Lava Flow!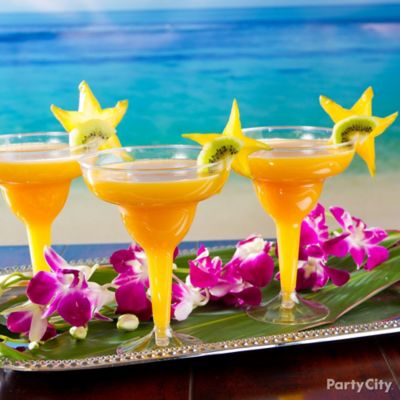 Idea 5: Mix up some Mango Margaritas
Mango Margaritas are a perfect way to chill out on a warm summer night. For these island-inspired margaritas, mix 1-1/4oz silver tequila, 1-1/2oz lemon juice, 2oz sweet-and-sour mix and 3/4 cup frozen mango in a blender and blend until smooth. Pick out margarita glasses to serve these mango mixtures in, and garnish with your favorite toppings, like kiwi or starfruit, for a bit of tropical charm.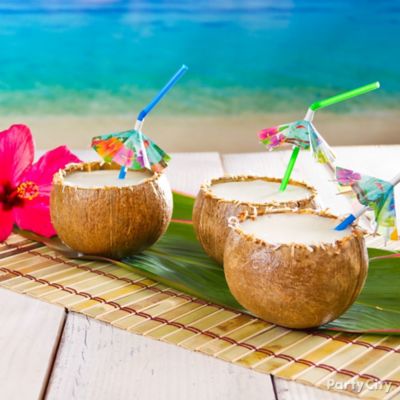 Idea 6: Perk up your party with Pina Coladas!
It's not a luau until you break out the Pina Coladas! To create these iconic island cocktails, mix 3oz light rum, 3 tbsp coconut rum, 3tbsp crushed pineapple and 2 cups crushed ice in a blender. Blend at high speed until the mixture is a smooth consistency, then serve! Pour this fruity cocktail into Authentic Coconut Cups and add some fun parasols and straws for a cocktail worthy of the Hawaiian Islands.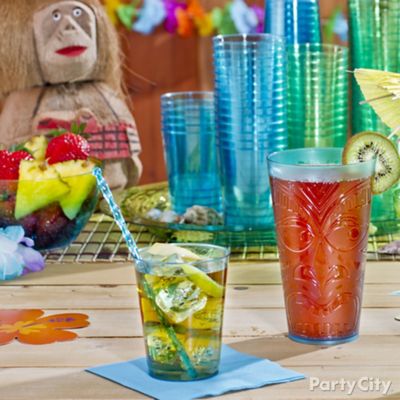 Idea 7: Island paradise is just a few sips away
There's nothing like cocktails with tiny umbrellas on a warm summer night! Whip up some Mahalo Pineapple Mojitos by muddling a couple mint leaves and a lime wedge in a glass. Pour in ice, 1oz pineapple juice, 1-1/2oz white rum, 4oz club soda and 1 tsp sugar with a swizzle stick for stirring. For another refreshing sipper, try Lu-Wow Punch! Start with your fave tropical punch mix and add a beachy liquor like Caribbean rum with a coconut flavor. Serve in a tiki-rific tumbler with a kiwi garnish and umbrella pick – yum!