Honor the mother-to-be with glitter, glam and a dash of sophistication! Get easy and amazing ideas for decorations, treats and favors. A personal touch makes all the difference in turning a baby shower into a majestic affair. To make a royal impact, mix and match decorative accents like elegant princess-themed favors, sparkling treats, wispy tulle and billowy decorations. Our ideas for a pink and gold celebration will inspire you to create a little princess baby shower that glows with grandeur!
Idea 1: Set out advice cards as a fun baby shower activity!
Make the little princess baby shower a memorable affair by asking guests to share their loving wishes for the mother-to-be. A pedestal bowl makes for a convenient and stylish place to hold the completed cards. Filling the bowl with sparkling shredded paper transforms it into a lovely centerpiece that complements your pink and gold color scheme.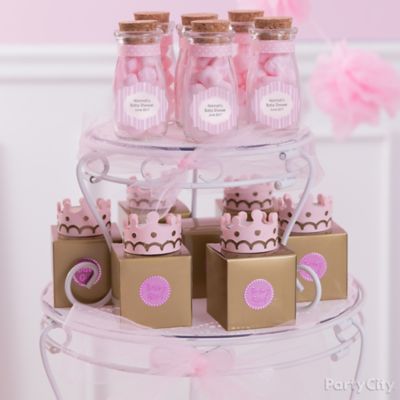 Idea 2: Create a castle-like display for custom favors and treats!
Mark the joyous occasion by adding a custom message on mini milk bottles with a special ribbon tied on. A decorative sticker or a personalized inscription are details that get "oohs" and "aahs" from guests. For an elegant finishing touch, elevate your favor display with a cake stand embellished with tulle trimmings.
Idea 3: Thank guests for popping by with some baby shower bubbly!
Both elegant and poppin', mini champagne bottles are perfect for toasting the mother-to-be and thanking baby shower guests. Turn bubbly drinks into a chic display by tying a pink tulle ribbon and attaching custom kraft labels with celebratory messages. A cute sign with crown frame adds a little glam to your adorable arrangement.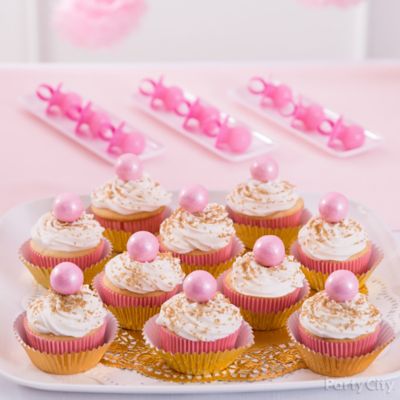 Idea 4: Layer on the cuteness using pink and gold garnishes!
Translucent gold sugar sprinkles and pink gumballs on cupcakes are elegant for a princess baby shower. Baking cups in pink and gold, as well as white and gold doilies, are perfect for subtly playing up your regal theme. Pacifier lollipops also add a playful pop of color to your royal dessert spread!
Idea 5: Create a regal backdrop with a tapestry of gold and pink!
Set the stage for royal whimsy with beautiful decorations. Billowy accents in hues of pink and white contrast beautifully with flowy polka dot streamers. To add dimension to the setting, arrange fluffy decor in a staggered pattern and fashion the streamers in a twisting design. The drapey garlands and hanging decor perfectly frame your dessert table for regal photo opps.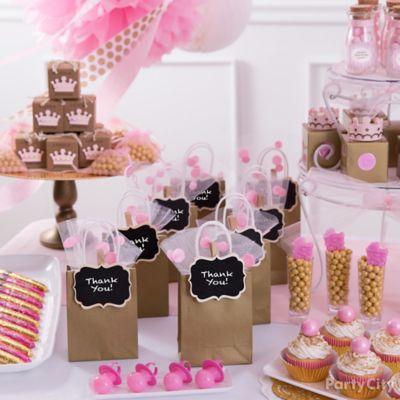 Idea 6: Build towers of take-home treasures for your guests!
Gold favor bags adorned with handwritten chalkboard labels make for the perfect carry-all that guests can use to tote their favorite take-home treasures. Variety is key to creating a stylish favor bar, and that's easy to create with an assortment of boxes and bags in varying textures and sheens. Delicately accentuate a pink and gold color theme by decorating with polka dot tulle and mini crown trinkets. Elegantly elevate the look of your tablespread by placing the take-home treasures on pedestal and tiered cake stands.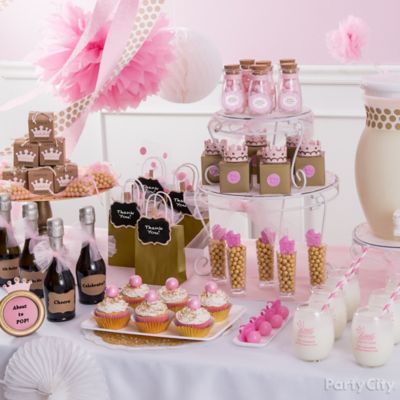 Idea 7: A pink and gold tablescape sets the royal scene!
A stunning gold and pink tablescape makes for an elegant focal point at a little princess baby shower. Dainty details like tulle, mini crown candles and polka dot patterns effortlessly coordinate to create a regal setting. Keep reading for inspiration on completing your royal tablescape with candy, drink and treat ideas.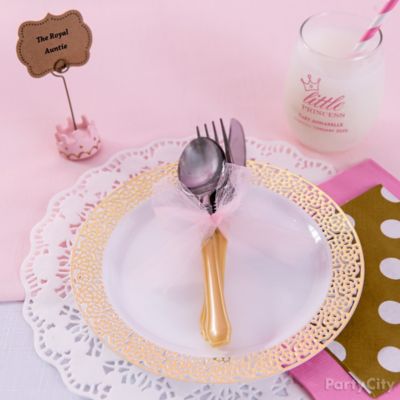 Idea 8: Mix and match intricate patterns for an elegant look!
Set up your guests for eating pretty! Fancy lace accents on doily plates help you to curate a glamorous gala without fuss. Be sure to welcome royal family members by placing a greeting on a princess-themed place card holder. For additional pops of color, mix and match solid and polka dot napkins in shades of gold and pink. Bundle up premium tableware with a touch of tulle to complete the look.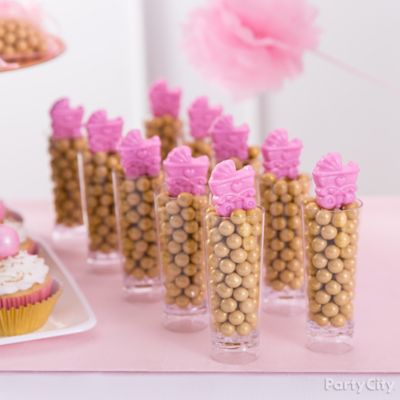 Idea 9: They'll stroll right over to this baby shower treat idea!
Baby showers naturally call for chocolate, and dressing them up for a royal affair is easy. Make an adorably posh treat by using mini cordial glasses to hold gold-hued candies. Tuck in these sweet stroller lollipops, and the treat doubles as a charming table decoration.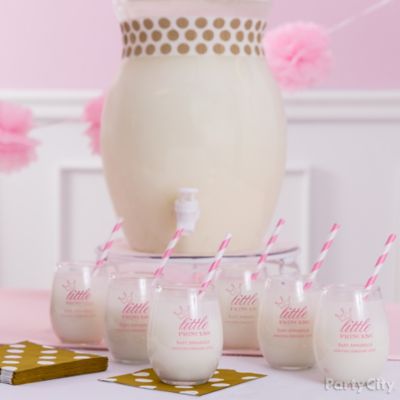 Idea 10: Custom glasses are a keepsake they'll drink up!
Offer your guests a refreshing take on guest favors. An inscription or design in gold font gracefully complements your little princess theme. Pair the stemless glasses with an opaque drink like pineapple punch to show off the custom design. Continue to accentuate the gold and pink color scheme by adding accents like polka dot napkins and striped straws to your drink display.