Zuka Zama! Dive into exciting ideas for turning your cub's birthday party into an adventure in the Pride Lands! Get inspired to transform your party room into Pride Rock, get the team together for party games, create a pull-apart Lion Guard cake and more.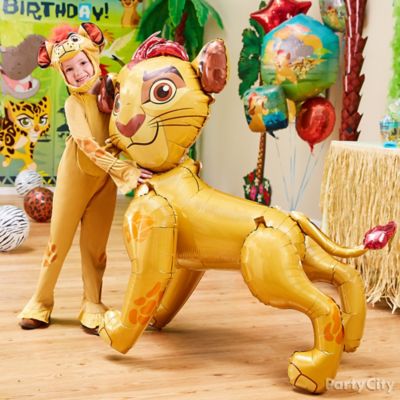 Idea 1: Prowl Pride Rock with a Kion costume!
Surprise them on their big day with a super fun Kion costume! A special birthday costume will make your cub stand out and get them ready to practice their roar.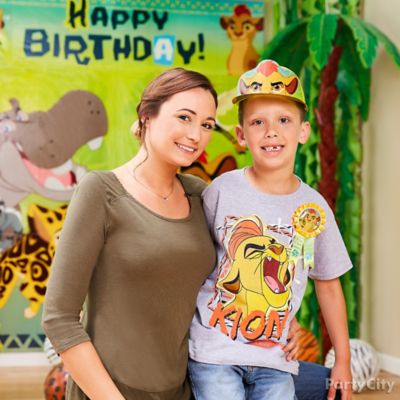 Idea 2: Create the perfect birthday outfit!
Your birthday cub will feel like the king of the jungle in a Lion Guard shirt they'll love long after the party. For an extra birthday surprise, present them with a special award ribbon proclaiming them Leader of the Lion Guard!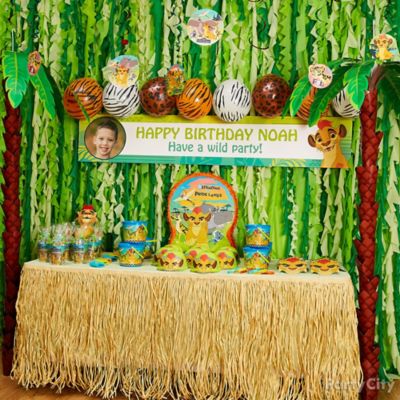 Idea 3: Welcome them to the party den
We love decorations that make a BIG statement! Your little lion or lioness will be so excited when they see their name and picture next to Kion. Then hang jungle animal print balloons in a pattern to create a balloon garland! To make aww-some DIY vines, cut table covers into roughly 4-inch strips, then snip the edges with scissors.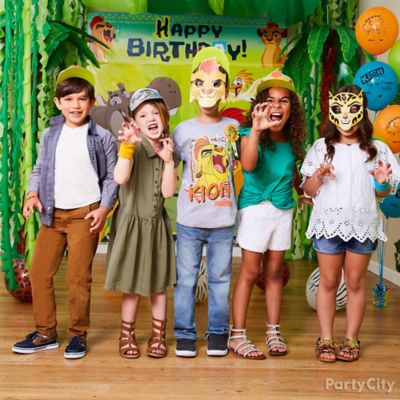 Idea 4: Uncover adventure with Lion Guard hats and masks!
Hand out paper Lion Guard masks and matching Kion hats to keep the birthday kids from lion around. They'll all want to jump up and play the parts of their favorite characters!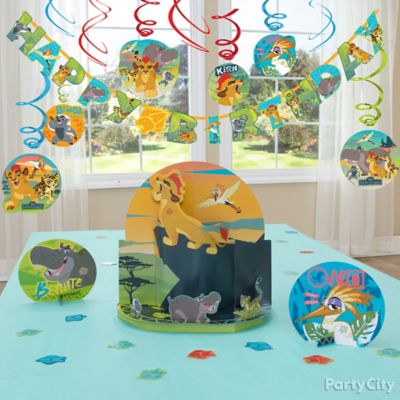 Idea 5: Not sure how to decorate? Hakuna matata!
Make your party table king of the jungle! Pop open a cool centerpiece featuring Kion roaring atop Pride Rock, and hang Lion Guard swirl decorations to really pack a punch. A Happy Birthday banner featuring Bunga, Fuli, and all of the Lion Guard will set your room apart!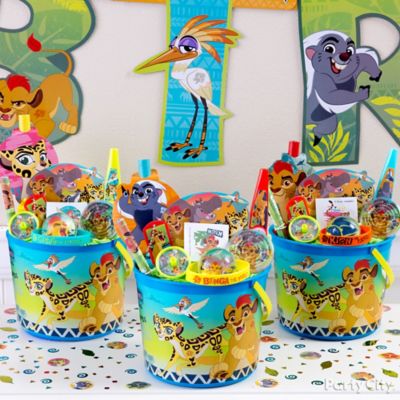 Idea 6: Make them roar with delight
You don't need to be the keenest of sight to see these elephant-sized favors! The kids will go wild for the treats packed up in these awesome Lion Guard buckets. We used a favor pack, candy and some extra special goodies. The kids will stampede on over!
Idea 7: Make reusable cups into memorable favors!
Use a favor pack or pick your favorite goodies to fill a reusable Lion Guard cup. These are budget-friendly, super colorful, and have Kion, Fuli, and the rest of the Lion Guard on the front! You can even cinch them up with a shiny cello bag and colorful ribbon for a little extra sparkle.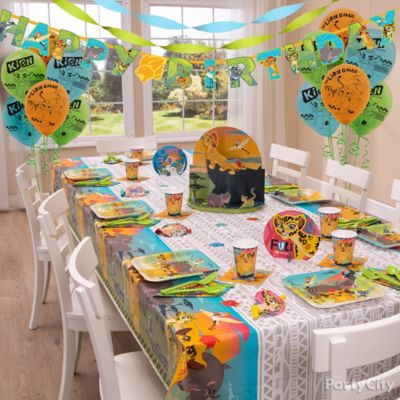 Idea 8: Bring Pride Rock to the party room!
Your little cubs will roar with excitement when they see how you've decked out the party table with a Lion Guard table cover, blowouts, themed plates and balloons! Once they feel at home in their savannah, they'll be ready to sink their teeth into cupcakes.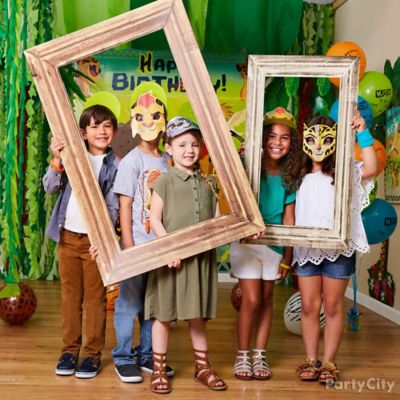 Idea 9: Masks and props for the perfect photo op
The kids will laugh like hyenas when they pose with oversized photo frames and silly Lion Guard masks! Hang up a Lion Guard scene setter and place a few balloon bouquets to finish the look. Make sure to share the pictures with each cub's family!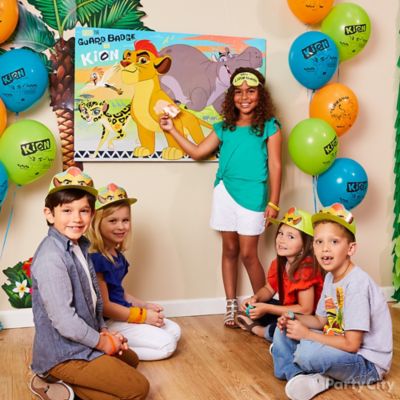 Idea 10: Help Kion earn his Mark of the Guard!
Our favorite Lion Guard party game is this wild version of pin-the-tail. Kids take turns wearing a blindfold and trying to put the Mark of the Guard on Kion's shoulder. The bright poster also makes an awesome decoration! Don't forget an award ribbon for the winner!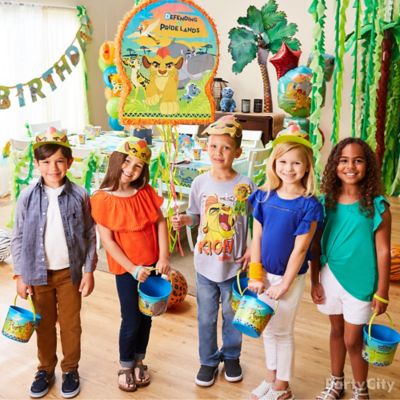 Idea 11: Work as a team to open a Lion Guard pinata!
Gather the Lion Guard! They'll have to work together to get to the treasures inside this cute pull-string pinata. The kids take turns pulling ribbons to hunt down which one sets the goodies free! We love pull-string pinatas because you can use them indoors, no matter the weather!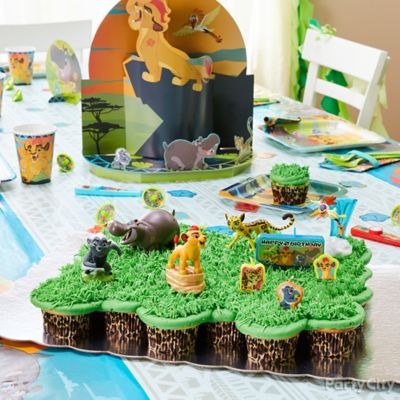 Idea 12: Create a pull-apart cupcake cake!
Use leopard print cupcake wrappers and green icing to create a savannah! Send Lion Guard candles to prowl across the new terrain. You can also position Lion Guard figurines around the cake board!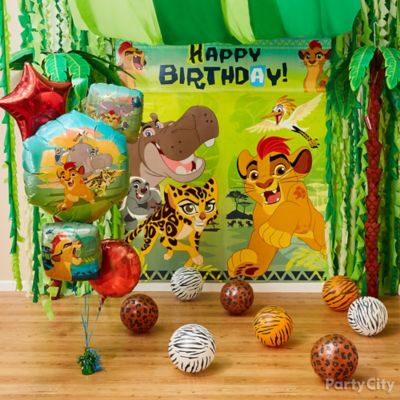 Idea 13: Create a roaring good backdrop
Make sure the pride is ready to party by decking out the party room to feel like the savannah! Start by hanging up a Lion Guard scene setter and placing balloon bouquets on either side. To transport the team to the Pride Lands, cut green table covers into vines and hang paper palm trees.