What happens when you combine a gorgeous summer sunset with a hundred beach balls, fruity pineapple drinks, and a DIY sandbox by the pool? Life (officially) becomes… a beach! Even though my family and I live pretty close to the actual ocean in Boca Raton, FL, sometimes it's more fun with younger kids (and definitely easier) to host a casual gathering at home that features your favorite sand toys and accessories from @partycity. It doesn't have to be complicated either!
Grab an inflatable baby pool and some play sand from your local hardware store to make a DIY beach for your youngest guests. Put Dad (and an air pump) to work blowing up a few giant rainbow beach balls. You can even challenge your older kid party guests to see how many of the mini beach balls they can blow up on their own! After a long swim (or sand castle session at the "beach"), everyone will certainly look forward to a frozen mocktail in a festive pineapple cup! Summer's already looking sunnier with Party City!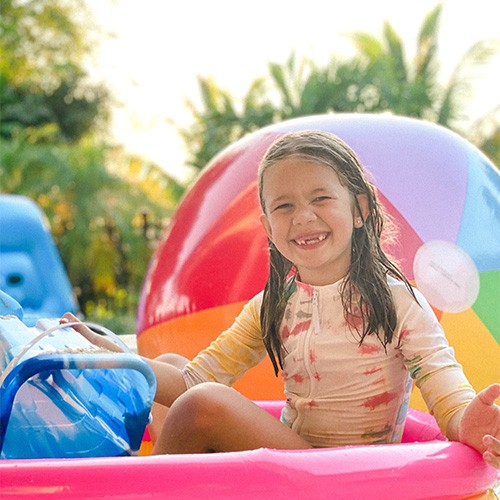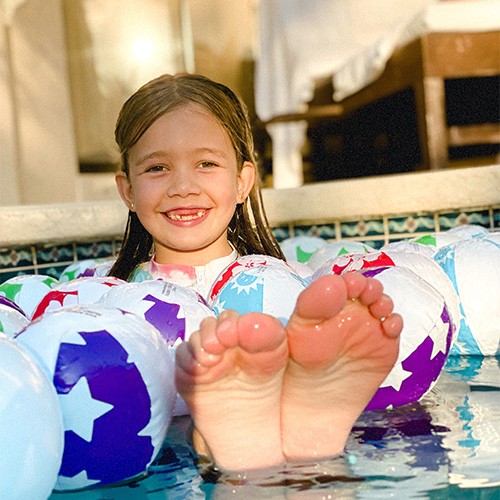 Supplies:
Pineapple Cups with Straws
Giant Rainbow Beach Ball
Inflatable Beach Balls (24ct)
Tie Dye Sand Bucket with Shovel Set
Play Sand (1 bag)
Inflatable baby pool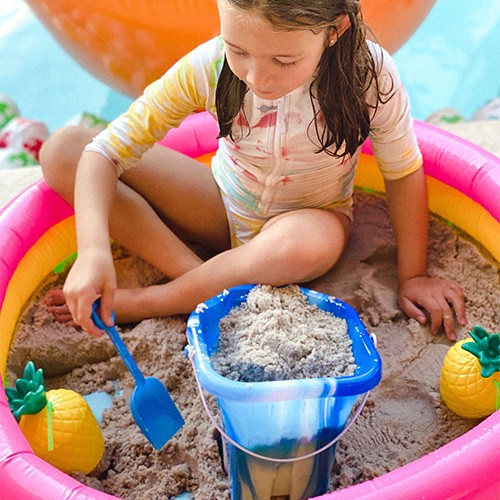 Instructions:
First, to make your DIY beach, you'll need a small pool (we recommend an inflatable one) to fill with play sand. We personally used only one bag from our local hardware store. Throw in an on-trend Tie Dye Sand Bucket and Shovel Set (or two) and your beach will be ready to go!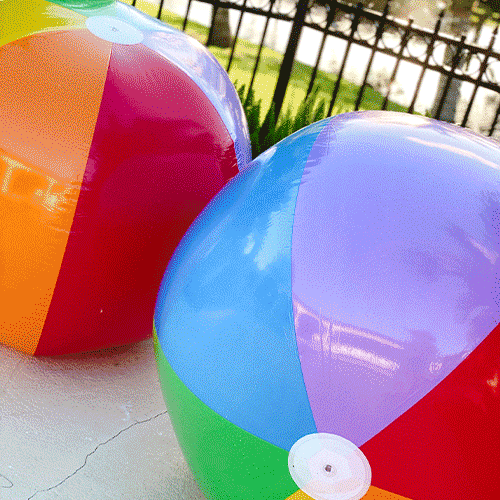 The Giant Rainbow Beach Balls from Party City are called giant for a reason. To inflate these, you'll definitely want to have an air pump on hand…and a few volunteers to assist in blowing up the smaller (5in) inflatable beach balls as well. We purchased 4 sets of 24 mini beach balls to really fill our pool. I think it makes it look extra festive!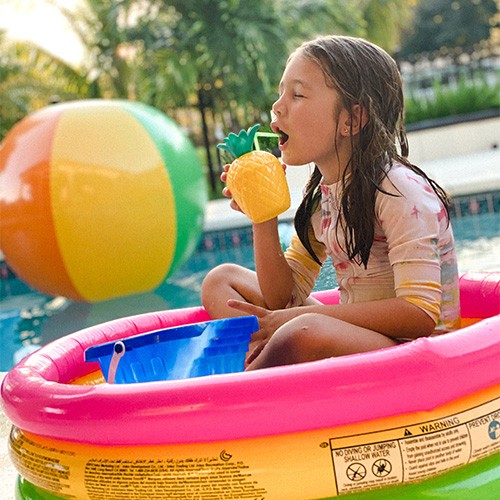 As for party cups, nothing screams "a beachy good time" like drinking out of a pineapple! This summer, bring the beach home to your family with this great and easy party theme.