Set up a ritzy drink station!
Create an eye-catching drink station with mixed metallic details like silver-rimmed champagne flutes and striped silver paper straws! Customize a gold-trimmed chalkboard sign with a playful phrase or list a menu of your drinks for the evening. Serve up classic prohibition-style spirits, like our time-honored recipe below.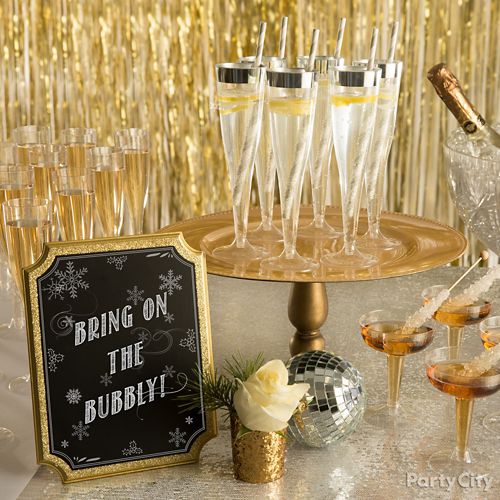 How-To
Ingredients:
Sugar cubes
Champagne
Bitters
Fresh lemon for twist
Supplies:
Champagne flutes
Striped straws for stirring
1) Soak sugar cube
Place your sugar cube (or 1/2 teaspoon of sugar) at the bottom of your champagne flute and splash three drops of bitters on top. Allow the bitters time to soak in.
2) Fill flute
Fill your flute up with Champagne and top your cocktail with a fresh lemon twist garnish.