These kindergarten graduation party ideas will give your smarty-pants a reason to smile! Celebrate their end-of-year achievements with a graduation party decorated just for them. Little grads will love the bright hues of this primary color-themed party, complete with graduation candy buffet. Adorn your table with wise owls and adorable apples alongside yummy goodies and playful plates. You'll get an "A" for awesome! Shop all graduation party supplies including signs, banners, balloons, tableware, and more.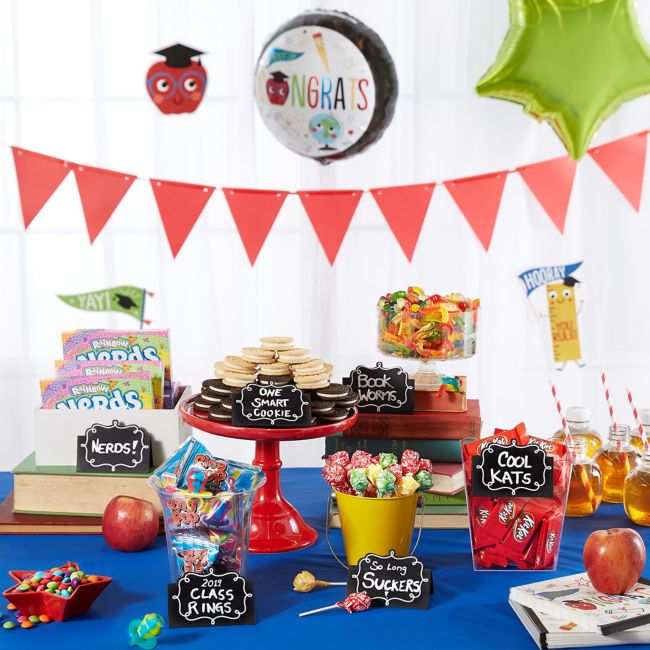 Graduation candy ideas
Set up a clever candy buffet as a sweet way to celebrate your little grad's accomplishments! Use a combination of candy containers, small buckets and school-themed props to create height on your buffet table.
Store-bought treats like sandwich cookies and Ring Pops make top honors when labeled as "Smart Cookies" and "Class Rings." Jelly beans are "Counting Beans," Tootsie Rolls are "Honor Rolls," animal crackers are "Teacher's Pets," gummy worms are "Bookworms" and Starburst can remind grads to "Reach for the stars!"
Use chalkboard labels to keep on-theme. When the candy's complete, decorate the buffet table with school-themed cutouts, graduation balloons and a pennant banner in a primary color. Apple juice packaged in apple-shaped containers is another fun nod to schoolhouse days!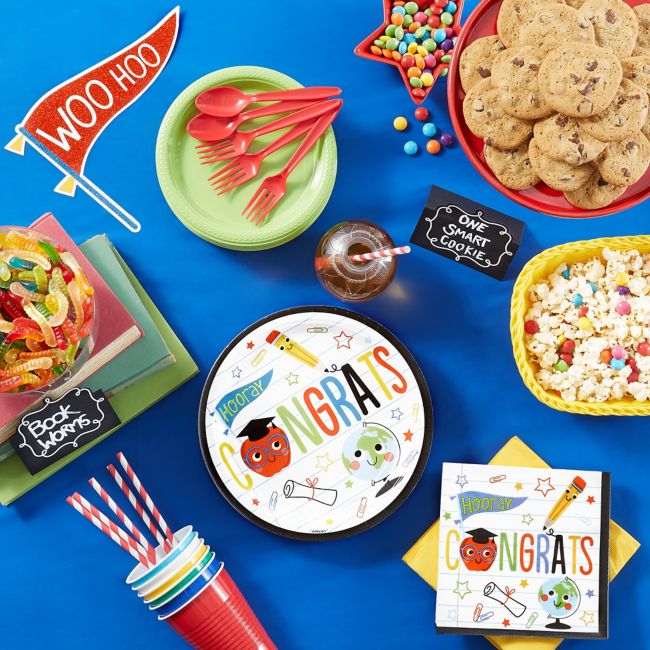 Serve up snacks on graduation tableware
The easiest way to boost your party planning GPA is with themed graduation tableware! For a kindergarten graduation celebration, we recommend presenting easy graduation party food on plates and napkins printed with a schoolhouse theme, but there are so many graduation themes to choose from!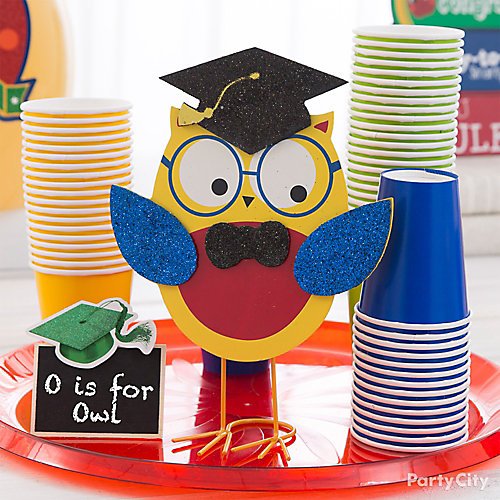 This graduation decoration is a HOOT!
Adding figurines and chalkboard signs will play up the party personality. Here we continued the letters theme and said "O is for Owl" on a cute chalkboard sign. The owl's glitter and primary colors go brilliantly with the other party supplies, making it a decorating no-brainer. All that's left is to enjoy the party and ask Hoo the little grad will be when he or she grows up! Shop all graduation decorations.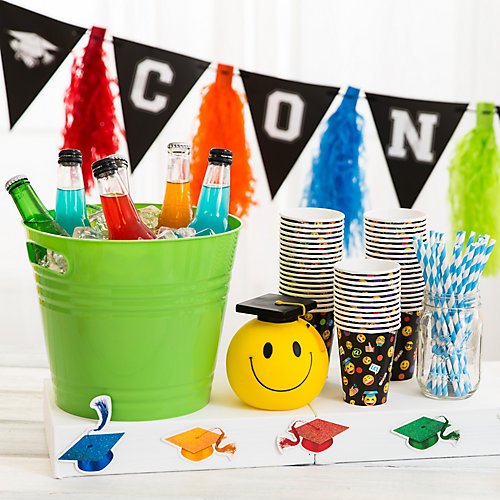 Create a kindergarten graduation drink station
It's as easy as ABC! Drink stations with your favorite bottled soda pops are already party favorite, so give it grad cheer by adding hat cutouts and a smiley face bank. Then all you'll need to do is set up the drink station with a green ice bucket and grad themed cups. Cheers!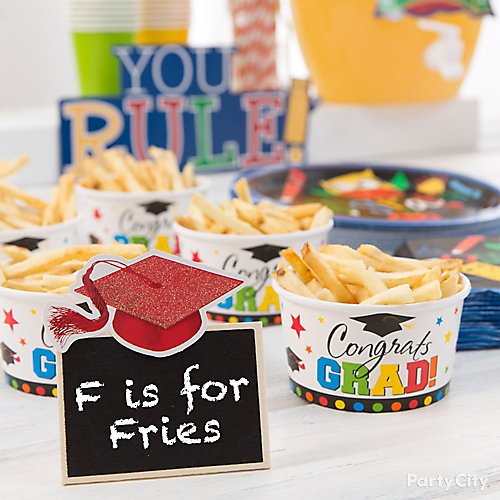 Set out themed signs
It's elementary, my dear! Have a little fun creating a fry display by accenting a chalkboard sign with a grad cap cutout from a decorating kit, and then make it alphabet-themed to show off what they've learned. This gets a Y for yum!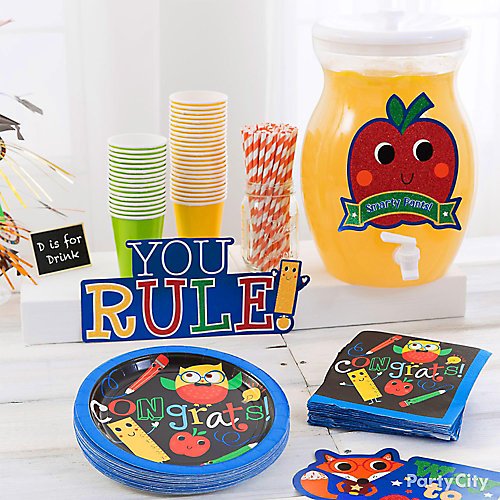 Celebrate with graduation lemonade
They made the grade, so reward them with a sweet drink. Set out cups and a drink dispenser filled with a sweet orange drink made up of half ginger ale and half orange juice. It's the sort of bubbly sipper that'll be popular with kids and adults alike. Not to mention the colors match the primary party supplies like the "You Rule!" sign. It's easy as 1,2,3! Shop all graduation tableware.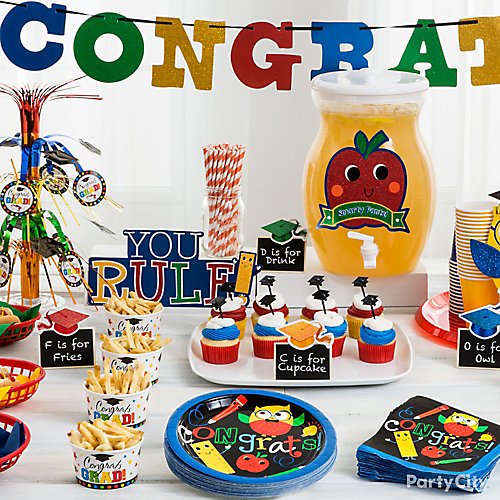 Graduation snacks, drinks & sweets – this party table gets an A+
Throw a "stepping up" party for your kindergarten or grade school grad! Deck out your party table in primary colors with a clever "you rule" sign, plus matching plates and napkins. Ornament a drink dispenser filled with your grad's favorite juice with a cute themed cutout, then top everything off with a colorful CONGRATS banner.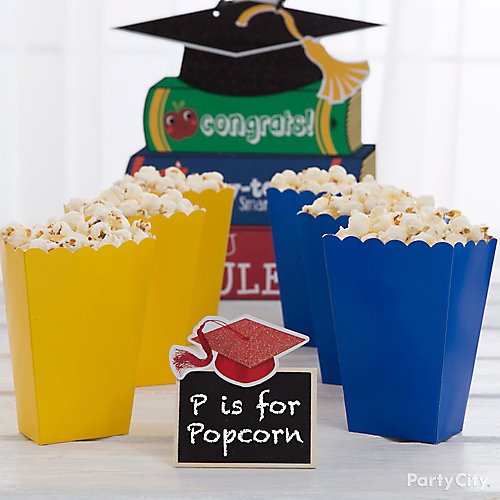 Popcorn for the grads!
The little grads still need brain food! Popcorn served in these popcorn boxes are a simple party snack that looks as appetizing as it smells. Keep with the theme by labeling the treat with a chalkboard sign. P is for popcorn and how proud you are of them!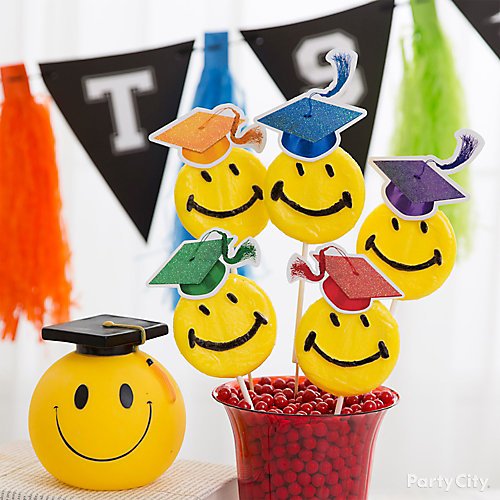 Graduation lollipops
Smiles for the grad! Smiley face lollipops are too cute not to put on display, so fill a red candy container with Sixlets chocolates and stick the lollipops in the chocolates. (Pro tip: Hide a piece of foam in the candy and stick the lollies into the foam as an anchor.) For an extra special touch cap the faces with grad cutouts and put it besides a smiley face coin bank – to save up for their next adventure! An adorable way to celebrate.