Eerie and cheery drink ideas for a kid-friendly Halloween party! Say boo and surprise the little ghosts with potions and brews! Trick or treat, stir my drink! If you're planning a boo bash, these kid-approved "potions" that match the colors of Halloween will do the trick! Enchant them with green swamp juice, an icky black brew, candy-corn-inspired orange punch and more. Don't forget to serve them up in themed Halloween cups!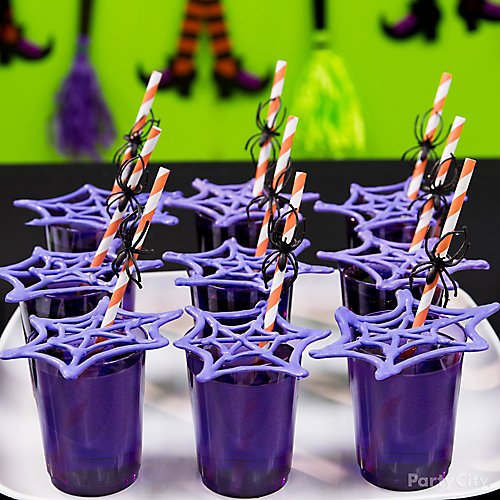 Idea 1: Purple Cobweb Drink
Get the trick to making edible cobwebs with candy melt! Homemade candy webs add a delicious eek to any drink. Using lavender Candy Melts in a decorating bag, draw the outline of a web with six points, connect the points with three lines and add the inner line. Create on wax paper, let cool and bring to the party for a too-cute-to-spook edible web! Straws with a spider ring taped on make these even more amazing!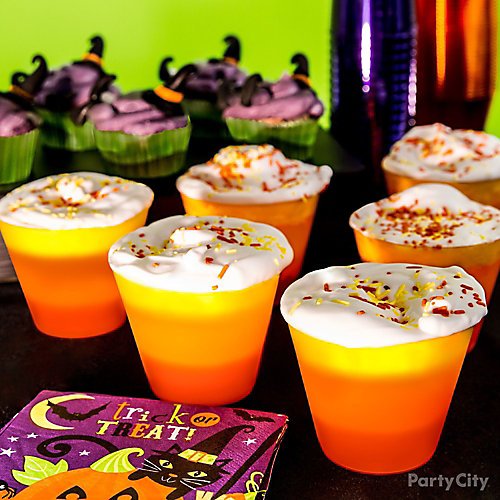 Idea 2: Candy-corn cute!
To make this cute drink, freeze yellow gelatin, mixed with mango juice, in the bottom of orange cups and then pour in orange soda. Top it off with whipped cream and sprinkles to get the yellow, orange and white layered look. Boo-cute!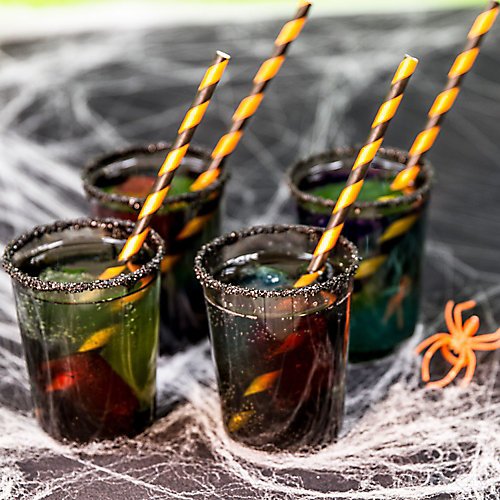 Idea 3: Use multi-colored ice for a yucky-yummy drink!
To brew, freeze orange soda, limeade, blue and purple sports drinks, and root beer separately to create colored ice cubes. When these are frozen, rim with a lemon wedge or honey and dip in black sprinkles to get a sugar rim. The glasses are ready to be filled with the colored cubes and sparkling water. Arrange them on cobwebs to make the black cups and colors pop!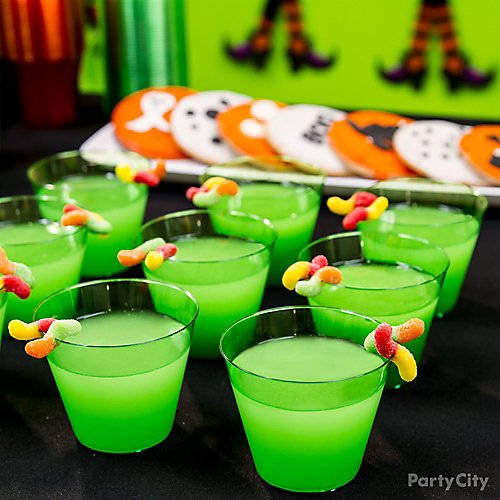 Idea 4: Swamp juice for your ghouls!
Create this swampy concoction by mixing equal parts pineapple juice, limeade and green vitamin water, and stir in lime-flavored gelatin to make it thicker. For a more intense green color, use a couple drops of both green and yellow food coloring. Cut small slits in gummy worms so they can sit on the rims of the cups as a garnish. Too delicious to bog you down!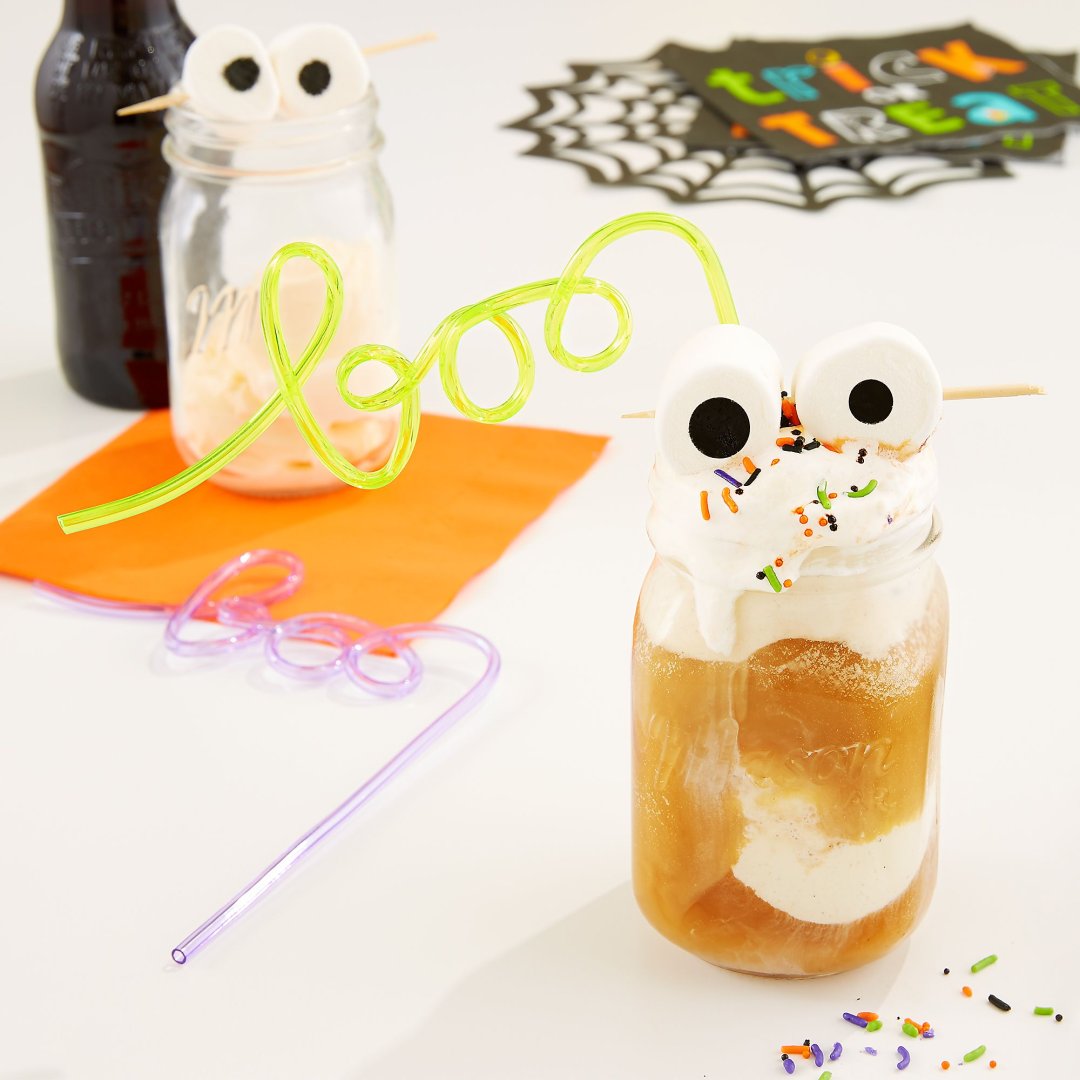 Idea 5: Monster-Eyed Root Beer Float
Quench the thirst of little monsters with a monster-eyed root beer float. We gave the classic dessert beverage a new look fitting for the Halloween season. After combining root beer soda with a scoop of ice cream in a Mason jar, add a dollop of whipped cream topped off with sprinkles and "monster eyes": two large marshmallows held together with a toothpick and pupils drawn with a black food marker. By now it's ready to get slurped up, but what's really going to make this drink scary cute is pairing it with a straw that spells out the word "boo."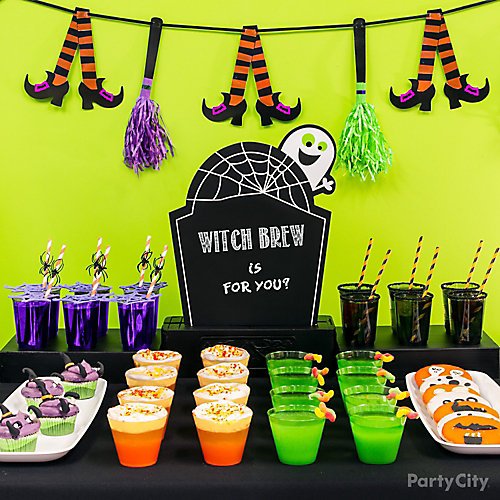 Idea 6: Halloween Mocktail Menu Sign
Which witch brew is for you? This gravestone-shaped chalkboard is perfect for a Halloween table! Write a welcoming message or menu, and keep the decor simple with a black table cover so that your neon-glow drinks really pop. That leg and broomstick garland is simple bewitching!