Chic champagne shooters!
The gents and flappers at your midnight ball will Charleston over to these mini shots, made with gelatin and champagne and served with silver spoons! Check out the recipe below, and don't forget to pair your drinks with jazzy metallic polka dot napkins that look like they've been sprinkled with confetti!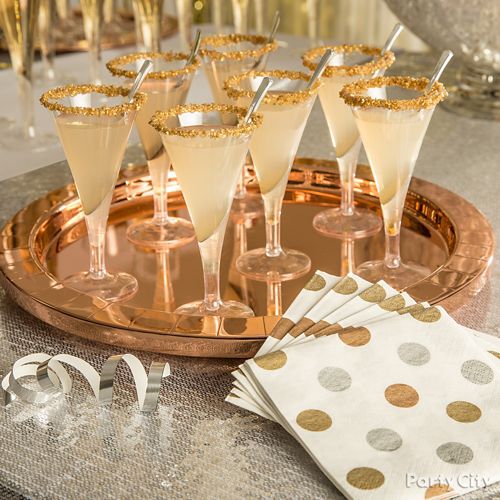 How-To
Ingredients:
Champagne of choice
Water
3 ounces of gelatin
Supplies:
Gold sugar sprinkles
Flutes
Mini spoons
1) Sugar the rims
Shake gold sprinkles onto a flat surface for dipping. Holding the flute by the stem, dip the rim of your cup in simple syrup, shake off excess, and then dip into sprinkles. Let dry.
2) Start the gelatin
Boil one cup of water and remove from heat. Add 3 ounces of gelatin and stir until the powder dissolves. We used unflavored gelatin to maintain the champagne's color and flavor, but any gelatin flavor can be used!
3) Add the bubbly
Pour in one cup of chilled champagne, stirring until the bubbles settle down.
4) Chill and serve
Pour mixture into clear champagne flutes; this recipe will fill 12. Slide mini spoons into cups and chill in a refrigerator for at least three hours.