Yo ho, let's go! Take your crew on a birthday adventure with our Jake and the Never Land Pirates party ideas! Feast your eyes on this treasure trove of invitation, decoration, game and dessert ideas that'll shiver their timbers!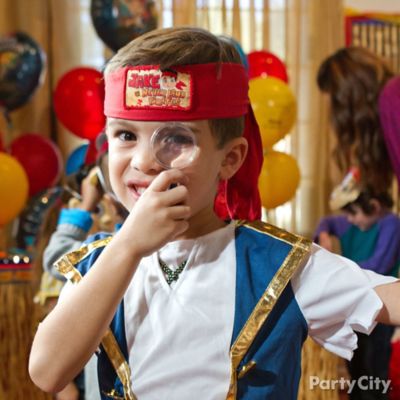 Idea 1: He'll love being Jake for the day!
He's the leader of his birthday, so let him dress up as the leader of his pirate crew! A Jake and the Never Land Pirates costume and toy sword will make his smile extra-big on the special day.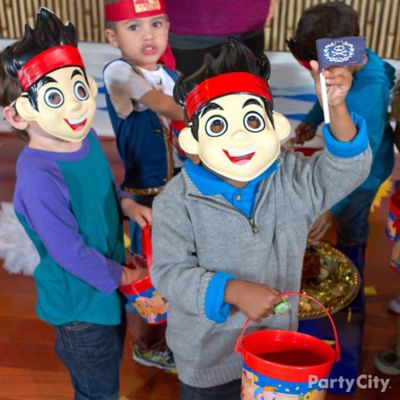 Idea 2: Hand out masks to all of his pirate pals!
Make everyone feel like part of the crew by handing out Jake face masks and eye patches as soon as they walk in! Yo ho, way to go!
Idea 3: Fill favor buckets with treasure and goodies!
Before they set sail for home, hand out favor buckets teeming with themed goodies to your birthday star's friends! Fill a container with paper shred and Jake and the Never Land Pirates favors like mini bubbles, wristbands, eyepatches and – of course – gold!
Idea 4: Make them smile with favor cups!
Transform reusable Jake and the Never Land Pirates favor cups into swashbuckling treasure chests! Place themed favors like pencils, magnifying glasses and gold doubloons on a pillow of paper shred. Slip the cups in a clear favor bag and tie off with some ribbon – yay hey!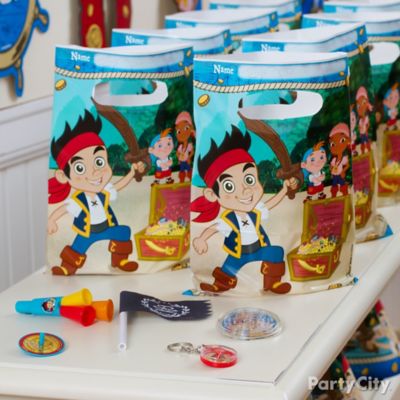 Idea 5: Save your doubloons with a favor pack!
A Jake and the Never Land Pirates favor pack comes with cool pirate favors like maps, puzzles and party horns for eight guests. Just fill themed favor bags with all the goodies and hand them out to your pirate pals!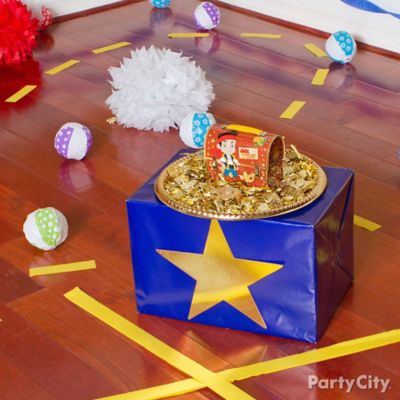 Idea 6: Send the pirates on a treasure hunt!
A pirate treasure hunt is arrr-guably the coolest Neverland Pirates party game ever. Use streamers to mark out the trail with different stations of games along the way, and end the trail with a treasure chest with goodies, like gold coins on a platter, for each little pirate guest. They'll love finding treasure where x marks the spot!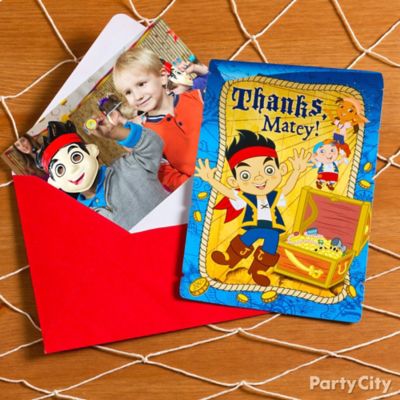 Idea 7: Say "Ahoy" to party pirates with Jake invitations!
Jake invitation sets make it easy to gather the gang. Fill in the blanks with the who, what, when and where of your celebration. Slip into the matching envelopes along with a save-the-date sticker and seal with the included sticker seal. You're done faster than you can say "Ahoy, mateys!"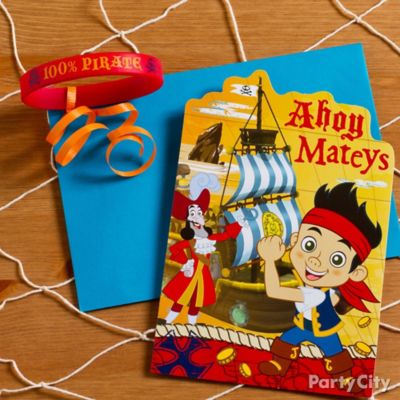 Idea 8: Add a treasure to your invitations!
If you're hand-delivering your invitations, make them extra-special with Jake and the Never Land Pirates wristbands! Punch a hole in the corner of the envelope and attach a wristband with some curling ribbon.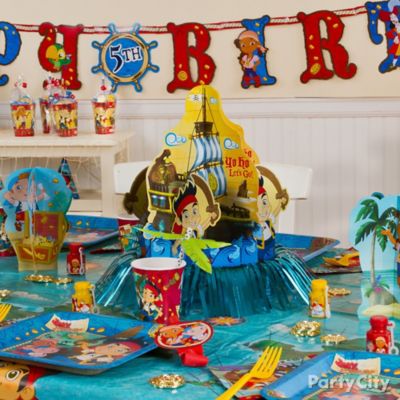 Idea 9: Make a pirate party room with Jake decorations!
Set up an island scene for your party pirates with themed decorations. That Jake and the Never Land Pirates table cover really looks like a giant map! Set sail with a shipshape centerpiece kit and tableware. Your little pirates will be yo-ho-ho-ing all day!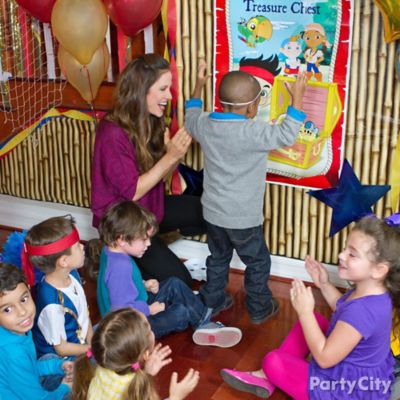 Idea 10: Help Jake solve this pirate problem!
Have the kids take turns playing this pirate version of Pin the Tail on the Donkey, with stickers instead of pins! Blindfold the kids, then let them have a go at this Jake and the Never Land Pirates party game where they try to stick a doubloon sticker on top of Jake's treasure chest. When everyone's had a turn, the person with the doubloon closest to the correct spot earns some treasure of their own!
Idea 11: Fill a pirate pinata with loot!
Load a pull-string Jake and the Never Land Pirates pinata full of themed treats and favors, then let each member of the birthday crew pull a string until the "magic" ribbon releases all the goodies!
Idea 12: Create arr-worthy pirate place-settings!
Get kids to drop anchor when it's time to eat with Jake and the Never Land Pirates place-settings! Start with a map-printed table cover, then add tableware and treasure like eyepatches, doubloons and blowouts for the pirates to play with until the cake arrives.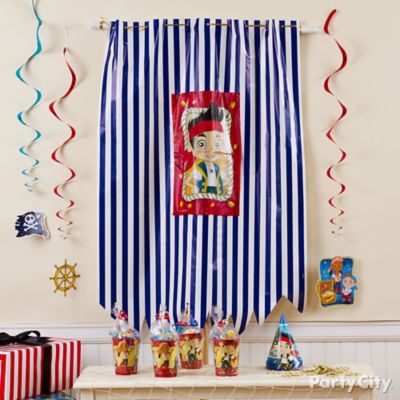 Idea 13: Set sail with an easy DIY decoration!
Make a pirate sail for your party room with striped gift wrap and curling ribbon. Roll out three feet of wrapping paper, then cut small holes on the top and thread with ribbon. Cut a jagged edge on the bottom and add a picture of Jake from a Jake and the Never Land Pirates scene setter to the center. Raise your DIY sail above the favors table or somewhere else sure to be seen by the pirate crew!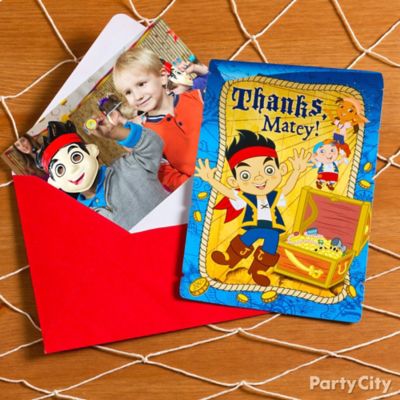 Idea 14: Send a crew photo with your thank you's
Remind your pirate pals of the merry adventure they had at your party by including a photo inside of Jake and the Never Land Pirates thank you notes!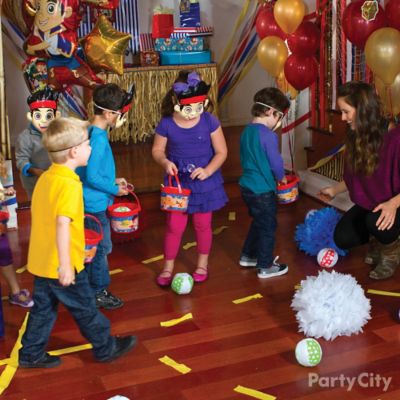 Idea 15: Party games double as decorations!
Set up a DIY pirate party game so the kids will know they're in for treasure and adventure! Cut yellow streamer strips and tape them to the floor like "dashes" on a treasure map, with fluffy decorations and mini beach balls scattered around. "X" marks the spot in front of a gift-wrapped box with a gold star and a pile of treasure and favors on top. Check out our Jake and the Never Land Pirates Party Games & Activity Ideas later in the guide for more on how to play this fun game!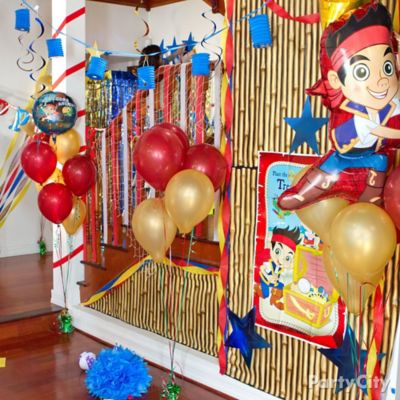 Idea 16: Set sail for Never Land with nautical decorations!
Transform the living room or entryway with a mix of Jake and the Never Land Pirates balloons, banners and streamers and some island-inspired netting and a bamboo-printed room roll.