These Pennywise party ideas from Stephen King's IT movies don't clown around when it comes to bringing the terror! Horror fans, Stephen King devotees, and hard-core Halloween enthusiasts will kill for this party theme even after October has come and gone. Pennywise themed parties, like the evil dancing clown itself, never really die!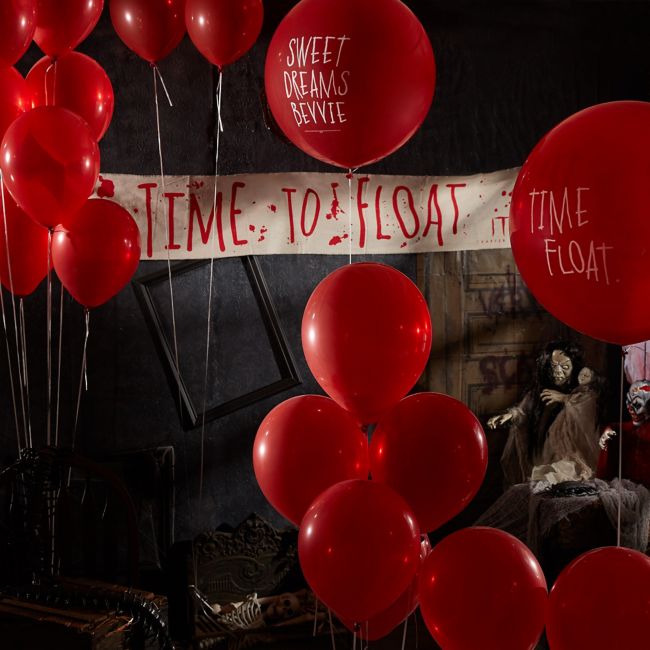 Idea 1: "We All Float" with Balloons
What better way to show your Pennywise party guests "It's time to float" than with creepy red and white themed balloons! Clowns and party balloons go together like Pennywise and sewers.
Elevate your party with balloons
Idea 2: Beckon Death with Decals
Chills will run down their spines when your guests see Pennywise leer at them through your windows. Blood splatter and a frightening "Time to Float" forewarning really drill the dread home.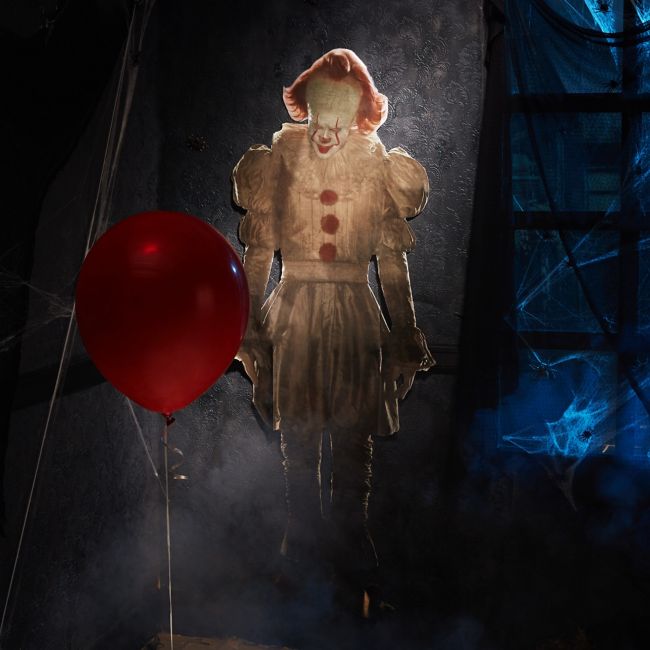 Idea 3: Crank up the Fear with Life Size Cut-outs
A Pennywise party is not complete without the shape-shifting guest of honor. Use a life size cut-out of the killer clown to bring it's eerie presence to life. Your cut-out will be the life, or the death, of the party!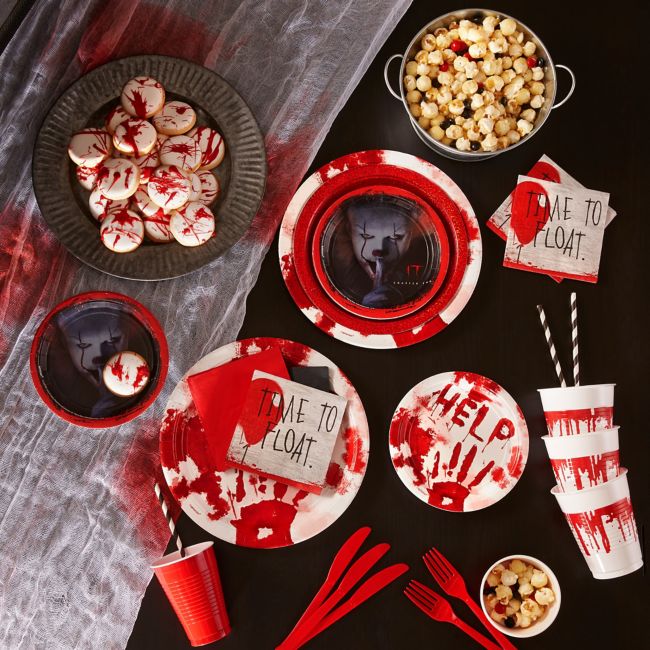 Idea 4: Set a Terrifying Table
Your visitors will swallow their tongues when they see your IT themed blood-splattered plates, napkins, and cups! Blood red cutlery adds a frightening finish to the look. Add origami airplanes, a Pennywise mask centerpiece, a black rubber boot vase (for candy or favors), and carnival popcorn boxes to make your guests feel they are sitting down to their final meal... in Derry, Maine.
Terrorize with themed tableware
Shop the scene of the crime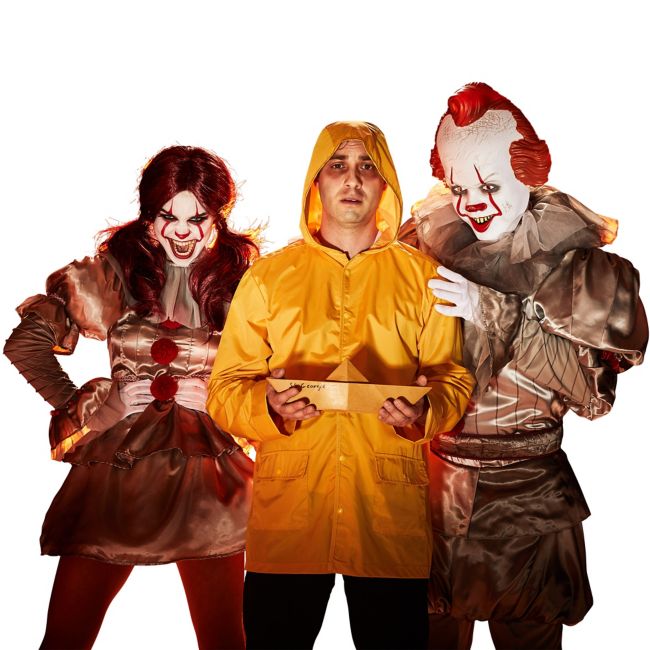 Idea 5: Get into Character
Live the nightmare of Derry when you dress in character as Pennywise and Georgie. Don't worry, you can wake-up from the fear when the party's over!
Idea 6: Create the Crime Scene!
Scene setters fare the backdrop you need to transport your party room into the freaky fantasy world of the IT movies. When guests look around they will know there is no way out!
Idea 7: Scare them with Light and Sound
Animate your party with decorations that talk and move! These animatronics are a scream...bwahaha.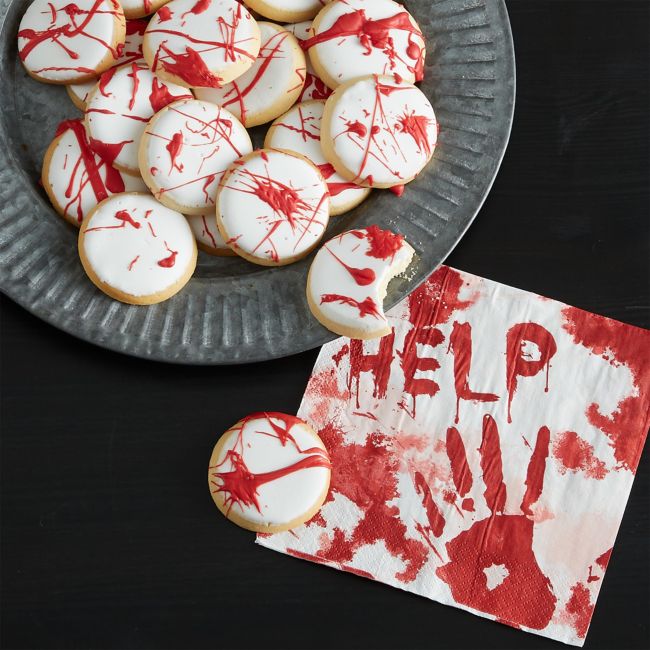 Idea 8: Blood Thirsty Snacks
Quench their thirst for blood with white frosted cookies splattered with red Candy Melts. Use your favorite recipe for cookies topped with white icing or go with store-bought cookies.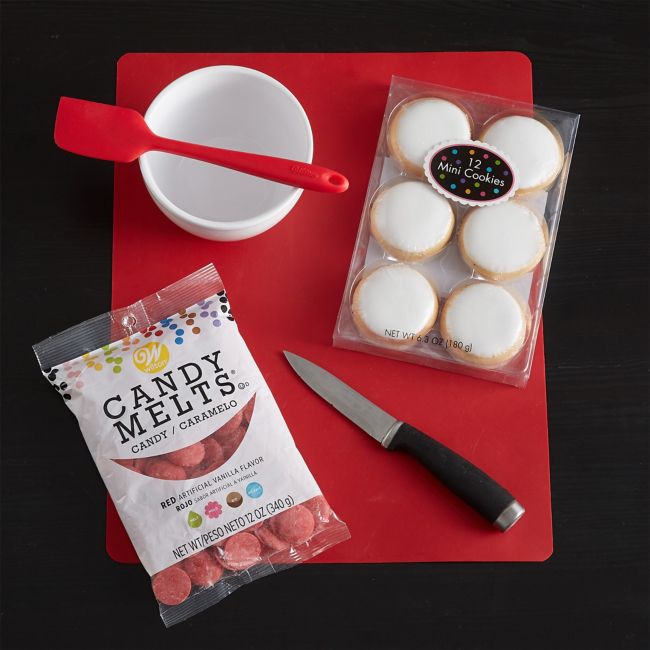 For the candy coating
1. Choose Candy Melts in the color red. Melt about 1 cup of candy melt in a small bowl in the microwave at 50% power for 1 minute. Stir and then continue microwaving at 50% power for 30 seconds at a time until completely melted.
2. Add approximately ½ teaspoon to 2 teaspoons of cooking oil (the more you add, the smoother the finish) to the melted Candy Melts and stir.
3. Dip a brush in the Candy Melts and sprinkle candy melt on cookies in a blood splatter pattern.
4. Repeat with a toothpick for fine lines of blood splatter.
5. Set finished cookies on parchment paper until dry.
Browse bloody baking supplies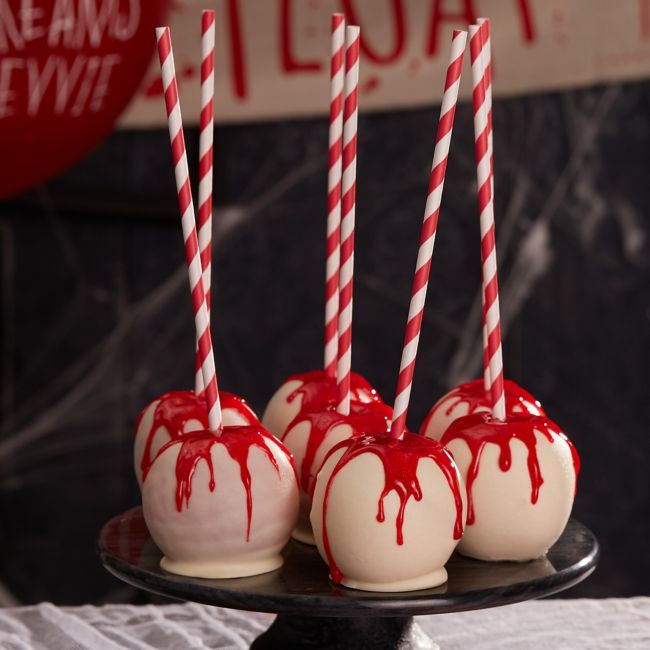 Idea 9: Deadly Decadent Candy Apples
Using the same process as with the cookies, melt white Candy Melts and red Candy Melts in different bowls.
Attach a lollipop stick into the top of each apple, dip into the white Candy Melts until the apple is covered and let it harden.
Add the blood splatter onto the white candy shell using the red Candy Melts as you did with the cookies.
Now you have two terrifyingly tasty treats themed to your Pennywise Party!