Home sweet haunted home! Get tips and tricks for decorating indoors this Halloween. Whether you're creating a haunted house, choosing decor for a stylish adult party or keeping it cute and spooky for your little ones, we've got the best ideas that go bump in the night. Keep reading, then shop all Halloween home decor.
Halloween Mantel Decorating Ideas
Ready to conjure a stylish Halloween mantel setup? We've got your spell book right here. With these ideas you'll be all set to create a wickedly eye-catching display. If you like these, explore the rest of our Halloween Mantel Decorating Ideas.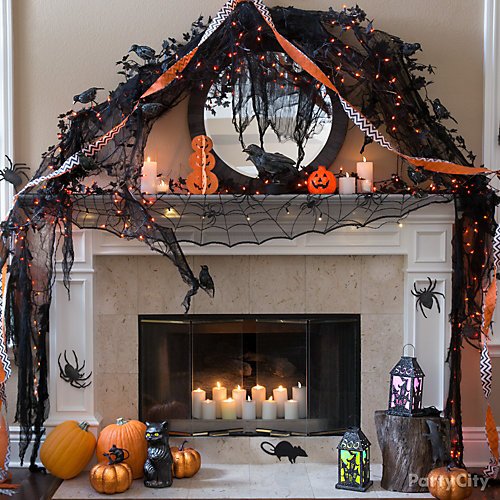 Idea 1: Brew Up an Enchanted Mantel
Create your take on a wicked-cool witch's den. Drape a black net "cobweb" across the front of the mantel then artfully mix garlands of black leaves with bits of gauze and enchanted creatures like spiders, mice and a flock of feathered crows. Use a base of natural branches or hang decor from stick-on hooks.
Idea 2: Picture Perfect Halloween Mantel Idea
When it comes to decorating a Halloween mantel, you can cast a bewitching spell all season long by curating simple decor in a memorable way. Start by draping gray and black gauze over the mantel shelf; it allows for simple decorations, like bat cutouts and photo booth frames, to look both spooky and stylish. To see all the wicked details, check out our Elegant & Batty Halloween Mantel How-To.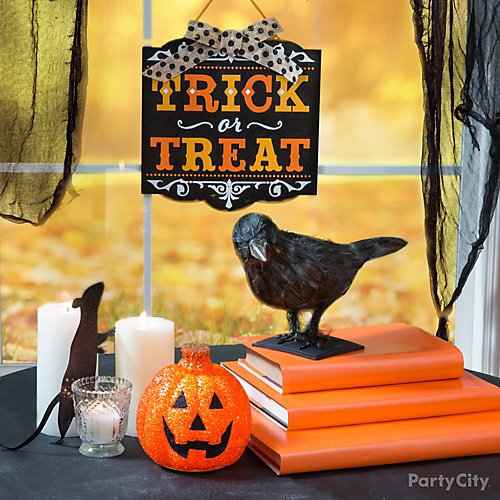 Idea 3: The Mantel Is the Perfect Spot for Spell Books!
Conjure a stylish window scene. Any table nestled in a corner will do nicely for your witchy workshop. Hang a sign, cover books in orange gift wrap and perch a raven on top. Candles, pumpkins and a rat make it spookily stylish.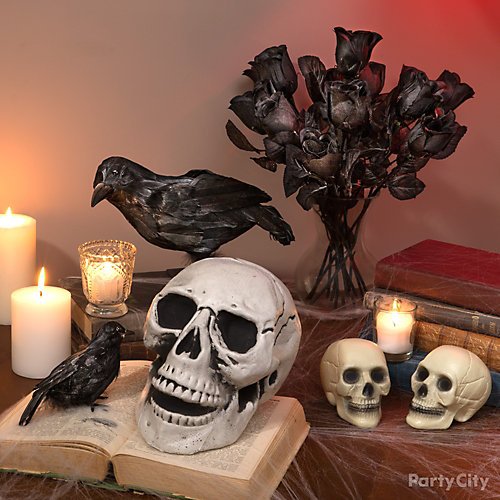 Idea 4: Impress the Spirits With a Haunting Scene
These boneheads wouldn't be caught dead without a good book! Arrange skulls on and around stacks of aged and weathered novels covered in cobwebs, with a couple lurking crows to keep guests from pawing your precious spell books. Set the mood for a spooky book club – or a seance! – with a vase of black roses and battery-operated candlelight.
Haunted House Ideas
If you're ready to take Halloween decorating to the next level, start here. We have devilishly good ideas on how to transform your house into a terrifying haunted house! Invite the neighbors over and warn the little kids, because things are about to get scary. If you like this, make sure to creep through all of our Haunted House Ideas.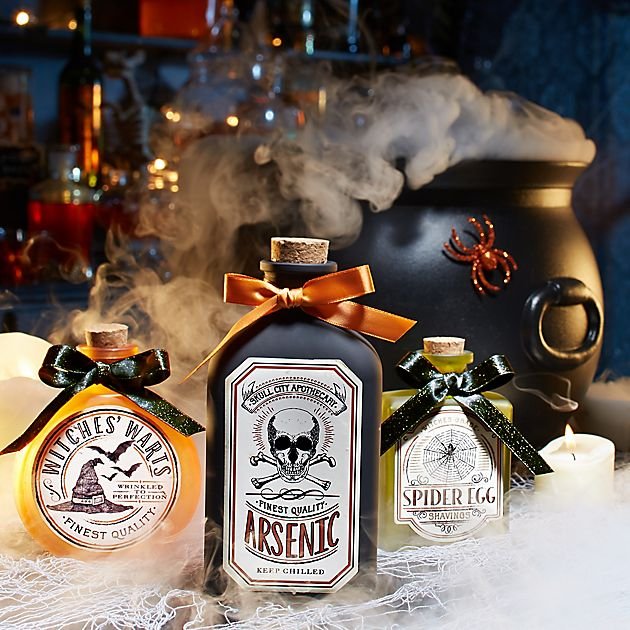 Idea 5: Creepy Props with Effects
Set out witchy potion bottles wrapped in pretty ribbon and surround with flameless LED candles. If you want your cauldron to billow smoke, place a large bowl inside of the plastic cauldron and fill the bowl with dry ice just before your guests arrive. Hot water will activate the double, double toil and trouble!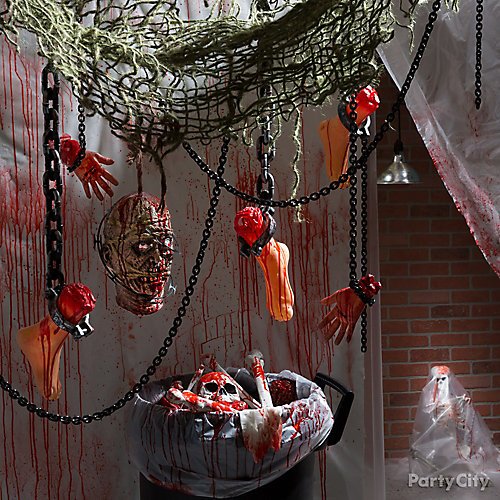 Idea 6: Terrorize with a Twisted Bloody Scene
Put together a gory and gruesome basement display that will give visitors a bone-afide scare! Dangle severed hands, feet and heads by cuffs and chains to make the room look like a torture chamber and drip some fake blood on the ligaments for realism. A trash bin full of bloody bones and skeletons covered in blood-spattered plastic wrap will show that other victims didn't make it out of the basement either! We created blood-spattered walls by smearing fake blood on clear plastic table cover that comes by the roll. Be sure to wear gloves – you wouldn't want to be linked to this crime! See all the grisly details by reading our Bloody Basement tutorial.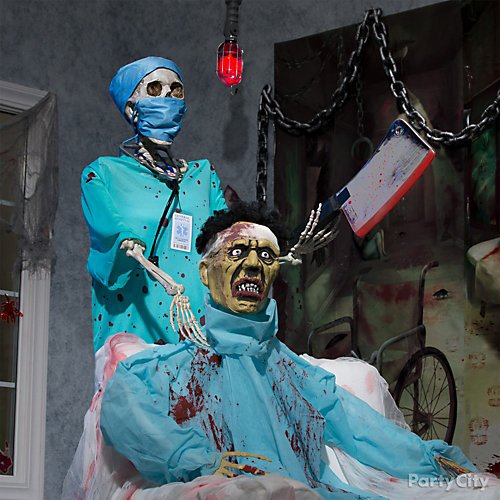 Idea 7: Turn Your Home Into a Bloody Asylum
All chopped up and nowhere to go! Stalk the halls of an abandoned asylum wing with a skeletal surgeon and his patient. Create an ominous setting with deluxe props, like this maniacal patient who's had one lobotomy too many. Arrange this bone doctor behind him with butcher knife prop in hand like he's about to give a surprise surgery! Visitors may start second-guessing their decision to visit your house of horrors when they see this deranged pair.
Idea 8: Cause Nightmares With an Animated Toy Box
This Halloween animatronic is so creepy we don't even want to talk about it. The toys pop up to deliver a message: "Just crawl inside, quick! They won't get you if you hide in here!" Set this up in a room full of creepy toys. If you have actors in your haunted house, have them dress in doll costumes to complete the creepy scene.
Cute Indoor Halloween Decorating Ideas
Add spooky fun to your home, classroom or kids Halloween party with these adora-boo ideas! Keep reading and get inspired to decorate a kid-friendly Halloween wonderland. For more ways to set a frightfully fun scene indoors or out, explore all of our Cute Halloween Decorating Ideas.
Idea 9: EEK Balloon Arch How To
Learn how to make this boo-tiful wall decoration! Follow our EEK Balloon Arch guide to create a balloon garland that takes flight with a stylish take on fright. You'll need 13" silver letter balloons, a variety of 12" and 5" balloons on Halloween colors, a balloon arch decorating strip, spider webbing, reusable wall hooks and scissors. Check out the guide for our full how-to!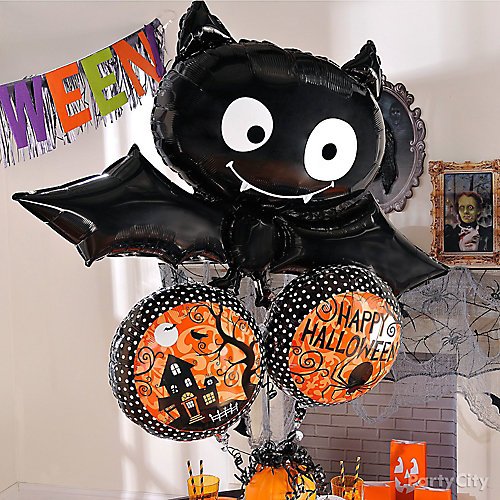 Idea 10: Batty Balloon Centerpiece
We've gone batty for balloons! Make a mini balloon bouquet as a centerpiece that features the happiest vampire bat around! Anchor the bat balloon, paired with two Happy Halloween balloons, to a pumpkin with curling ribbon, and put it at the center of the dinner table. It'll make your party room look like a bat's cave!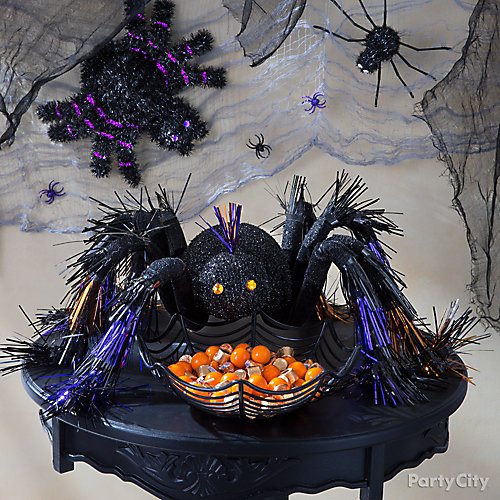 Idea 11: Snatch a Morsel From a Frightfully Fun Entry Table
When little ghosts and ghouls arrive for your Halloween dinner, make sure you're ready to greet them with an entryway table crawling with fun. A candy bowl in the shape of a spider web is the perfect pairing to a spider decoration that shivers with shimmery tinsel. The little ones can't resist snatching a morsel from the clutches of this friendly-looking arachnid!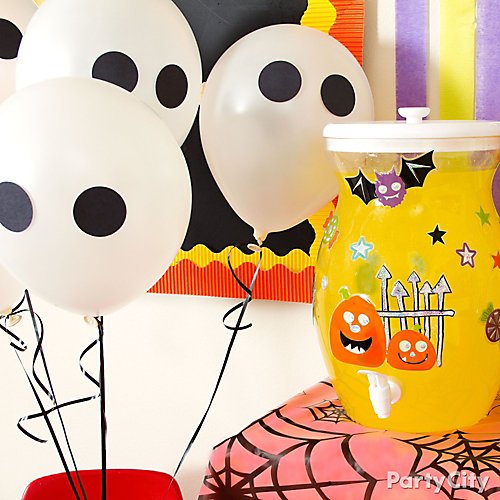 Idea 12: To-DIY-For Details for Your Drink Station!
It's easy to cast a magical spell by adding adora-boo details. Decorate a drink dispenser with pumpkin and bat gel clings and DIY some cute floating ghosts by adding black paper plate dots to white balloons. You can achieve a similar look by drawing on eyes with a thick black marker. Happy hauntings!