Your incredible kid deserves only the best for their birthday bash. This year, go all out with a party to match their new Pixar obsession, The Incredibles 2. Scroll down to discover 11 new ideas for your little hero's celebration.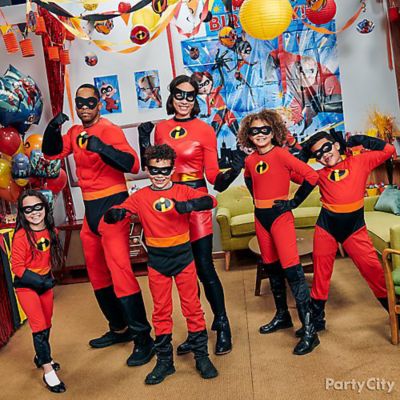 Idea 1: Make it a costume party
Just like the Parr family works together to save the day, your whole family can host your Incredibles party as a team. Kids always enjoy dressing up like their favorite heroes, but they'll be even more excited to see their parents and siblings get in on the fun. Once everyone dons a heroic outfit, they can use their new powers to help decorate for the party.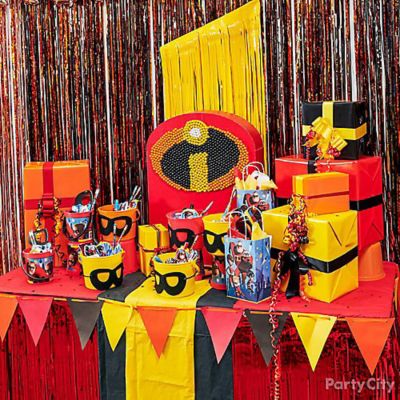 Idea 2: Take inspo from this epic Incredibles party table!
Place this table at the front of your party to wow guests from the start! It's the perfect place for friends to leave gifts as they enter and pick up favors as they leave.

Directions: Cover a small table with a red tablecover. Cut a long section of black tablecover to create a vertical runner; lay it perpendicular to your table at the center. Add a smaller strip of yellow table cover on top. Secure these with double-sided tape. Place long strips of double-sided tape around the edge of the table on either side of your runner. Hang two red fringe curtains and cut off excess at the bottom. Using 4 packages of pennant banners, string together a new banner using this color pattern: red, black, yellow, orange. Use a staple gun to hang this pennant banner from the edge of the table.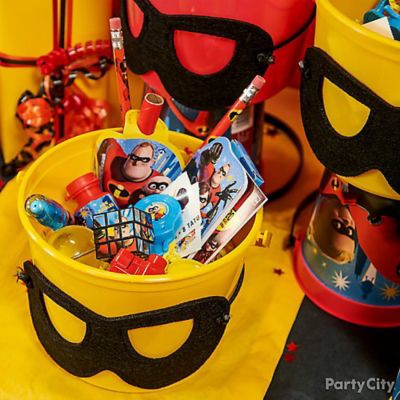 Idea 3: Incredibles favors in a flash
Channel your inner Dash Parr and super-speed your way to these adorable (and easy!) Incredibles favors. Add masks to red and yellow buckets, then fill the containers with goodies from a mega favor pack—tops, yo-yos, maze puzzles and whistles—to stretch your budget like Elastigirl. For more super-powered fun, add larger favors like punch balloons, pencils, or stickers. Create a base with matching paper shred to better display the favors in your bucket.
Idea 4: A unique party table is a must!
All you need are a few DIY touches to create a fun Incredibles tablescape perfect for snacks or birthday cake. Since the bold design of the Incredibles plate pattern has a lot going on, we layered solid colored tablecovers in red, orange, black and yellow beneath the plates to add a sense of visual variety. To get the look of our DIY party chairs, start by draping a red tablecover over each one. Add pops of color by taping strips of tablecover in yellow and black, then add Incredibles logo cutouts from a party decorating kit. Use the rest of the items in the kit to set the scene for a perfect party room!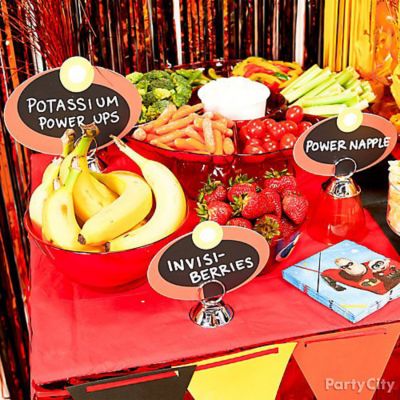 Idea 5: Bring creativity to a super healthy snack table
How fun is this thematic Incredibles snack table? Cut round labels for each of the bowls using black cardstock, then replicate the Incredibles logo using pieces of orange and yellow construction paper. A white chalk marker will show up nicely against the black, so write fun phrases like "Invisiberries" or "Potassium Power-ups" to make the healthy snacks at your party more tantalizing for young guests. You can also turn your snack table into a conversation by writing a super power on each card and telling the kids to pick the ability they would want the most!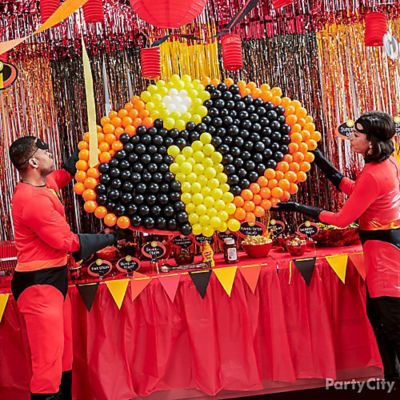 Idea 6: Try the trend: mini balloons display
This DIY project will totally amp up your already epic Incredibles party. Cut out an oval from a thick piece of cardboard to use as your display board. Paint your design first so no white space will peek through, then start blowing up mini balloons. (Pro tip: use a balloon pump. You'll thank us later.) Use small pieces of double-sided tape to adhere the balloons to the board. To match our display, you'll need 90 orange, 70 yellow, 130 black and 7 white mini balloons — but you can change the proportions for a smaller or larger display.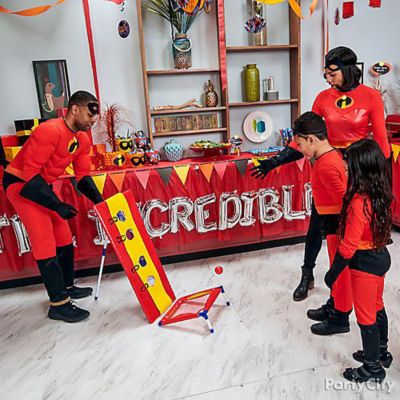 Idea 7: How to customize pre-packaged games to match your party
Your Incredibles party must have activities that get the heroes moving…we insist. Rather than DIY-ing yourself crazy, customize any carnival game (this one's called Bounce-a-Ball) with your party colors using wrapping paper. Wrap the Bounce-a-Ball target board in Sunshine Yellow and Bright Red wrapping paper, then cut holes for the targets. Use a thick permanent marker to write the points beside each of the holes. At the end of the party, remove the gift wrapping paper and store the carnival game for future b-day bashes!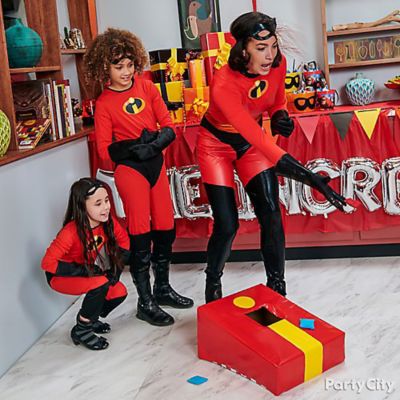 Idea 8: Set up a bean bag toss in your party colors
It's super easy to customize a classic Cornhole Game to match your Incredibles party: all you need is a pair of scissors, tape and wrapping paper in red and yellow. The kids will love taking turns seeing who has the best aim. Come to think of it, this sounds like a game the adults will want to try, too!
Idea 9: It's not a birthday party without cake
Light the candles and get ready to sing: it's time for cake! You can achieve the bright red of this Incredibles cake by mixing Wilton red icing color with white decorating icing. Use a piping bag with yellow icing color mixed with white decorating icing to create the I's around the sides of the cake, and don't forget to write a special birthday message on top! To finish your creation, gently press orange and black Sixlets into the icing to create the dot effect.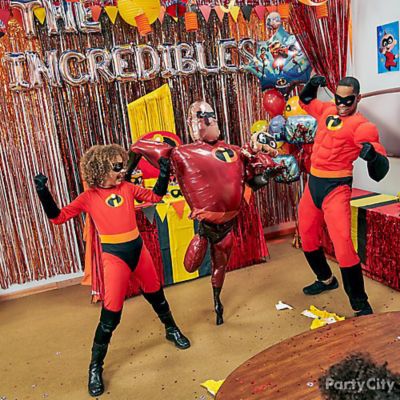 Idea 10: Strike a pose with Mr. Incredible
Invite a familiar face to your party by inflating a gliding balloon of Mr. Incredible. Make sure to set him up in an open area where the kids can play and pose for pictures with him. And don't stop there! Hang shiny silver fringe curtains and air-inflated letter balloons to bring your photo booth to new levels.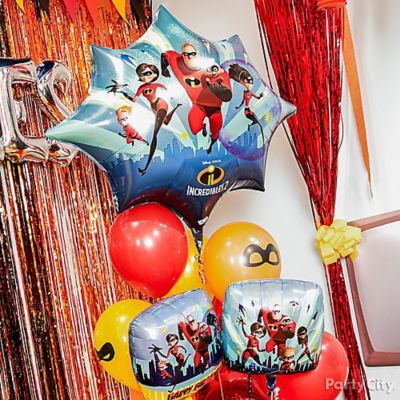 Idea 11: How to make an Incredibles balloon bouquet
Add wow-factor to your party room with a decoration so incredible, the balloons will need to hide their identities! Start by tying a helium-inflated foil balloon to a balloon weight with a long piece of red ribbon. Next, tie the masked latex balloons to the weight at varying heights below your focal piece. Finish with two small foil balloons at the bottom of your bouquet to create balance. For a super polished look, use your scissors to carefully curl any loose ribbon ends. And that's it! Your Incredibles balloon bouquet is ready to turn heads.