If your kids love Hyper Scape as much as we do then they are going to love this party theme. We've got easy-to-make table décor with balloons, photo props, cupcakes, and more.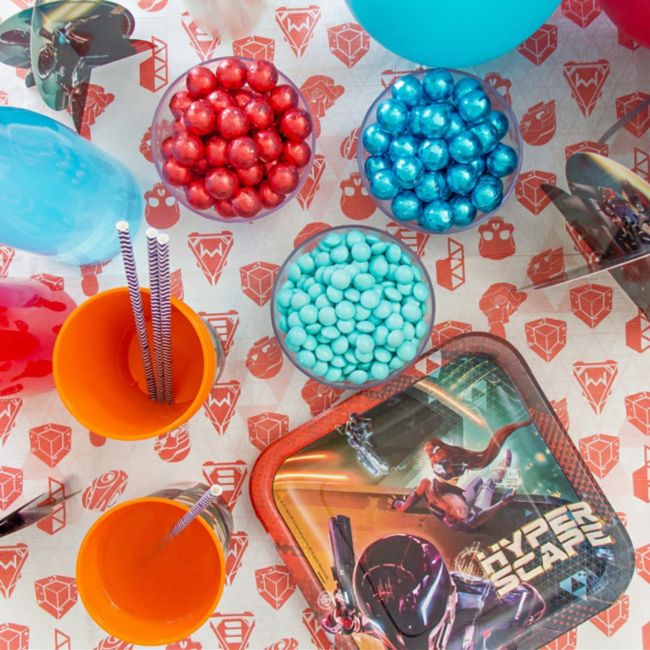 Supplies
Hyper Scape Favor Cup
Hyper Scape Table Cover
Hyper Scape Lunch Plates, 9in, 8ct
Hyper Scape Table Decorating Kit
Hyper Scape Photo Booth Kit
Latex Balloons (Red, Robins Egg Blue, Royal Blue, Caribbean Blue)
Clear Plastic Carafe
Silver and White Baking Cups
Metallic Silver Curling Ribbon
Chocolate Drops
Chocolate Balls
White Plastic Long Rectangular Platter
Balloon Pump
Vanilla Cupcakes
Buttercream Frosting
Drinks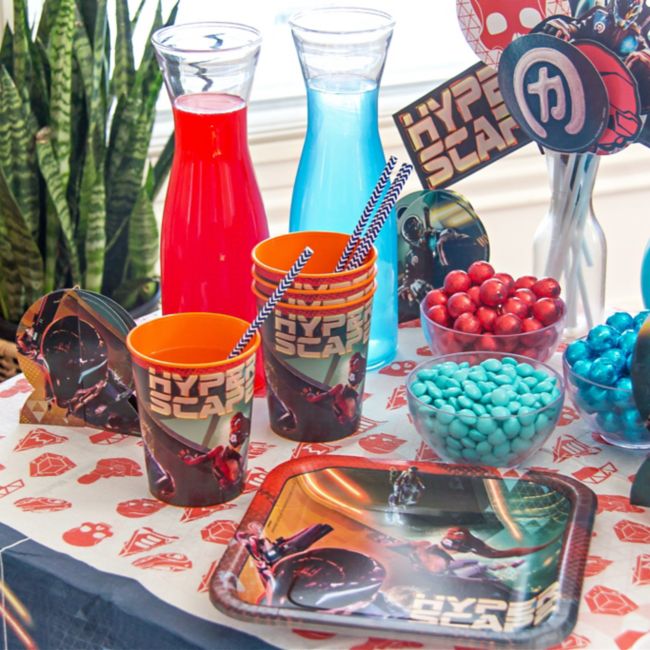 Table Decor
The Hyper Scape plates, table cover, and cups make it easy to decorate your table and even easier to clean up. Keep food and drink simple with finger foods, cupcakes, and carafes so that kids can easily refill as they need to.
Balloons
Use a balloon pump to inflate latex balloons in assorted colors. We used Red, Robins Egg Blue, Caribbean Blue, and Royal Blue. Other colors that would work too are Black, Silver, and White. You don't want your balloons to be too large so we recommend inflating them to between 4 inches and 7 inches. Tie them together using curling ribbon.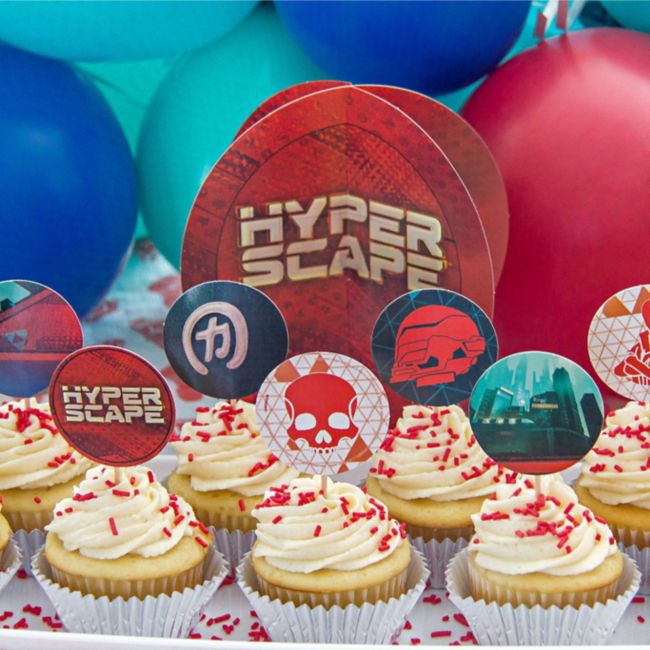 Cupcakes
Vanilla cupcakes with buttercream frosting bring out the colors of the Hyper Scape wording on the table décor. Add red or blue sprinkles to your cupcakes.
To make the cupcake toppers, use the confetti from the Hyper Scape Table Decorating Kit. Attach a long toothpick to the back of each circle and in just a few minutes you have all of your cupcakes decorated.