Party City has tons of great Halloween décor and costumes so this year, I decided to throw a Halloween party for family and friends to enjoy. My party planning wheels instantly started spinning; and then came to a screeching halt. Coronavirus...How do you plan a party in the Corona times? The answer turned out to be short and quite sweetly simple. A virtual Halloween party hosted on Zoom!
Jumping into party planning mode, I immediately saw the challenge I had before me. How was I going to make a virtual party feel like a real celebration? I knew the first step was to make it look fun! I decided to create sweet little party packs for our guests and fill them with goodies and decorations for their own homes. That way no matter the distance, we could bring the party to them! I picked a date and got to work on the details. I knew I'd need super cute invites, adorable costumes, and amazing food and decorations. Virtual or not, I was determined to make this the best virtual Halloween party ever celebrated!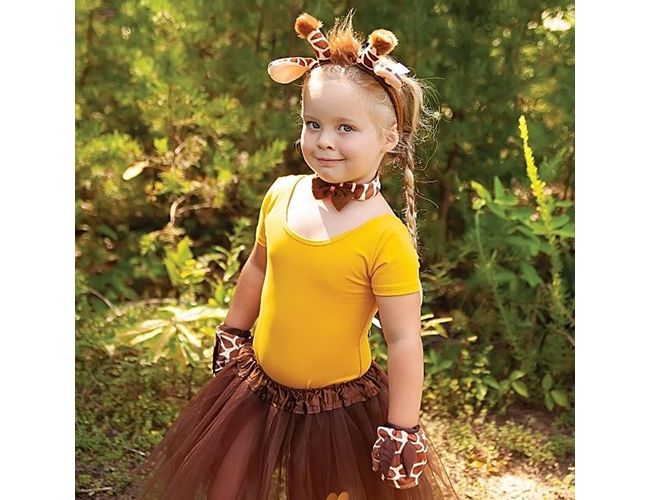 Costumes
The very first thing my girls wanted to do was grab their Halloween costumes. My youngest is obsessed with giraffes. A quick search of the Party City website showed some adorable giraffe costumes, but the Child Giraffe Costume Accessory Kit was immediately caught her eye.
I must say I do agree with her choice. Plus, it was insanely affordable.
My oldest insisted on scouring the site and looking at every single costume on there. She had a super hard time narrowing it down, but eventually settled on this Girls Pretty Peacock Costume. She oohed and ahhed over it when it arrived. When she put it on the first time she instantly assumed her most regal of stances. It was pretty adorable!
Getting to wear their Halloween costumes and have a virtual Halloween party was probably some of the most excitement they've had all year!

Invitations
Half the fun of planning a party is designing the invite! I quickly whipped up a fun little invitation that could be sent via email. "Bringing the Boo to You" has a nice ring to it.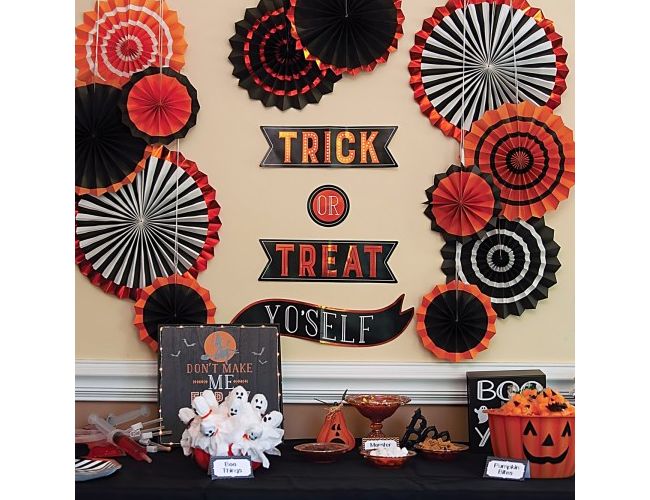 Backdrops
I decided everyone could have fun creating their own backdrop. I already knew I wanted to go extra all out and purchased a Hallows' Eve Paper Fan Decorating Kit. I fell in love with it the second that I saw it. Those gorgeous paper pin wheels make an amazing backdrop!
I also knew I wanted to make it easy for my friends to decorate their own home, and find something easy to mail if needed. So I grabbed this adorable Halloween Friends Wall Decorating Kit. It has a ton of decorations that are easy to split between families so everyone can have a sweet Halloween backdrop.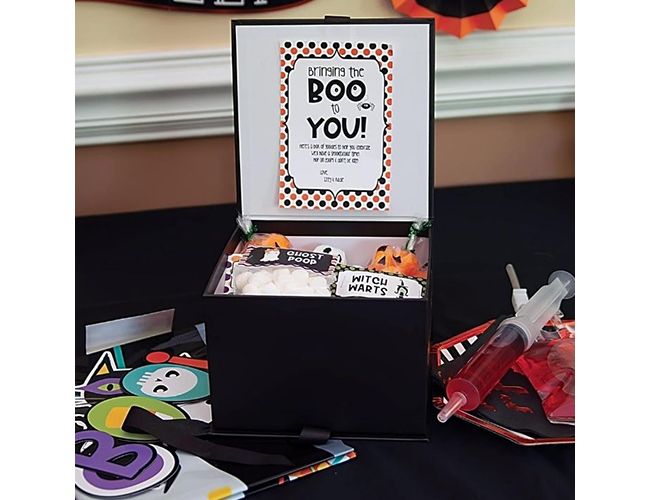 Virtual Halloween Party Kit
A few days before the party I started assembling fun little party kits to be delivered to our party guests. I added decorations for their backdrop, delicious Halloween treats, and even some of our tableware. I'd found the most perfect Ginger Ray Metallic Pumpkin Party Paper Plates 8ct and Ginger Ray Metallic Pumpkin Party Lunch Napkins 20ct at Party City for all our guests to use them!
I had this fun little box I originally planned on putting everything it. The box itself turned about adorably and the contents were even cuter! I added a little note inside to add to the fun.

Food
One of my favorite things about party planning is coming up with cute food ideas. This was my first Halloween party but I've been saving ideas for years!
Even though we wouldn't have a big crowd coming to our house, I still wanted to make a cute table. I started with the gorgeous plates and napkins from Party City, and some fake blood bags and syringes filled with red Kool-Aid.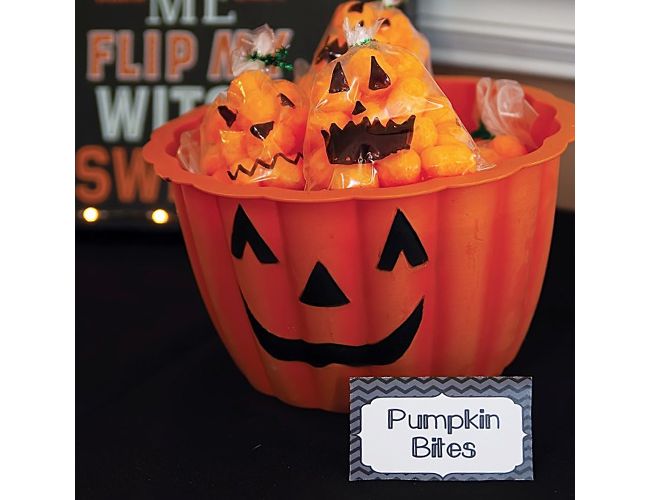 You can also see the Light-Up Witch Switch Sign I scored at Party City! It lights up and fit perfectly with the other decorations in the party.
Because kids love cheese-balls, I knew we had to work them in some way. I just added a quick sharpie marker face to some bags stuffed with cheese balls and then secured them with a green pipe cleaner and voila, we had pumpkin bites!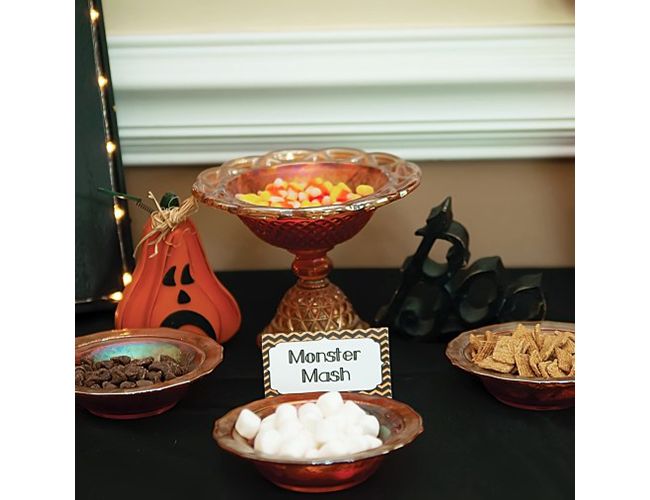 In the treat box, I'd also included some baggies full of fun treats to make Monster Mash. We had candy corn for Jack-o-Lantern's teeth, marshmallows for Ghost Poop, chocolate chips for Witches Warts, and Golden Grahams for Monster Scabs.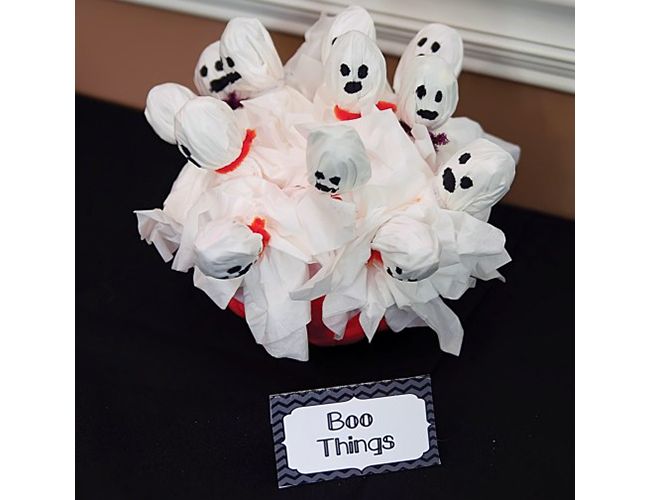 I also created an old stand-by I've seen done for YEARS. Kleenex over a lollipop, secured with a pipe cleaner and adorned with Sharpie marker features creates the cutest Boo Things!
I jabbed them in an old beat up foam pumpkin and made the cutest little display!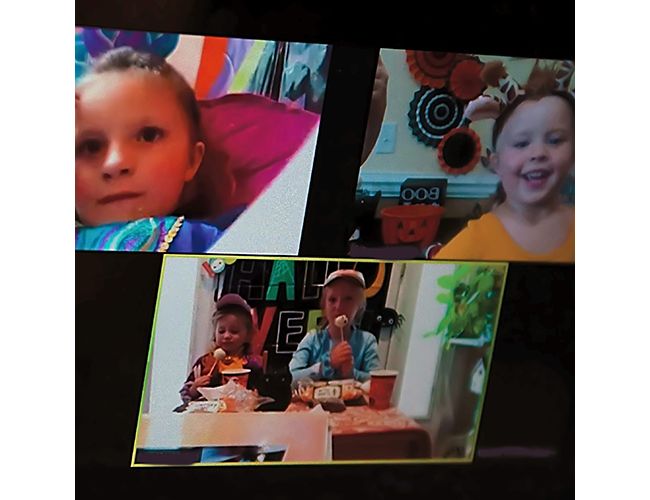 Party Time
Once everyone had their party supplies, I created a Zoom link and emailed or texted it to everyone. We all logged on and it was so much fun seeing all the kids costumes and decorations in the back.
There were so many giggles and we had the best time!

You could also play some games during a virtual Halloween party. With the help of a person shouting "Go!" you could even re-create Halloween favorites such as bobbing for apples or pop goes the pumpkin (popping orange balloons).
So when October rolls around and you're still stuck at home, don't let Corona get you down! Head to Party City and score some costumes and decorations at extremely affordable prices, then share some goodies with your friends and hop on Zoom for a party you won't forget!