Have you heard? Donuts are the new cupcakes! And letter donuts are the hottest trend of them all. Spelling out an inspirational message is a mouth-watering way to personalize your party food. Whether it's the birthday boy's name, asking her to "Be Mine," a holiday message, or a congrats to your grad—letter donuts say it with deliciousness!

The boutique bakeries that specialize in custom letters are hard to find and high-priced. To get in on this tasty trend, make your own letter donuts at home. It's easier than it looks, but you don't have to tell your guests that when they flip out over you making these yourself! When you're all ready, shop baking supplies.
Let's talk ingredients. You'll have two lists, one to make the dough for the donuts and the other for the glaze.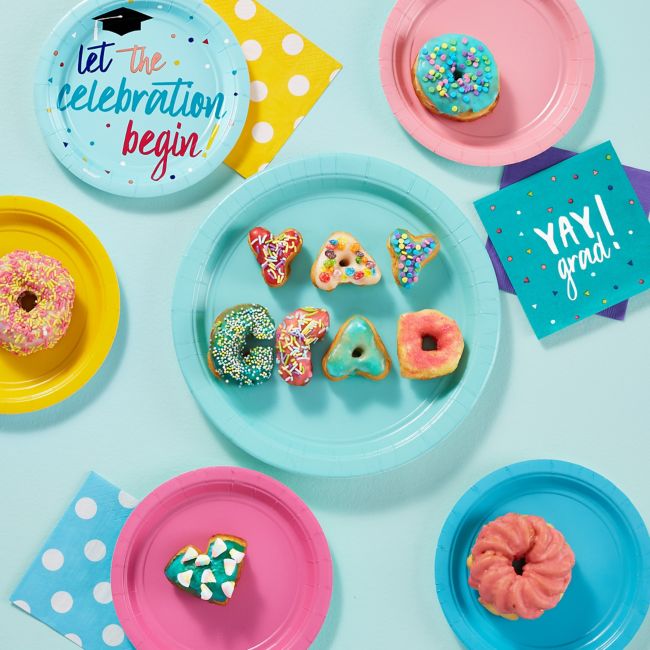 Donut Ingredients:
2 1/4 teaspoon (1 packet) instant yeast
3/4 cup warm water
1/3 cup granulated sugar
1/4 teaspoon salt
1/4 cup butter (room temperature)
2 large eggs
1 teaspoon vanilla extract
4 cups all-purpose flour
4-5 cups of canola oil (for frying the donuts)
Donut Glaze:
2 cups powdered sugar, sifted
1/4 cup water
1 teaspoon vanilla extract
Food coloring (in your theme colors)
Sprinkles
You Also Need:
Donut letter cutters
Candy thermometer (so you know when your oil is hot enough to fry your donuts)
Deep, heavy skillet or large stock pot
2 large baking sheets
Paper towels
Cooling rack
Tongs or slotted spoon
1) Mix yeast and water
Mix the packet of active dry yeast with warm water in the mixing bowl of a stand mixer fitted with a dough hook. Let the yeast sit for 10 minutes.
2) Mix dough
Add sugar, salt, butter, egg, egg yolk, vanilla extract, and flour. Set the mixer speed on low to medium and knead until the mixture begins to form. It should pull away from the sides of the bowl easily.
3) Transfer dough and chill
Transfer the dough over to a lightly greased bowl, flipping it over once to coat the entire ball of dough. Cover and refrigerate overnight.
4) Knead and roll dough
The next day, gently punch the dough down in the center, then transfer to a lightly floured surface. Knead the dough a few times. Roll out the dough about a 1/4-inch-thick over the lightly floured surface.
5) Cut letters
Cut out letters with your alphabet cookie cutters and lay them out on cookie sheets (about 1″ apart). You can roll leftover dough scraps into donut holes!
6) Give it a rest
Cover the baking sheet with a tea or dish towel and let the donuts rest for about an hour and a half (or until they've nearly doubled in size).
7) Prepare a cooling station
Meanwhile, set up your cooling station by lining a large baking sheet with 2 layers of paper towels with a cooling rack placed over the top.
8) Fry the dough
When your dough has risen, place the canola oil into a pot with a heavy bottom and heat until it reaches 365ºF. Do not estimate the temperature, use a candy or deep fryer thermometer. Place a few donuts in the oil at a time for about 45 seconds on each side (using tongs or a slotted spoon to turn them over). Donuts should be a golden-brown color. Be sure to keep the temperature the same as you fry all the donuts. Remove the donuts from the hot oil when done and place onto the cooling rack to let the excess oil drain off.
9) Glaze and decorate
Glaze and Sprinkle your donuts. Start by mixing all your ingredients in a small bowl, then divide them into three shallow bowls. Add your food coloring to each bowl until you reach your desired color. Dip the tops of your doughnuts into the glaze and immediately add sprinkles. Set your decorated donuts aside to dry.
These donuts are best eaten the same day… so spell out your delicious message and watch your guests enjoy as they eat their words!
You'll need (want) some of these: