Time to get revved! Get on the right track with our first-place ideas for invitations, party favors, decorations and more!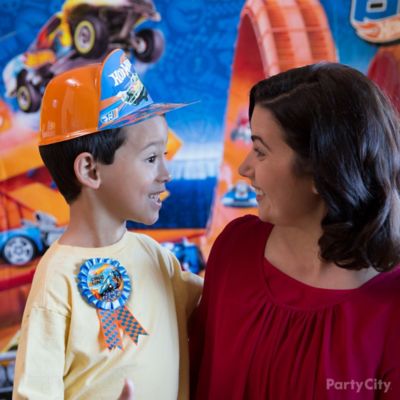 Idea 1: Take 1st with Hot Wheels birthday accessories
Your birthday racer will feel the need for speed when they see these Hot Wheels accessories. A party hat and award ribbon are the perfect way to rev-up their birthday outfit.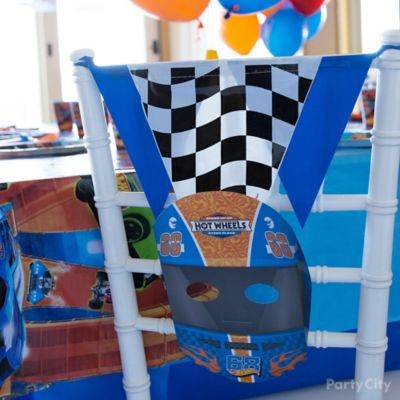 Idea 2: Refuel in revved-up chairs
Wave the checkered flag! It's time to rest in these cute chairs after a day of racing. All you need to create this DIY chair decoration is a few checkered pennant flags across the top. Then add a racing mask for each speedster to put on while they wait for cake!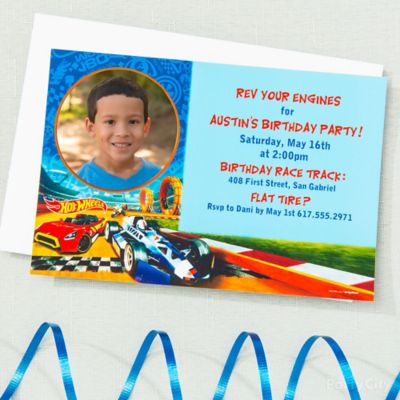 Idea 3: Put the pedal to the metal with custom invitations
Leave boring invitations in the dust with custom Hot Wheels invitations. It's easy too! Just follow the tracks (instructions) to add fun messages and photos of the birthday champ. Invites are ready to ship in five days and make a perfect scrapbook keepsake.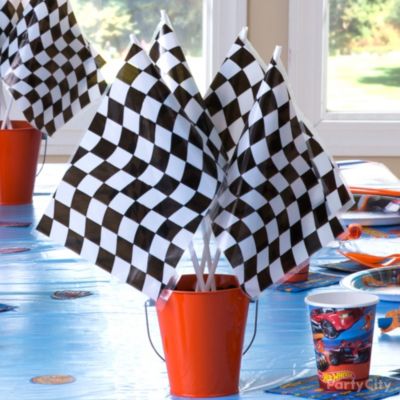 Idea 4: This racecar centerpiece takes 1st place
No winner's circle feast is complete without a few checkered flags. All you need to create this DIY Hot Wheels centerpiece is orange pails and flags. When cake time is over hand each racer a flag to play with and take home as a party favor.
Idea 5: Get the whole pit crew decked out
Make everyone a part of the racing team with Hot Wheels accessories. They'll be the most stylish pit crew on the track with Hot Wheels party hats, masks, and sunglasses. Hand them out when guests walk in to get the party off to a speedy start.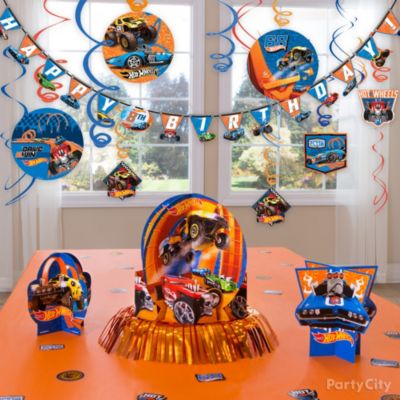 Idea 6: Add some vroom to the party room!
Decorate your party room in record time with a few Hot Wheels decorations. A birthday banner and table decorations set the winner's circle scene. Dangling swirl decorations make it feel like celebratory confetti is falling from the ceiling. Taking your decorations to the winner's circle is easy with this decorating kit.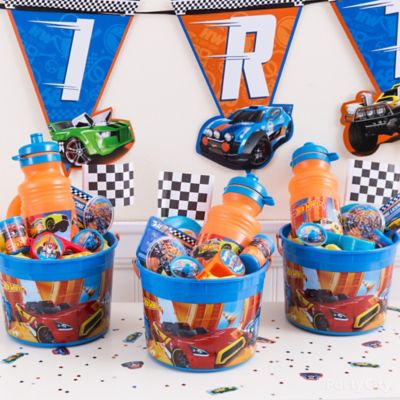 Idea 7: Start their engines with Hot Wheels buckets filled with toys
Hot Wheels buckets take 1st place. Our flaming-cool kit includes everything you need to get their engines going. Just fill each bucket with colorful paper shreds and Hot Wheels party favors. They can even use the bucket again to collect candy from the piñata!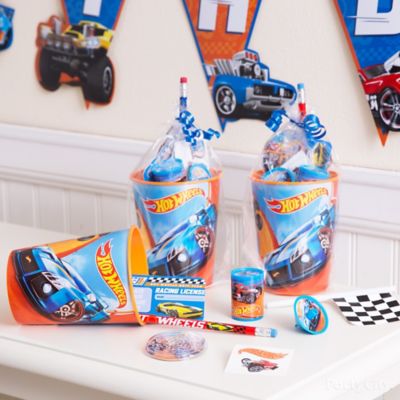 Idea 8: Do more than refuel with Hot Wheels favor cups
Rev-up the party favors with Hot Wheels party cups. This kit makes it easy — all you have to do is fill each plastic cup with paper shreds and Hot Wheels party favors, then tie it up with a clear bag and ribbon. After a day of racing around with cool toys they can use the cup to sip on a cool drink.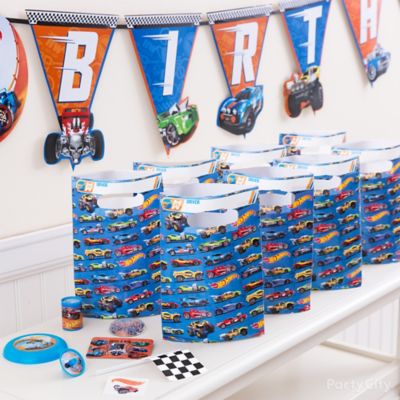 Idea 9: Fill goody bags in record time with a favor pack
Speed through building goody bags with a pack of Hot Wheels favors. Each kit includes Hot Wheels toys and favors for eight guests. Just slip them into the included favor bags and write the name of each racecar driver on the bag.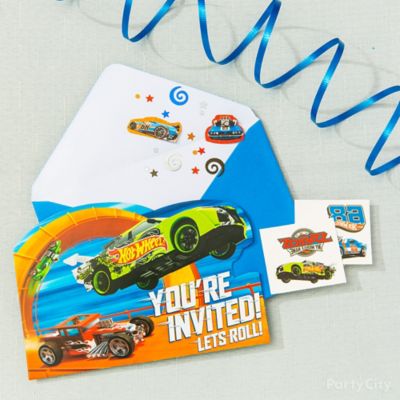 Idea 10: Start their engines with invites filled with surprises
Their minds will be racing when they find confetti and tattoos inside their Hot Wheels invitations. Tell all the speedsters to come ready to race with their tattoos on!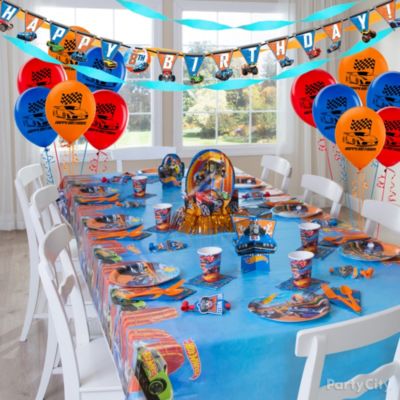 Idea 11: Rev-up your party room
Everyone will pump the brakes when they see this party room! Use a birthday banner and matching streamers to create a look that is worthy of a photo finish. Add a few swirl decorations to match the loop-the-loops of the orange track. Our Hot Wheels decorating kit makes it easy!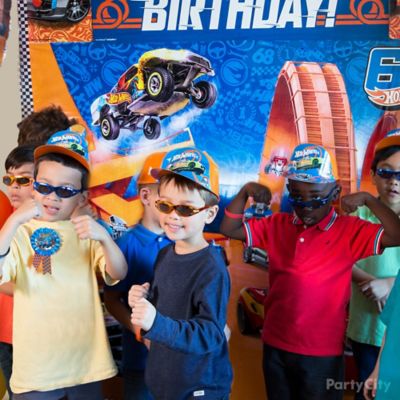 Idea 12: Don't forget the photo finish
Take them to the tracks. Setting the scene for action-packed photos is easy with our Hot Wheels photoshoot kit. A scene setter covers your walls in the iconic orange tracks. All you have to do is hand out fun photo props and snap a few pictures for memories that will last a lifetime.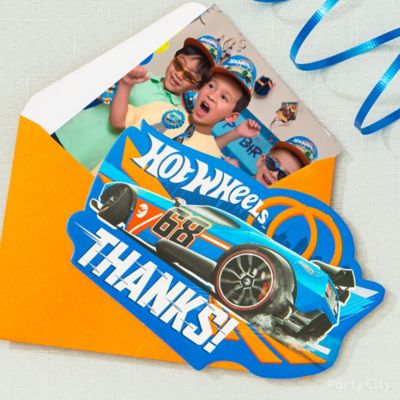 Idea 13: Wrap your party up with a thank you note photo finish
Make sure everyone remembers your party was one for the record books! All you have to do is rev-up your thank you cards with a photo from the party. Parents and kiddos will love receiving a photo keepsake of all the party fun.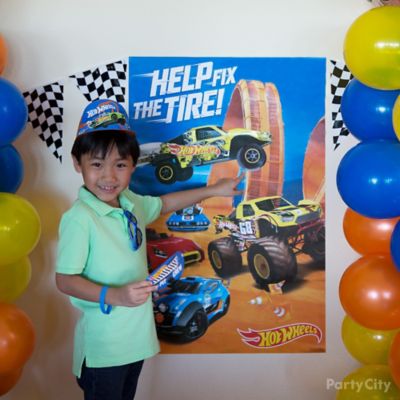 Idea 14: It's game time for the pit crew
We've revved up the classic Pin the Tail on the Donkey game and given it a Hot Wheels twist. Partygoers can take turns being a part of the pit crew and trying to pin the tire sticker on the car. A fun idea is splitting the racers into two teams and seeing who can get the most tires the closest.
Idea 15: Line the racers up at the pinata starting line
The race for candy is on with this Hot Wheels piñata. Just pick your piñata kit — pull-string or traditional— then grab some treat buckets and game on! Let the racers take turns pulling strings to release the Hot Wheels party favors and candy. When the right string is pulled they are off to the races to collect treats in their favor bags or buckets.
Idea 16: Get your party snacks on a healthy track
Let the racers refuel with a healthy snack. You can make your own Hot Wheels pinwheel sandwiches, or just pick some up at the store. Then get them in the party theme with black and white checkered flag picks. Everyone will make a pit stop for these pinwheels.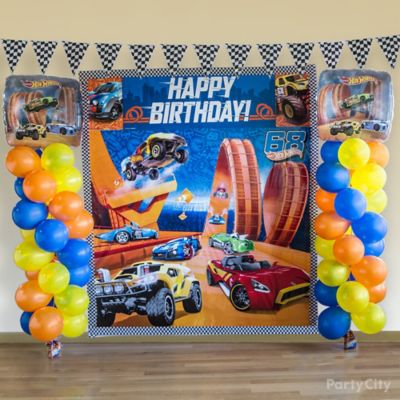 Idea 17: Create a DIY photo backdrop for your winner's circle
Set the scene for your medal ceremony! Turning your plain walls into a photo booth is easy with a Hot Wheels scene setter. Frame the vinyl backdrop with checkered pennant flags and streamers. Then add a balloon tower on either side and you're ready to snap cool pics of your little speedsters.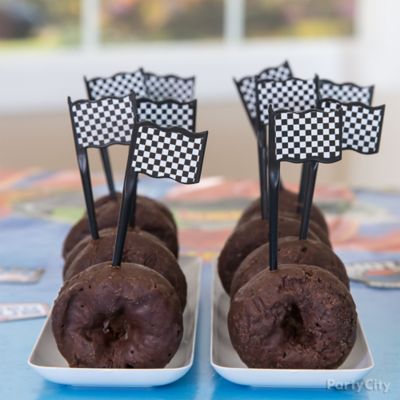 Idea 18: Treat the pit crew to some delicious donuts
Create Hot Wheels-themed desserts in record time! Just pick up some store-bought mini donuts and a deck them out with checkered flag picks and a "Spare Tire" sign. Watch out... your pit crew might eat all these delicious spare tires!