This Hot Wheels Cake is winner's circle worthy
Decorating a flamin' cool Hot Wheels cake is easy with this how-to! Just cover your cake in fondant. Then cut pieces of red, orange, and yellow fondant in the shape of flames. Top it off with Hot Wheels birthday candles that will blow your little speedster away!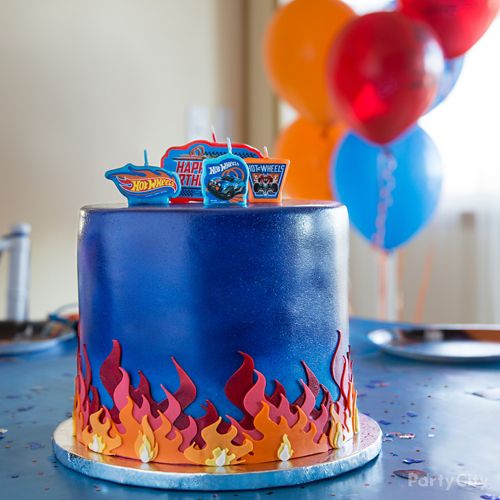 How-To
Ingredients:
Cake
1 box Buttercream Icing Mix
1 box Blue Rolled Fondant
1 box Multicolor Rolled Fondant
Supplies:
1 package Hot Wheels Candles
1) Bake Cake
Using a round cake pan, bake your favorite cake. Use multiple layers for extra height.
2) Apply Icing and Fondant
Cover the entire cake the buttercream icing, then cover with blue fondant.
3) Create the Scene
Cut the red, pink, and orange fondant in the shape of flames and attach around the bottom.
4) Add Candles
Finish off the cake by topping it with Hot Wheels candles.