Cozy ideas for a rustic cocoa bar full of yummy fixings and decorations. Start a new tradition with a sweet hot cocoa bar! Create a luxe lodge look with woodsy decor borrowed from nature, and cute cocoa cups, candy-rific mix-ins and a DIY light-up sign. Click through for more rustic hot chocolate bar ideas to make the group feel like they stepped into Mrs. Claus's cabin!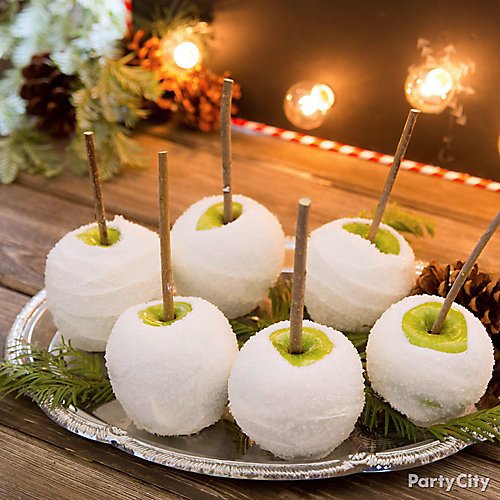 Idea 1: Make White Christmas candy apples
We gave these candy apples a rustic touch with food-safe real tree twigs and a sprinkling of sugar "snow." To make these holiday treats: Remove the apple stems and pop in twigs or lollipop sticks. Dip the apples in a bowl of white Candy Melts® and dust with sparkling sprinkles. After they've cooled, display them on a silver tray with festive pinecones – how merry!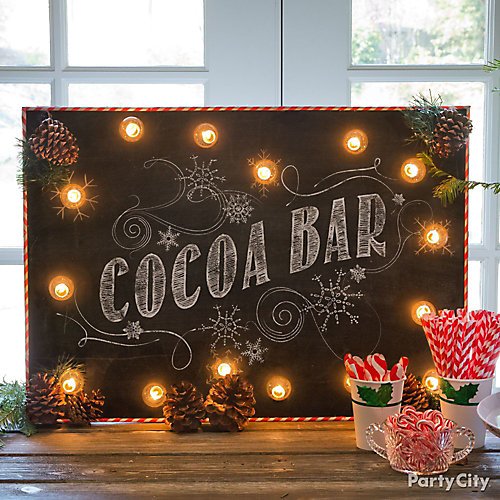 Idea 2: DIY twinkling cocoa bar sign
Make the season even brighter with a light-up cocoa bar "chalkboard" sign. All you need is a black foam board, clear globe string lights, paper straws, pine cones and a pine needle garland. To make: Remove the globes from the lights in order to poke through the foam board, then reattach the globes and hot-glue the lights in place. Glue paper straws around the edge of the board, with some pieces of the pine needle garland and pine cones around a festive phrase. Happy holidays!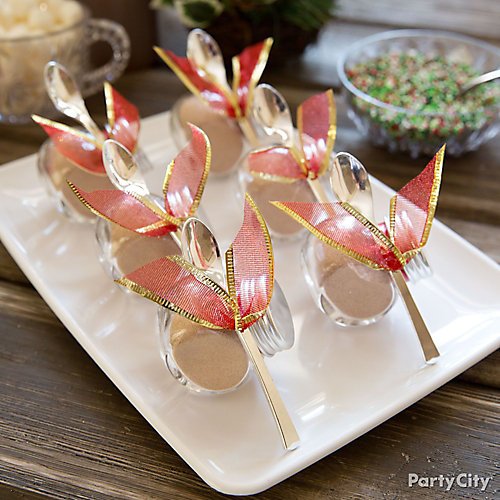 Idea 3: Fa-la-la-la-lovely favors!
When friends are ready to take to their sleighs, send them off with cocoa favors. Fill mini glass jars with hot chocolate powder, then tie on a mini spoon with a holiday-hued ribbon. It's that easy! Arrange them on a tray as table decor until it's time to jingle all the way home.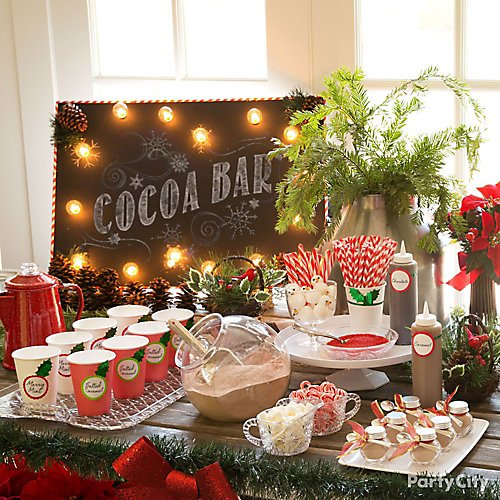 Idea 4: Baby, it's cold outside— come in for cocoa!
Create an inviting hot cocoa station as a fun twist on the usual holiday drink ideas. Guests will have so much fun choosing a new favorite flavor creation. Flavored syrups, candy cane sticks, whipped cream and sprinkles are all great ways to start!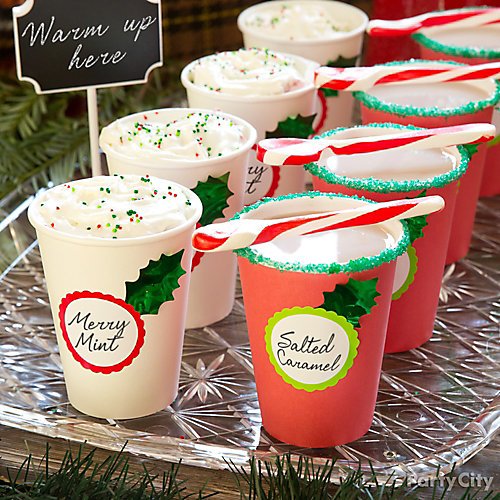 Idea 5: Treat your party elves to cups of holiday-themed cocoa!
Mint and salted caramel hot chocolate are two delicious holiday flavors to warm their taste buds. Make cocoa cups even cuter by adhering a red or green favor label and a tinsel leaf from a holiday garland. Direct eyes to this tray of treats by topping off the cups with sprinkles and peppermint spoons and using a chalkboard place card holder as a mini sign – 'tis the season to sip cocoa!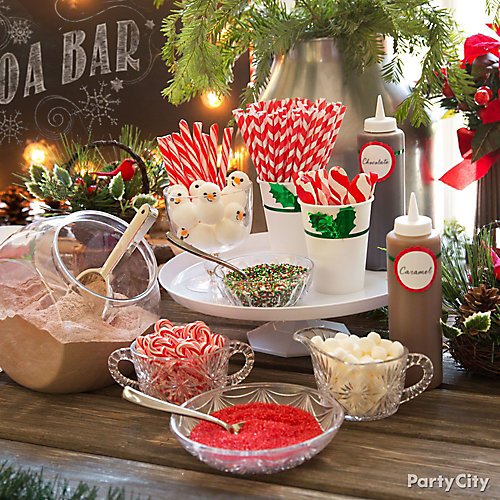 Idea 6: Cocoa + candy = YUM!
Set up festive fixings for your guests to make their own cups of Christmas cheer. Candy canes, sugar sprinkles, marshmallows, peppermint spoons and candy sticks look merry in little bowls and candy containers with scoops for everyone to help themselves. For a special holiday touch, add favor labels to syrup bottles and decorate cups with holly leaves from a tinsel garland.