Get your scare on this Halloween season with these terrifying makeup ideas! Whether you're a wicked witch, a blood sucking vampire, or the killer clown Pennywise, it'll be Hallow-scream when you transform into these spook-tacular characters. Which haunting look will you try? Check out more of our Halloween Makeup & Face Paint to bring your costumes to life!
Supplies:
Wound prosthetics
Sponge or wet rag
Cotton swabs
Fake blood
Black lipstick
Black eyeliner or eyeshadow
1) Step One
Apply prosthetic FX transfers to clean skin using water and a sponge, just as you would a temporary tattoo. Once dry, use a cotton swab to add fake blood around wounds.
2) Step Two
Apply dark lipstick and thick eyeliner or shadow. Smear eye makeup using water and a cotton swab to achieve a "tear-stained" effect.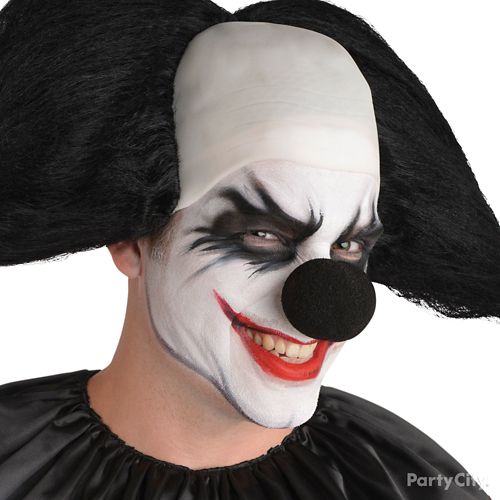 Supplies:
White grease makeup
Clown makeup kit
Red lipstick
Black makeup crayon
Setting powder
Makeup sponges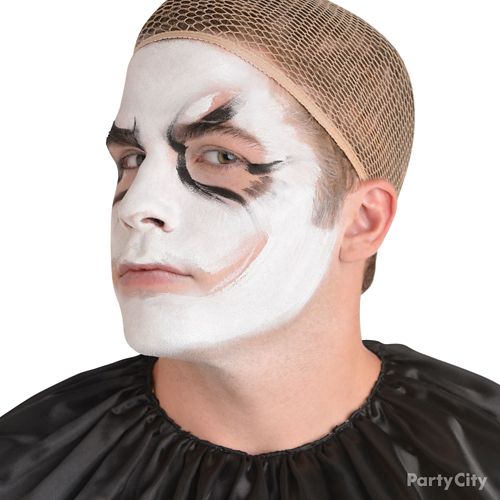 1) Apply White Grease Paint
Using a makeup sponge, apply white grease paint to your face. Follow the pic to see how to "outline" your large clown mouth and space for freakish eyes. Keep dabbing to blend until desired look is achieved.
2) Add Black Eye Outline
With the black color from the spooky clown makeup kit, outline the eye sockets and fade them out. If you add lines from the eyebrows, your clown face will look positively carnEVIL. Be sure to keep the white and black makeup separate to keep the colors pure — purely freaky!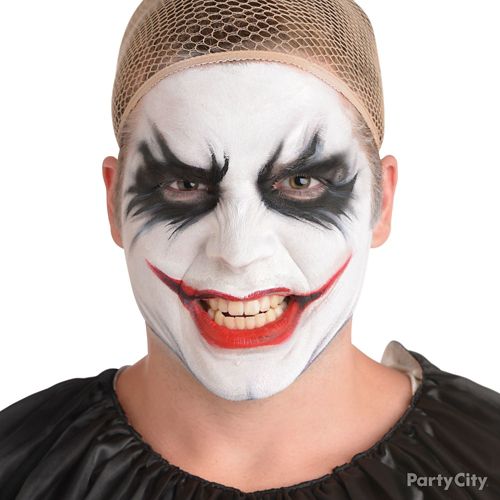 3) Fill in the Black
Cover the rest of the eye socket skin in black, and add more faded detail where desired. Be sure to follow package instructions for applying black near the eyes. You're almost looking freaky enough for the freak show!
4) Add Red Lips and Contours
Use red lipstick to create a creeped-out grin! Accent jawline and chin with black pencil, and draw laugh lines to look extra maniacal! Tip: Use a translucent powder, applied sparingly, to set the makeup.
5) It's Time to Start the Show!
You're just about ready to clown around! Slip on a wig cap and clown wig, so it completely covers the makeup lines, then put on your nose. You're ready to be the freakiest clown this side of the carnEVIL!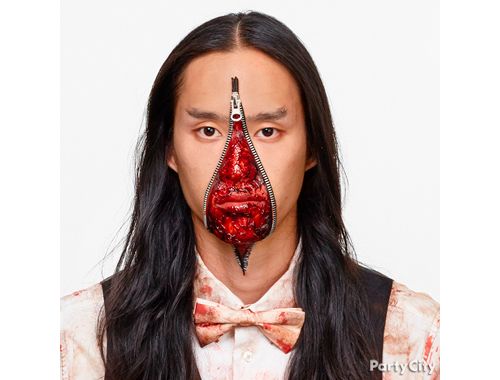 Supplies:
Zipper Makeup Kit
Stipple sponge
1) Step One
Apply Spirit Gum to back of zipper using included brush. Be sure to spread evenly and thinly so glue doesn't protrude over sides of zipper. Hold zipper against face for a few seconds to ensure it fully adheres.
2) Step Two
Use makeup sponge to apply liquid from the "Bloody Scab" tube inside of the zipper. The more layers you add, the more realistic it will look! Use a stipple sponge to create additional texture.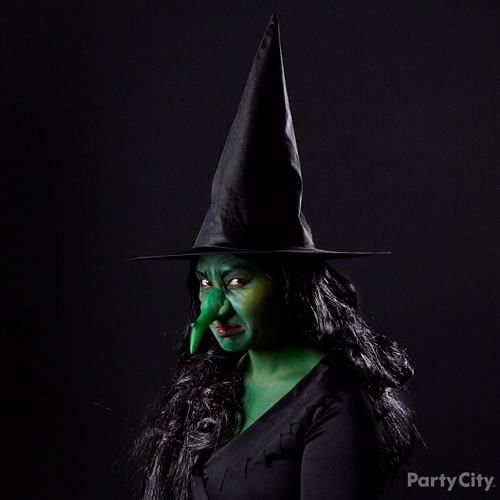 Supplies:
Green, black and yellow face paint
Witch Nose
Black wig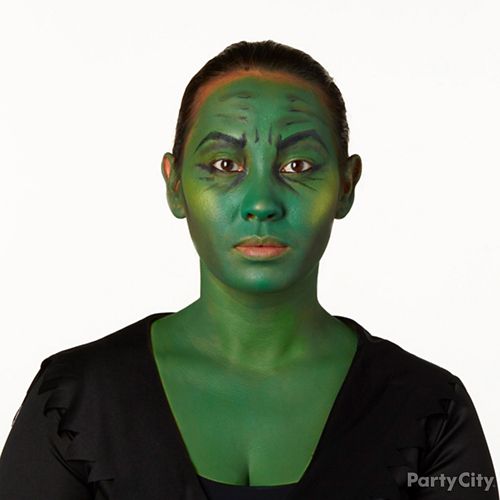 1) Step One
Smooth on green face paint.
2) Step Two
Create accents with black face paint. Use yellow face paint to highlight cheekbones.
3) Step Three
Top off the look by adding a wig, fake nose and a witch hat.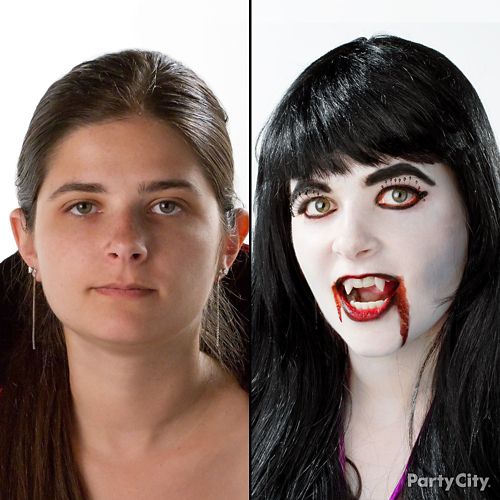 Supplies:
Grease makeup in white, gray, and black
Eyeshadow in red and black
Black eyeliner
Lipsticks in black and red
False eyelashes
Eyelash glue
Fangs with adhesive
Fake blood
Makeup sponges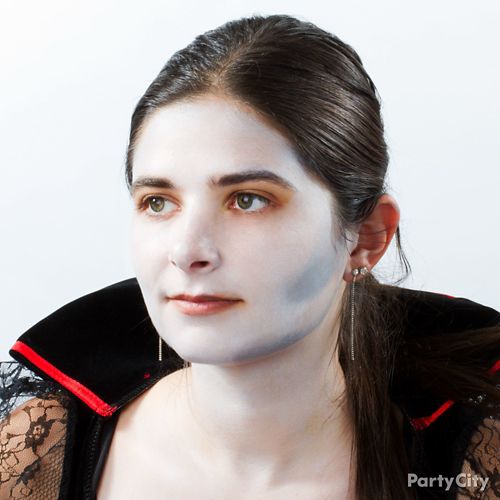 1) Make Your Skin Pale
Vampires are always pale since they avoid the sunlight. Start by using a stipple sponge or makeup sponge to apply a thin layer of white makeup from the Classic Vampire Makeup Kit over your entire face, neck and ears.

2) Contour Your Face with Gray Makeup
Follow up with grey makeup in the hollows of your cheeks, under your chin and along your neck to add contour.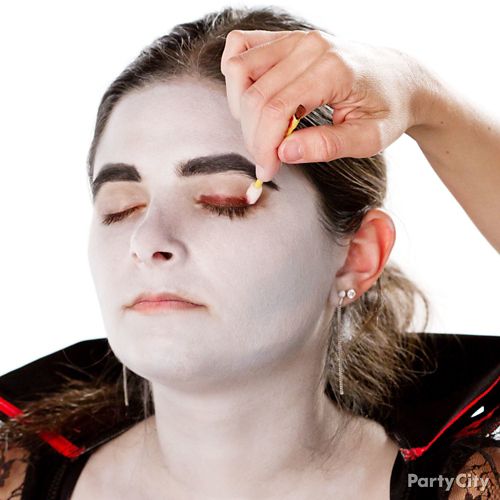 3) Add Dramatic Eyebrows
Now draw on dramatic arched eyebrows with black makeup.
4) Create Striking Vampire Eyes
Making your eyes look sultry is key for a striking vampire look. Mix red and black eye shadow to make a deep red color, then apply it to your eyelids and under your eyes.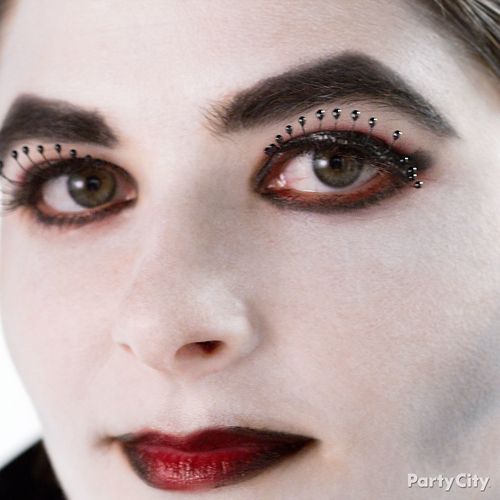 5) Line Your Eyes in Black
Outline your eyes with a black makeup. Use an eyeshadow applicator to extend the black eyeliner on your top lid out past the edge of your eye.

6) Line Your Lips in Black, Then Fill with Red Lipstick
Line the edges of your lips with black lipstick, then fill the center with bright red.

7) Add Luxurious Lashes
Make your eyes extra-alluring by adding false eyelashes. Apply eyelash glue to the bottom of the false eyelash line, blow on it to make it sticky, then gently press the lashes onto your top lashes.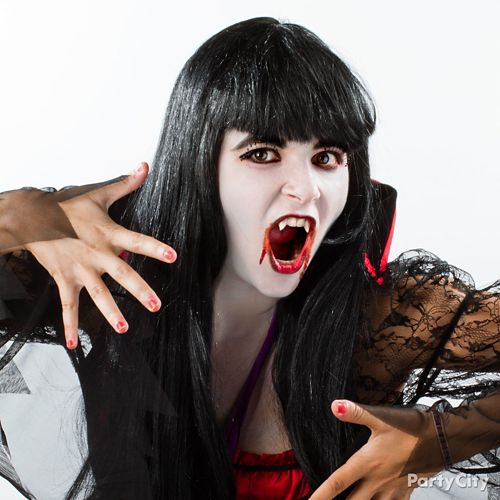 8) Add Vampire Fangs and Blood
Now add some gleaming fangs like the Sexy Bites Fangs so you look like a real vampire. Squeeze some adhesive into the openings on the fangs then press the fangs onto your eye teeth. Next add a trail of blood down your chin, like a vampire who's just fed.

9) Accessorize with a Wig and Necklace
Finish your vampiress look with jet black locks like the Vampiress Wig; just style the bangs as you like. Hang the Deluxe Vampire Medallion around your neck and you're ready to run the town.
If you thought the 2017 IT remake was terrifying, think again! The much anticipated IT Chapter Two movie will take you on a chilling journey with Pennywise and he's scarier than ever. Transform into the horrifying clown this Halloween with @MadeYewLook's step-by-step tutorial.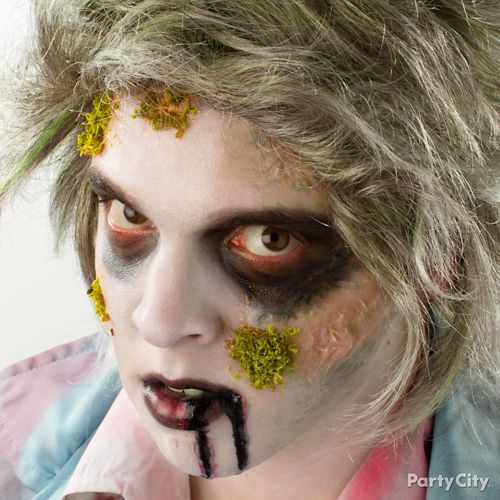 Supplies:
Deluxe Zombie Makeup Kit
Black lipstick
Biohazard Green Zombie Makeup
Makeup sponges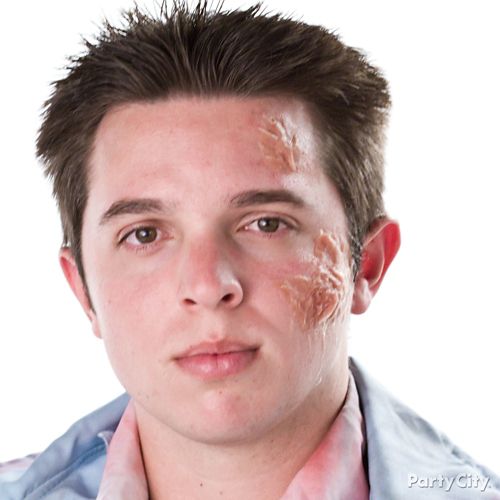 1) Prep Skin and Add Wounds
Shave, wash your face and moisturize, then apply a bite with Gory Flesh from the Deluxe Zombie Makeup Kit. Knead the faux flesh to soften; then apply to skin and shape to form a bite. Or use Flesh Liquid Latex to create peeling "skin"; or Chomped Makeup to add a bite.
2) Make Your Skin Pale
Since zombies are dead, they're pretty pale. Using a Stipple Sponge or Makeup Sponge, add a zombie pallor with a thin layer of white face paint from the Deluxe Zombie Makeup Kit, working around your bite wounds.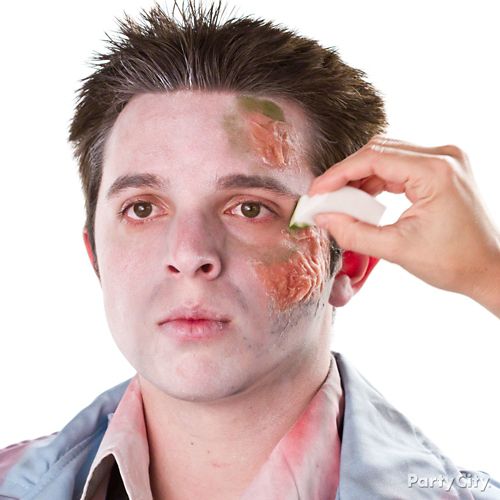 3) Add Contour with Gray and Green Makeup
Now use your sponge to add grey hollows under your chin, along your cheekbones and around your bites. Follow up with some green, so it looks like you're bruised near your bites and decaying.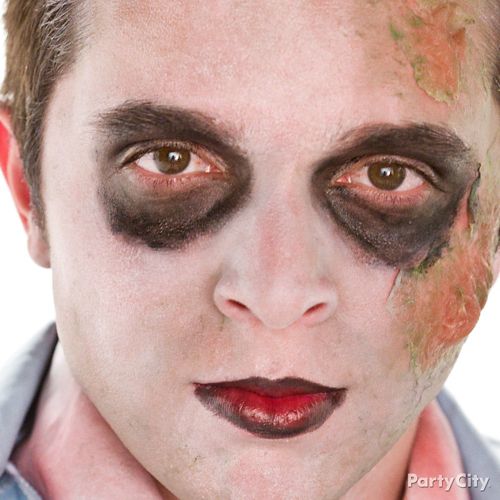 4) Create Dead Zombie Eyes
Deep dark eyes are a signature of the zombie look. Make your eyes look dramatically sunken and hollow by drawing black circles around them, following your natural eye socket.

5) Draw On Gory Zombie Lips
Zombies eat gory stuff, so their lips are a combination of red and black. First outline your lips in black lipstick, then fill in the center with red. Smudge your lips together to blend the colors.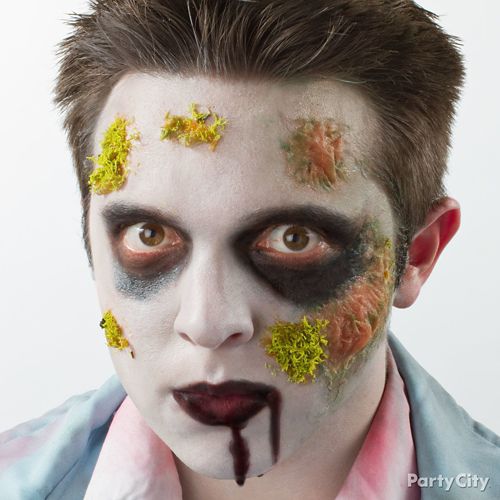 6) Add Some Blood Drips
Now bite into one of the Black Zombie Blood Caps or drip some Black Zombie Blood from the corner of your mouth and down onto your chin so it looks like you just ate something disgusting. Dab some on your bite wounds too.

7) Add Some Biohazard Wounds
Take your undead look over the top by adding some oozing green zombie scars. Create revolting radioactive wounds with some fluorescent green slashes so you look like you were caught in a biohazard blast. Add some bits of fake moss for a zombie-rot effect.
8) Put On Your Wig, Then Go Terrorize the Town
Now that you're made up, add the Graveyard Zombie Wig. It will go on a lot easier if you slip on a Wig Cap first. Now you're ready for a Night of the Living Dead.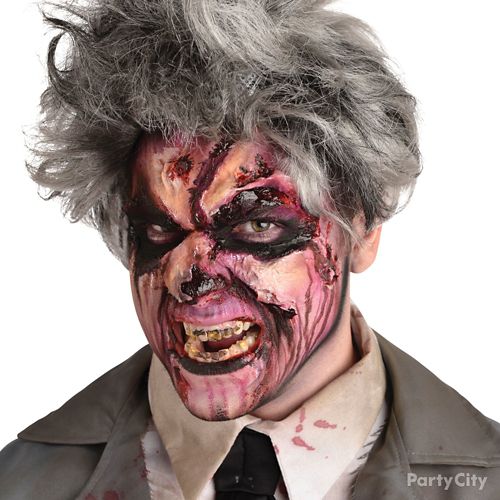 Supplies:
Special effects prosthetic scars
Liquid latex
Single-ply tissue paper
Zombie Makeup Kit
Setting powder
Black lipstick
Teeth paint
Zombie blood
Makeup sponges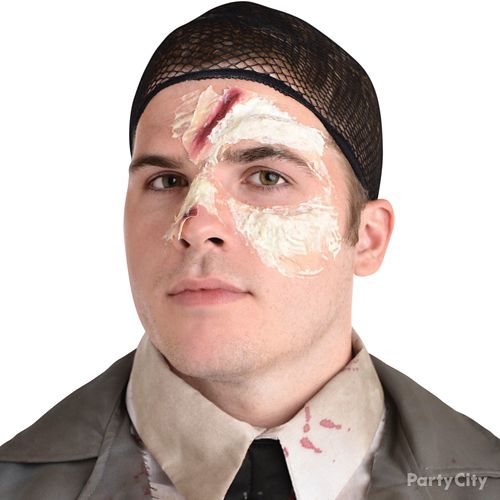 1) Break Out the Scars!
A blank face is a blank canvas, so pick your theatrical scars and bullet holes to go from living human to gruesome zombie! Apply the scar and bullet holes according to package instructions. Once the wounds are done, dab a thin layer of liquid latex with a sponge over the areas of the face that you want texturized.
2) Apply the "Rotted" Skin
While the latex is still wet, rip up single ply tissue paper and press onto latex. Cover up the tissue with more liquid latex, and continue to layer until desired "rot" is achieved. The more layers, the more you look like you want brains for candy!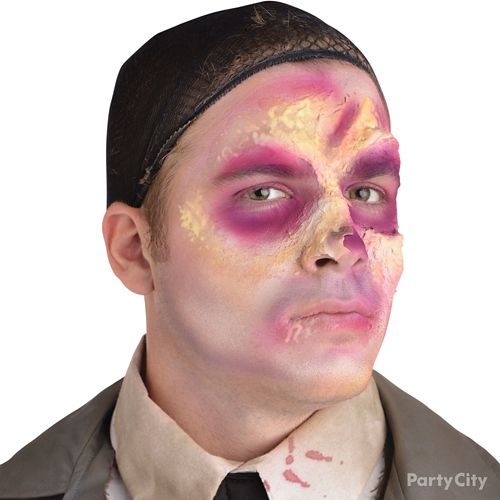 3) Bruise the Skin
The undead bruise in striking colors! Use burgundy makeup from the gothic kit to create a deep bruise look around the eyes, mouth and forehead (be sure to check package instructions for use around the eyes). For the texturized skin, cover it with flesh-toned or yellow makeup, and blend the burgundy and yellow colors together. It will look irregular like a massive bruise!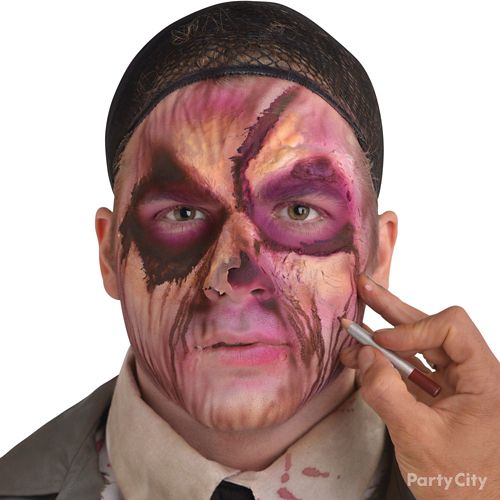 4) Add Zombie Dirt
Zombies have no use for cleaning up after they shamble out of the grave, so why not add "dirt" to this look? Smear the zombie dirt around the cut, below the eye and running down the cheek. The darker spots of dirt will also mark where to put sickly black zombie blood later on.

5) Set the Makeup
Look at your face and add any more dirt or bruising to look sufficiently undead. Once all the final touches are made, set the makeup with powder to keep everything in place while you're hunting for brains!
6) Finish the Costume!
Add details like black lips, tooth paint and, last but not least, dribble black zombie blood around the wounds and below the eyes. You'll look fantastically gore-smattered while you're marauding for braaaiins!
If you're looking to really freak out your friends this Halloween, check out this terrifying makeup tutorial of Valak from The Nun. This look was conjured up by @MadeYewLook. Watch the video and shop below!
10. Black & Bone Skeleton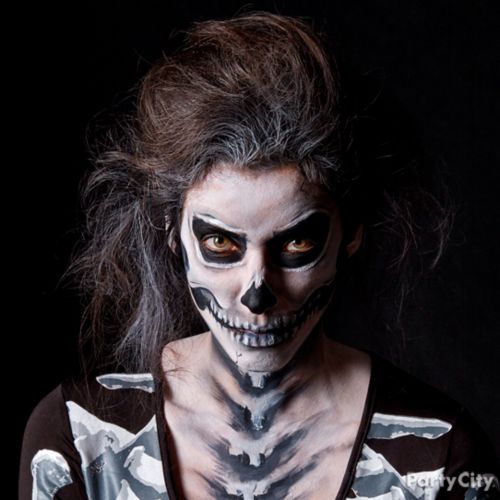 Supplies:
White hairspray
Black makeup
White face paint
Silver makeup
1) Step One
Smooth on white face paint to both face and neck.
2) Step Two
Apply black make up to nose and eyes. Outline bones on chest and cheeks. Fill in with black make up. Blend bones on chest for a ghostly look.
3) Step Three
Use shading to create teeth and spine.
4) Step Four
Tease and spray hair with white hairspray. Fluff hair and go take a "skelfie".