'Tis the season for ugly sweaters, jingle bells and all things sparkly. Get some fun and unique holiday inspo and put together a Christmas outfit for every occasion, whether you want to look stylish, cozy, or 110% full of Christmas cheer. The holidays are just around the corner, so deck the halls, make some cocoa, and check out our favorite festive finds for each of this year's biggest holiday milestones!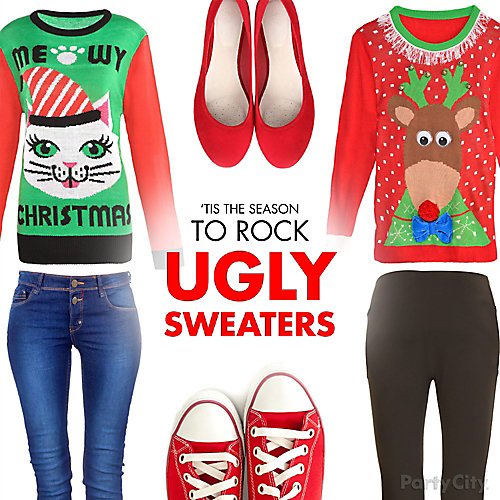 Idea 1: Embrace the ugly with tacky-cute sweaters and simple accessories
As the weather gets colder, it's finally acceptable to celebrate two of our favorite holiday traditions: hanging Christmas lights and rocking ugly sweaters that are as cozy as they are tacky! If you like to let the kitsch shine bright, work an eye-catching holiday sweater into a simple outfit with jeans and cute flats or leggings and sneakers.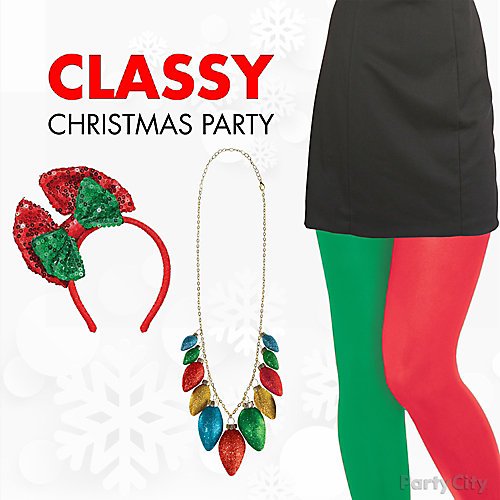 Idea 2: Invigorate an outfit staple with seasonal touches
Outfits for a classy holiday party must strike a delicate balance: you want to dress to impress while still feeling comfy, all while looking festive and cute! Start with your favorite LBD and add some Christmassy touches: think two-toned elf tights, a red and green headband and a necklace inspired by vintage tree bulbs.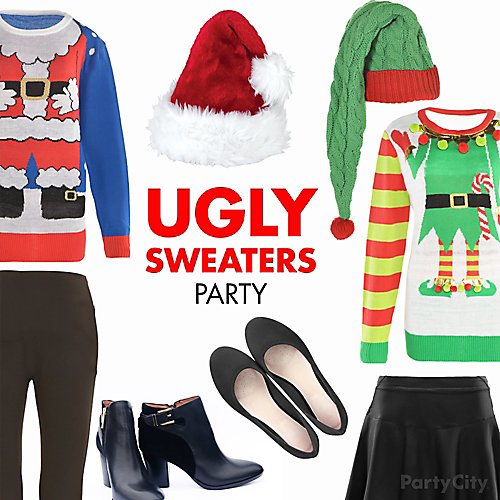 Idea 3: Cute ways to wear holiday sweaters
Nobody actually wants to look ugly at an Ugly Sweater Party. First, avoid the unflattering look of a baggy sweater by picking a sweater that fits your frame well. After that, it's just a matter of finding the right accessories. For our first look, add a cute knit elf hat and two-tone tights with simple black flats. For our second look, channel your inner Kris Kringle with a Santa hat and sweater styled with black leggings and shiny black boots.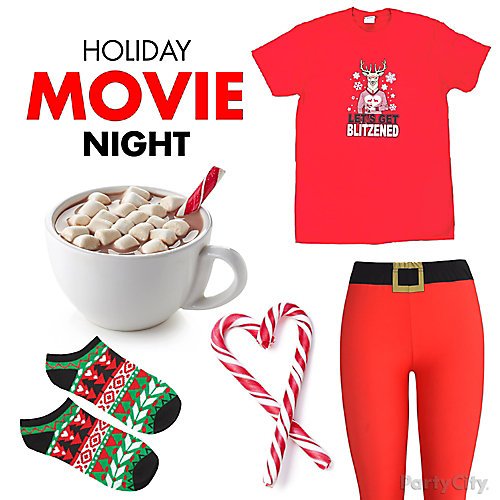 Idea 4: How to Dress for a HO HO HO-me move night!
Bring on the classic movies! Between Netflix and Christmas movie marathons on TV, you just HAVE to host a night in with your favorite people. Make it feel extra full of Christmas magic by encouraging festive outfits, but make sure everyone wears clothes they can lounge in, like silly holiday tees and graphic leggings, plus an extra-cozy pair of socks.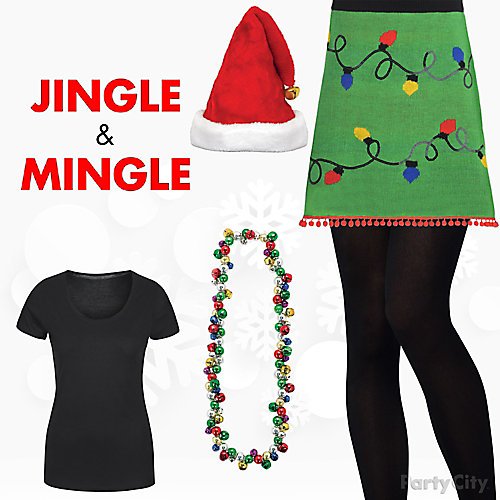 Idea 5: Make the nice list with this chic-casual look
Attending a not-so-silent soiree? A black blouse, black tights and simple heels will allow your dashes of Christmas cheer to take center stage. The Santa hat and skirt have a touch of vintage charm, and the necklace is something you can jingle-bell-rock with nearly any holiday outfit!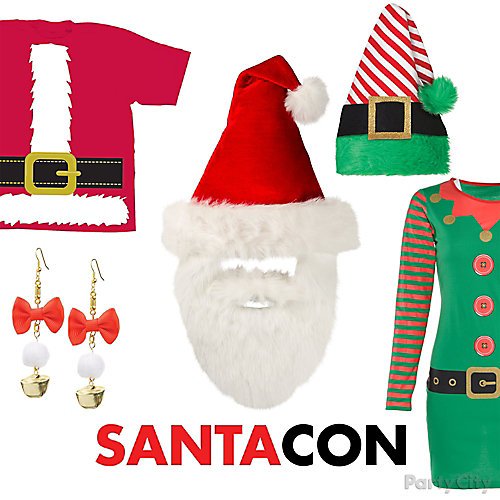 Idea 6: Comfy all-day outfits for SantaCon
SantaCon is an annual international event where hundreds (sometimes thousands!) gather sporting Santa costumes just for the fun of it. Get in on the holiday cheer by sporting your own comfy-casual Santa or elf costume. We think the hat/beard combo is especially jolly. These outfits also make for a perfect couples costume pairing for all your Santa-themed conventions and pub crawls!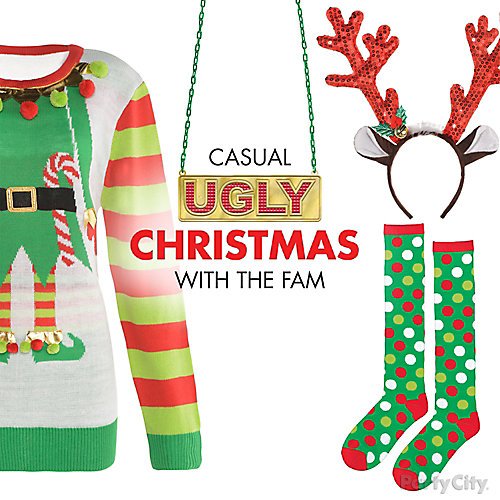 Idea 7: Bring fun to holiday breakfast with silly accessories
Everyone's a morning person on Christmas day! Get everyone in the mood to laugh and open gifts together with funny holiday accessories. Gift someone you love with a cheeky "UGLY" necklace to match their holiday sweater, and make sure everyone has a new pair of festive socks. For you, go casual in your fave PJs and cute reindeer antlers, or go for the classic coziness of a red and green elf sweater.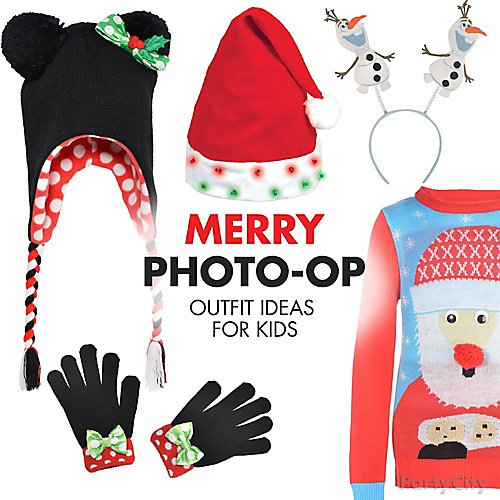 Idea 8: Outfits for merry and bright photos
The best way to get super cute family pictures is to dress the kids up in adorably silly sweaters and accessories! Kids love having something to pose in when the family starts snapping selfies, so pass out Olaf head boppers or Minnie Mouse Peruvian hats!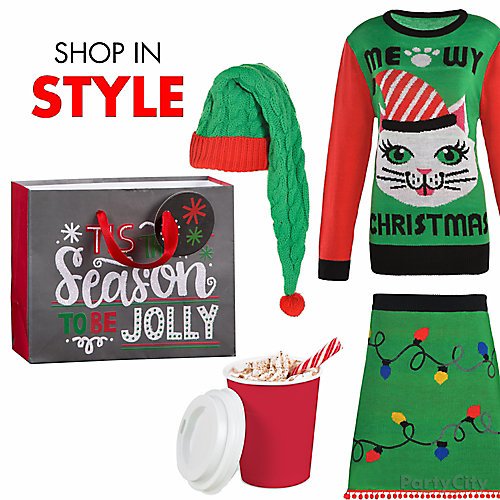 Idea 9: Hit the mall in sleigh bell style!
It's the season for freezin', so cozy up in a Meowy Christmas sweater and a knit elf hat along with a skirt inspired by twinkling tree lights. Grab a friend, order some peppermint mochas and hit the shops!