Here's how to host a cookie baking party that's simply sweet! You'll love our fresh take on this classic holiday tradition. What better way to savor the season than hosting a cookie baking party? It's a tradition with all the fixin's of what makes the holidays memorable: delicious desserts, colorful garnishes, and of course, family time. Give this Christmastime custom a fresh update by decorating with balloons, turning cookies into sweet centerpieces and more! There's no better way to have a merry "sweet-mas"!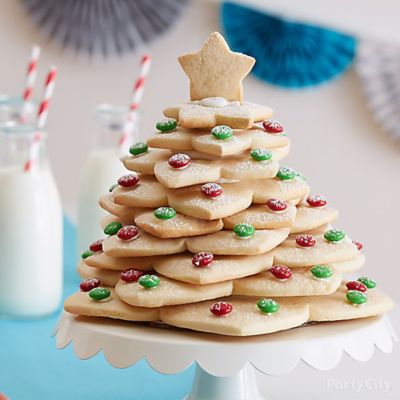 Idea 1: Tree decorating just got a little sweeter
Christmastime isn't complete without a decorated tree, but instead of venturing out to get a fresh cut one, bake it in your kitchen. Make a cookie tree with your favorite cookie recipe—this tree was made out of sugar cookies and decorated with icing plus red and green M&Ms—and use it as a scrumptious centerpiece for your cookie decorating party.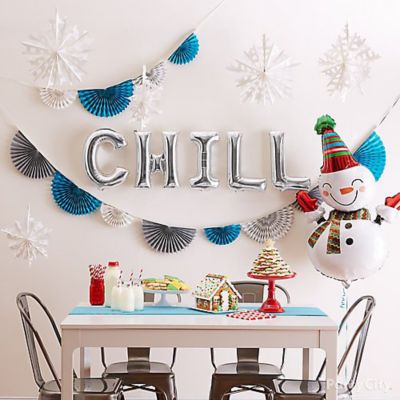 Idea 2: Send "chills" with this trendy, wintery look!
Traditional holiday decorations involve lights and wreaths, but for a modern take on a classic Christmastime tradition like a cookie decorating party, style it with inspiration from a hot trend: letter balloons. Stick them on your wall, spell out a clever quip and accent it with a DIY garland of paper fans—you'll open the circular fans halfway and attach them to string or curling ribbon. For the finishing touch, add paper snowflakes. Your guests will love how you made "chill" look cool.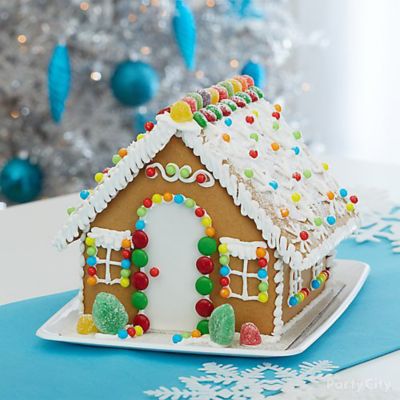 Idea 3: Turn a cookie party into a house party
Does the thought of baking dozens of cookies for a cookie decorating party feel intimidating? Don't let the cookie crumble just yet. Instead of decorating sugar cookies, make your holiday party a house party, as in gingerbread house party. Give each guest their own gingerbread kit to decorate, and before the guests take off with their adorable abodes, put the creations on display for your very own Christmas block party.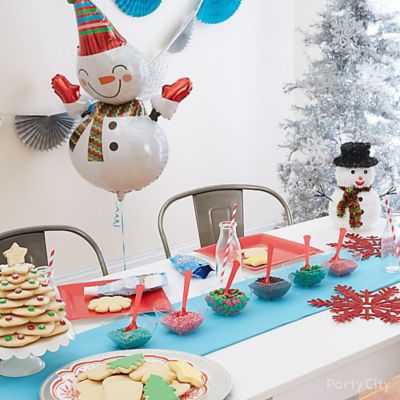 Idea 4: A colorful decorating station doubles as a festive tablescape
Make your a cookie decorating station brim with yuletide yumminess by serving a variety of garnishes—red and green sprinkles, crushed up peppermints and chocolate candies—in clear mini serving bowls. The colorful cookie decorations will stand out as a festive focal point when you place them on top of a Caribbean blue runner. Add other sweet elements like a cookie tree to bring out even more holiday spirit!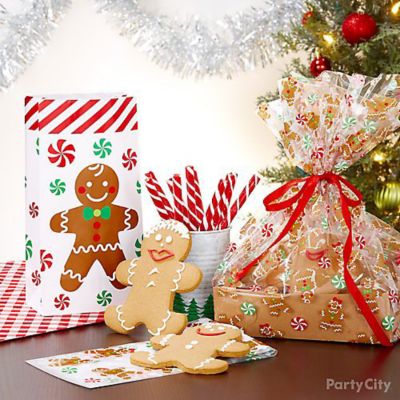 Idea 5: Send them off in holiday style
When guests finish their custom Christmas cookie creations, have them pack up their merry masterpieces in festive gift bags. Holiday prints like gingerbread cookies and peppermints make any gift a bit more festive for the season. Set up a station with the treat bags so it's easy for guests to wrap up their freshly decorated treats for the road.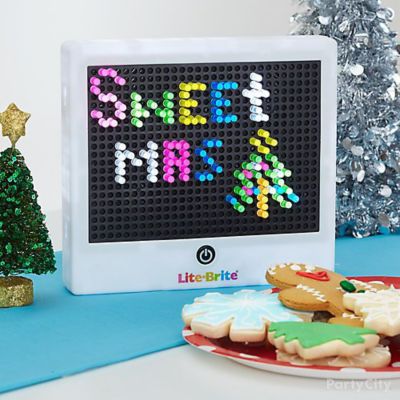 Idea 6: Go retro with the light-up sign trend
It's no secret that light-up signage is a big trend in party styling. For a new Christmastime take, why not go old school with a retro look? Use a Lite-Brite peg board to create a "sweet-mas" message to your liking. Add a couple of table tinsel trees to make your whole display merry and bright!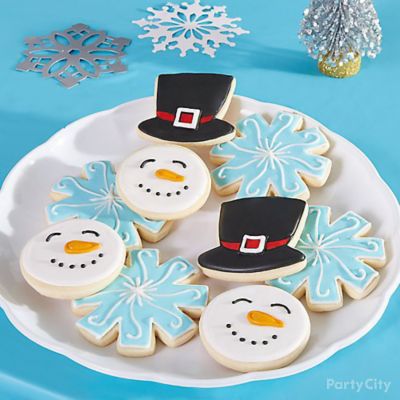 Idea 7: Give a warm welcome with melt-in-your-mouth treats
A plate of cookies is a favorite treat not only for Santa but also for your party guests. Set aside a plate of cookies that guests could nibble on while they're creating their own holiday goodies. Use cookie cutters in the shape of a snowman face, top hat and a snowflake for a look that's "snow" much fun!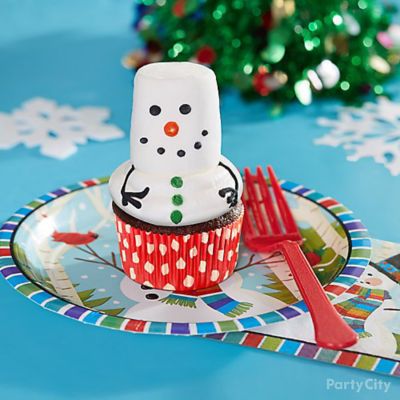 Idea 8: You won't need mittens to build this snowman
It may not be exactly fluffy snow, but the fluff of marshmallows still make for good snowman building, especially when you use them to make a snowman cupcake. All you need is a dollop of marshmallow crème and a marshmallow for the head. Use icing for the eyes, nose, mouth, buttons and arms.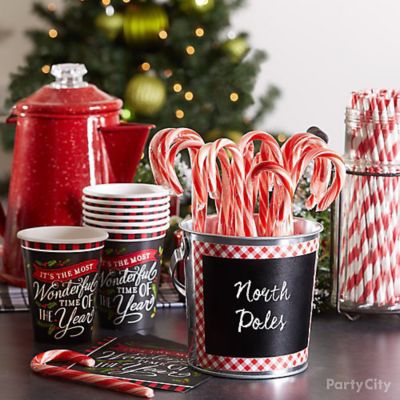 Idea 9: Make these "North Poles" easy to find!
A Christmas favorite, candy canes are always on the good list of holiday treats. That's why you need some at your holiday cookie party—but don't just set it and forget it; style them up in honor of the holidays. Place a handful of candy canes in a galvanized pail, and write a cute quip like "North Poles" on a chalkboard label—it's no wonder why candy canes are festive and fun!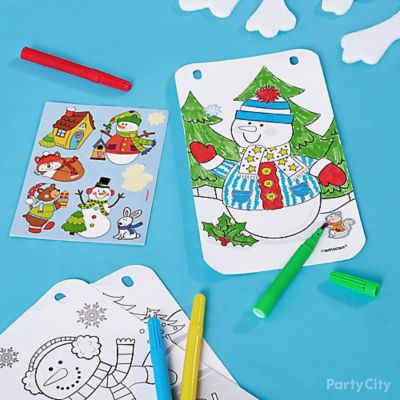 Idea 10: Hand out favors that can be used as a party activity
Your cookie party doesn't have to be all about, well, cookies. Other activities like a coloring kit will also make your holiday party memorable. The little elves will love adding color to winter-themed pages. Even though guests will leave with a plate of cookies from your holiday baking party, fun favors keeps them entertained long after the cookies have been eaten.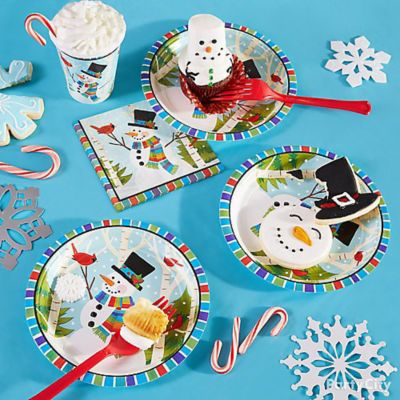 Idea 11: Show how "frost bitten" works for your tableware
Your little elves will need paper plates for their piles of goodies at the baking party, and patterned plates do that and more. A plate pattern like a whimsical snowman can handle all that's packed on, and if you add a handful of paper snowflakes at your table, you'll have created a playful winter wonderland where mittens are not required!