Hello Birthday! It's your little girl's special day, and Kitty White has brought along her pink-rainbow style to celebrate. So grab a balloon and float around this guide for decorations, games, favors and more!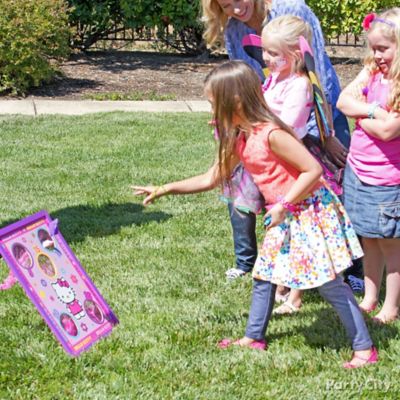 Idea 1: Try to toss the bean bag to Hello Kitty!
This Hello Kitty bean bag toss game gives everyone a chance to get outside, enjoy the sunshine and play all day! At the end of the games, award every good sport with a Hello Kitty trophy.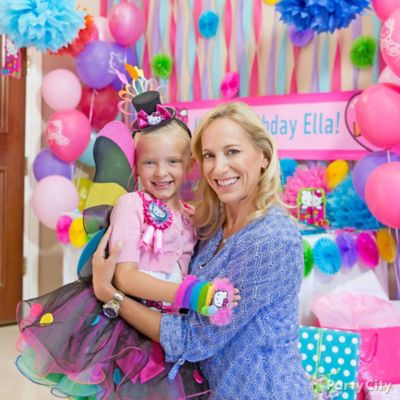 Idea 2: A frilly outfit for the birthday girl!
Hello Kitty and her friends each have their own unique look, and your birthday girl can too! Swap out a pink bow for a Hello Kitty top hat headband and put on the matching rainbow tutu and wings for the celebration!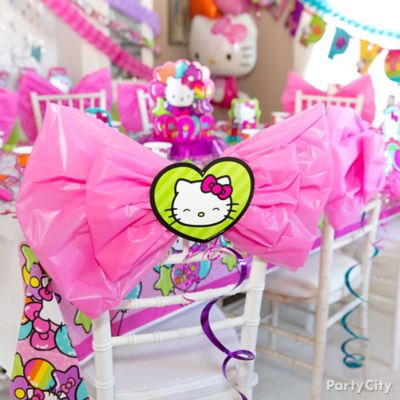 Idea 3: Make DIY bows for the chairs!
Give each chair a touch of Hello Kitty style with adorable bows made from strips of pink table covers. First, make a large bow by placing two rectangular pieces of cardboard side by side and folding a plastic table cover around them lengthwise into a bow shape. Next, make pleats and secure them in the middle with tape. Make a smaller bow, then layer it on top of the large one and cinch them in the middle with duct tape. Decorate your darling decor with a paper cutout from the Hello Kitty swirl decorations – how bow-tiful!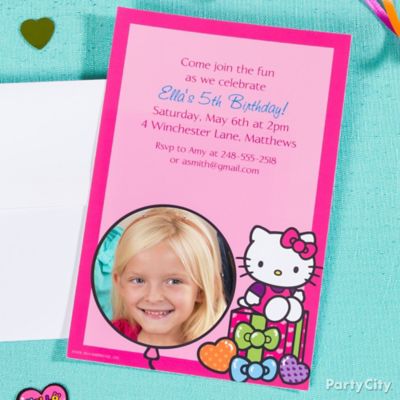 Idea 4: She'll love being with Hello Kitty on the invite!
Pick a cute photo to include on Hello Kitty custom invitations. The hardest part will be picking your favorite photo! We'll inscribe your welcoming message next to the photo and they'll be ready to ship within five days.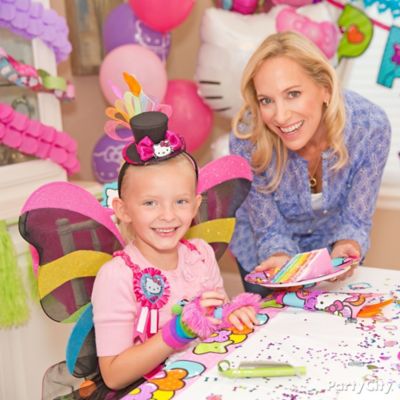 Idea 5: Have plenty of dress-up options for her friends!
With accessories ranging from sweet to bling and all-pink to rainbow, there truly is something for everyone. Gather necklaces, bracelets, headbands, ribbons and more, and then spread them out on platters for easy picking. Don't forget to get your camera ready!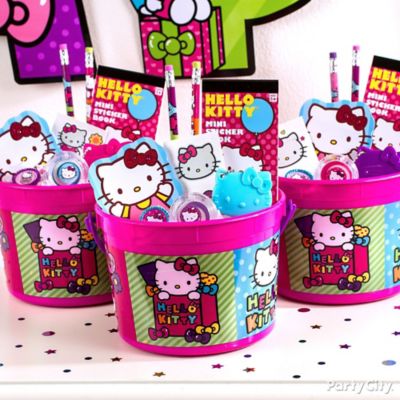 Idea 6: Have buckets of fun with favors
Go big with Hello Kitty favor buckets filled with paper shred and adorbs Hello Kitty notebooks, pencils, lip glosses and keychains. The girls can pretend they're Kitty White with all the fun goodies they receive!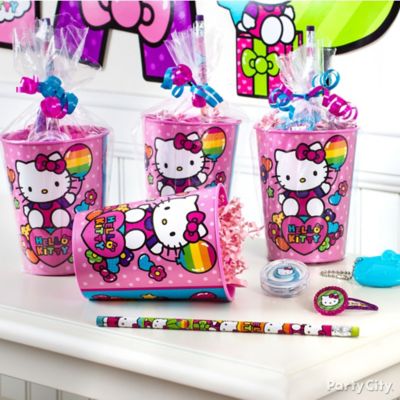 Idea 7: Thank them with pretty favor cups!
Have your little girl hand out reusable Hello Kitty favor cups to her friends at the end of the party and watch their eyes light up! Fill the cups with paper shred and top with favors, then slip each one into a clear plastic bag with a twist of ribbon. They'll have hours of fun playing with the darling goodies long after they leave the party.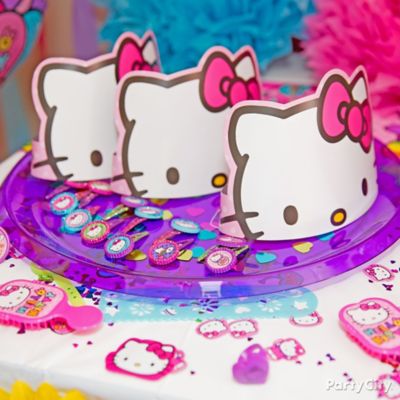 Idea 8: Set out tiaras and rings for your fabulous guests!
Every guest can feel as colorful as Kitty with Hello Kitty tiaras! Rings, brushes and other goodies can also make it fun to dress up together and try new looks.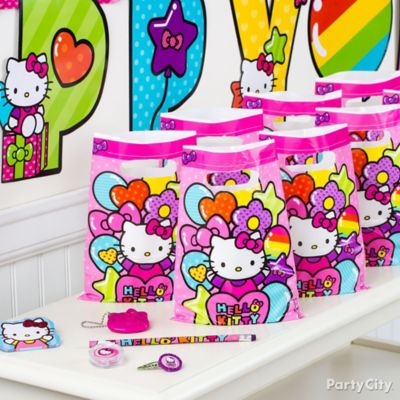 Idea 9: Whip up quick and cute treat bags!
Need favors fast? It's a cinch with a Hello Kitty favor pack, which comes with lots of fun favors like mini brushes, rings, spinning tops and much more. Stuff the goodies into matching Hello Kitty favor bags with room to personalize with each girl's name. Kitty and her twin sister, Mimmy, would be delighted!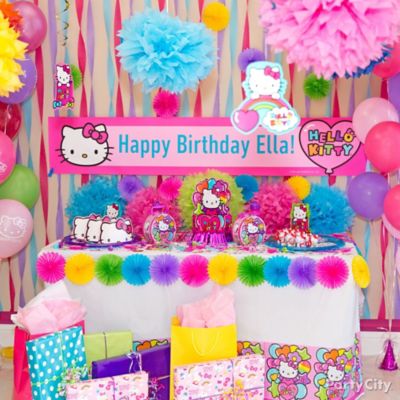 Idea 10: Balloon bouquets make this banner pop!
Say "Hello Friends" with a custom banner! For a festive look, hang a custom Hello Kitty birthday banner with the birthday girl's name and surround it with pink, purple, and blue streamers, a rainbow of fluffy paper decorations, and bunches of balloons. How cute!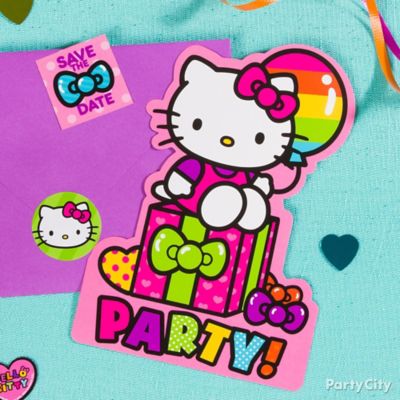 Idea 11: Give her pals a surprise in their invitation!
Tuck a Hello Kitty hair clip inside each invite or attach them to the envelope with a piece of curling ribbon as a special present the girls can wear to the party. They'll love having a rainbow of colors in their hair!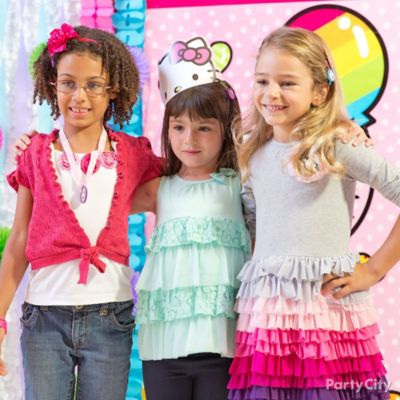 Idea 12: Make their hair as pretty as a bow!
Bow headbands, hairclips and Hello Kitty tiaras are great favors to hand out to your Hello Kitty fans. Once everyone is all made up, host a fashion show and give every girl a turn on the catwalk!
Idea 13: Create a too-cute Hello Kitty party room!
Step into Hello Kitty's world with an explosion of pink and purple Hello Kitty banners, balloons and hanging swirls. The girls will feel like they've been invited into Kitty's home for a day of fun and food. Keep reading to see pretty place-settings and darling DIY chair bows below!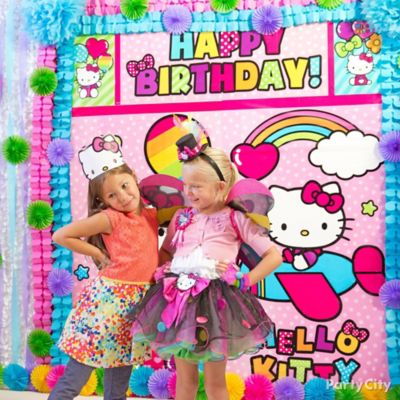 Idea 14: Fly away with Hello Kitty!
Add a little Kitty flair in the game corner! Hang up a Hello Kitty scene setter with blue and pink paper garlands and rainbow paper flowers. The girls will love showing off their silly poses in front of Pilot Kitty.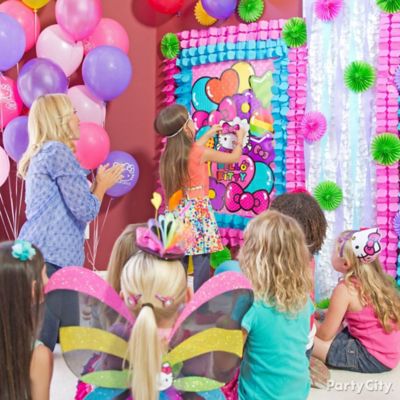 Idea 15: Clip the bow on Hello Kitty!
Kitty White is all dressed up, but she's missing her bow! Line up the kids and let them each take a turn playing the Hello Kitty party game, a cute twist on pin the tail on the donkey. Add pink and blue paper garlands and mini paper fans around the edge for a DIY touch.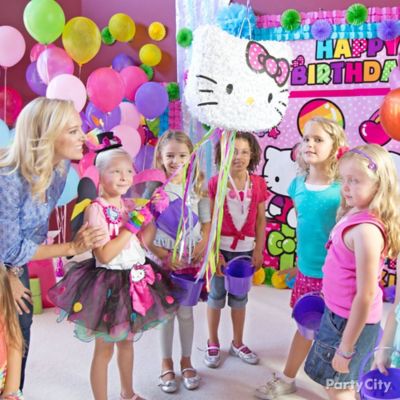 Idea 16: Open the pinata for a rainbow of treats!
This pull string Hello Kitty pinata is as sweet on the outside as it is on the inside! Let each child choose a ribbon to pull to release the treats, and have everyone else hold favor buckets to scoop up the goodies!
Idea 17: Set a playful Hello Kitty place-setting!
Time to create an amazing party table! Start with official Hello Kitty plates and napkins then scatter goodies from a Hello Kitty favor pack along with some blowouts and confetti for extra sparkle. They'll ♥ it!
Idea 18: Jump for joy! It's a Hello Kitty sack race!
Hop and jump – but definitely don't skip – to the finish line with this adorable carnival game! Give each girl a Hello Kitty potato sack and see who makes it to the finish line first.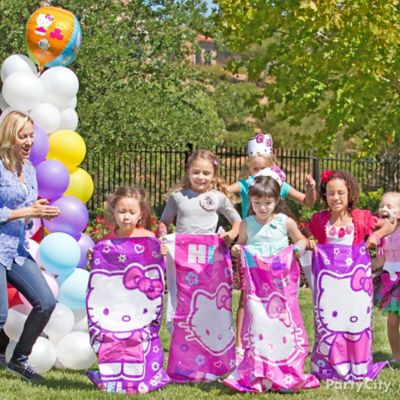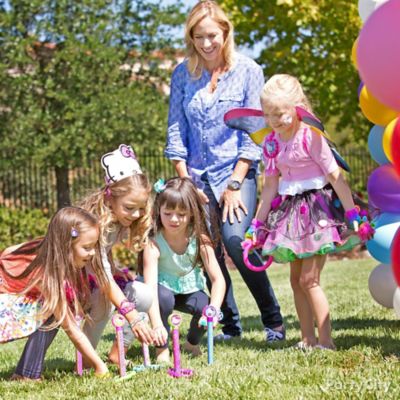 Idea 19: A Hello Kitty ring toss game = fun in the sun!
Get them giggling with a Hello Kitty ring toss game. This fun-in-the-sun carnival game comes with stakes, horseshoes and rings for the girls to play with. It's a fabulous idea for active play outdoors!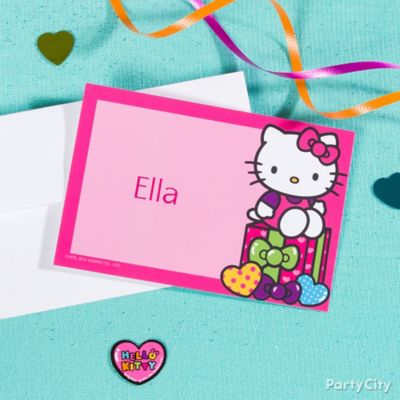 Idea 20: Make a custom thank you note for her besties!
Thank you notes make rainbows last longer, just like the sunshine after a rain. Put the birthday girl's name on custom Hello Kitty thank you notes then send them off. It's a fun way for the birthday girl to express her gratitude to her pals!