A tower of cute 'n creative sweets!
A cupcake tower takes your party table to the next level! Our Hello Kitty Cupcake Tower How-To shows you exactly how to create it. A flower-shaped pick and ring of Sixlets® really elevate each frosted cupcake!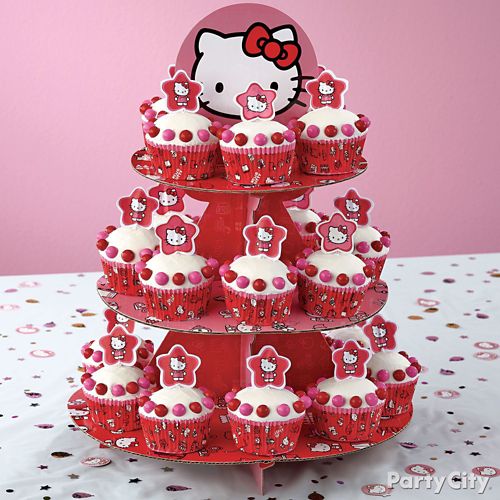 How-To
Ingredients:
Favorite cupcake recipe or mix
White Icing Pouch
Red Sixlets®
Pink Sixlets®
Supplies:
Hello Kitty Standard Baking Cups
Recipe Right® Standard Muffin Pan
Cooling grid
9 in. Angled Spatula
Hello Kitty Fun Pix®
Hello Kitty Treat Stand
1) Make cupcakes
Prepare batter following recipe directions. Bake and cool cupcakes in baking cups.
2) Ice cupcakes
Use spatula and white icing to ice cupcakes smooth.
3) Decorate cupcakes
Position alternating red and pink Sixlets® around edge of each cupcake. Insert pick.
4) Serve and enjoy
Assemble treat stand according to package directions. Position cupcakes on stand.