Fruity treats for your cuties!
Mix a little fruit in with the party fun! It's easy with apple slices and bright pink and white Candy Melts® candy. Colorful dotted icing lends a cute coat of color and melty sweetness to tart, crunchy apples. Mmmm… Yummy!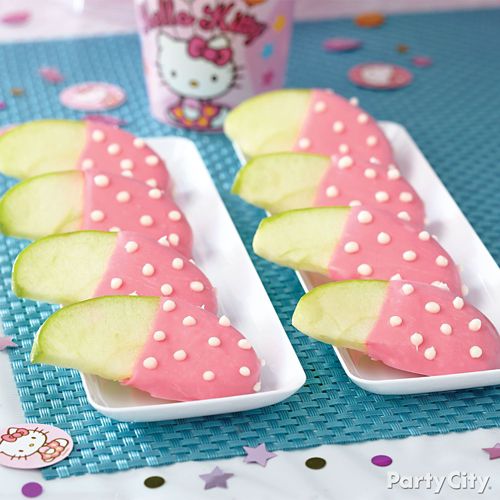 How-To
Ingredients:
Bright Pink Candy Melts® Candy (12 oz. makes 48 to 50 treats)
Apple slices
Lemon juice
White Candy Melts Candy (6 oz. makes 48 to 50 treats)
Supplies:
Microwave-safe bowl
Parchment or waxed paper
Cookie sheet
12 in. Disposable Decorating Bags
Food-safe scissors
1) Dip apple slices
Melt bright pink Candy Melts candy in microwave-safe bowl according to package directions. Mix lemon juice in a bowl with water, then place apple slices in lemon solution to prevent browning. Let apples soak for 5 minutes, then pat dry with a paper towel. Dip dry apple slices in melted candy. Place apple slices on parchment paper-covered cookie sheet. Chill until firm, about 10 to 15 minutes.
2) Decorate apple slices
Melt white Candy Melts candy in disposable decorating bag according to package directions. Cut small point off of decorating bag. Use melted white candy to pipe dots on apple slices. Chill until firm, about 3 to 5 minutes.