Enter for chills, thrills and the low-down on how to create our bad-to-the-bone Halloween scenes. Have you always wanted to play with dry ice, zombies, mummies, severed limbs, gallons of fake blood and bone-afied witch's brew? Awesome! You've come to the right place. Whether you want to spook and delight trick or treaters on Halloween night, outdo the neighborhood, or impress all party goers (living and dead), these clever haunted scenes are just the trick for going "above and beyond" average with your Halloween haunted house decorations.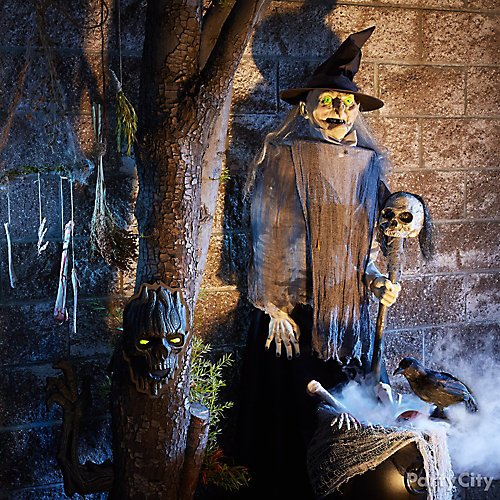 Idea 1: Assist the witch with her brew or pay the price!
Welcome to the witch's den! To create this wicked haunted house look, start by placing the animatronic witch in a spot where she has plenty of room to lunge! Next, easily set up a bubbling concoction that will emit eerie smoke. Start the recipe by placing dry ice into soup cans, then filling those with almost-boiling water. Put those cans in the cauldron and garnish the brew with a mixture of your favorite foliage, bones, and critters. Next, create a spirit tree to give the witch a freaky friend. For a final touch, create a wind chime out of bones for some awful ambiance! Click here to get all the details.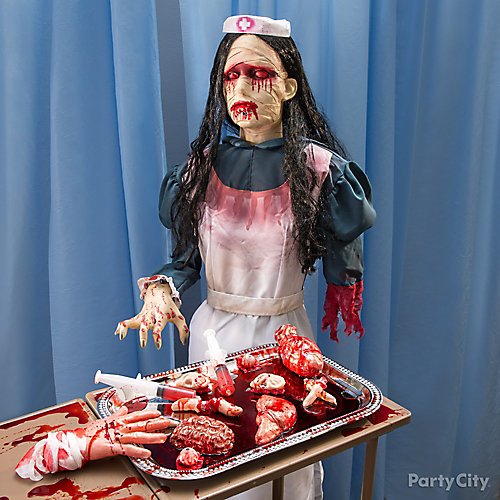 Idea 2: Time for your daily dose of terror!
Create a hospital scene so horrific, visitors might have a heart attack! But no worries, there's a spare close by. Start with an animatronic asylum nurse that lights up and talks; by the looks of her, she's seen some things during her career in the psych ward. When the doctor calls for assistance, make sure the nurse is ready with a tray of syringes, body parts, and organs. Add a light blue curtain to give off that creepy hospital room vibe. Top off the asylum look by squirting fake blood on… everything! Click here for more.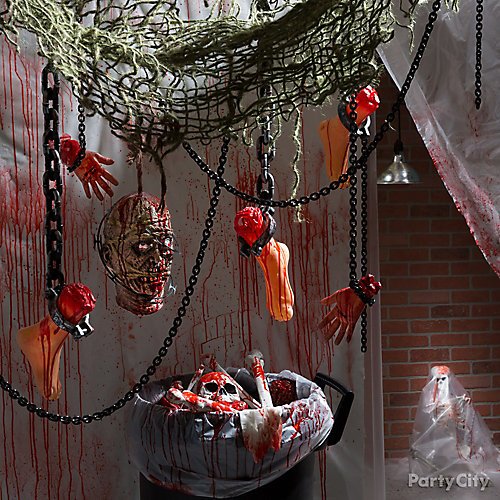 Idea 3: Terrorize with a twisted bloody scene
Put together a gory and gruesome basement display that will give visitors a bone-afide scare! Dangle severed hands, feet and heads by cuffs and chains to make the room look like a torture chamber and drip some fake blood on the ligaments for realism. A trash bin full of bloody bones and skeletons covered in blood-spattered plastic wrap will show that other victims didn't make it out of the basement either! We created blood-spattered walls by smearing fake blood on clear plastic table cover that comes by the roll. Be sure to wear gloves – you wouldn't want to be linked to this crime! See all the grisly details by clicking here.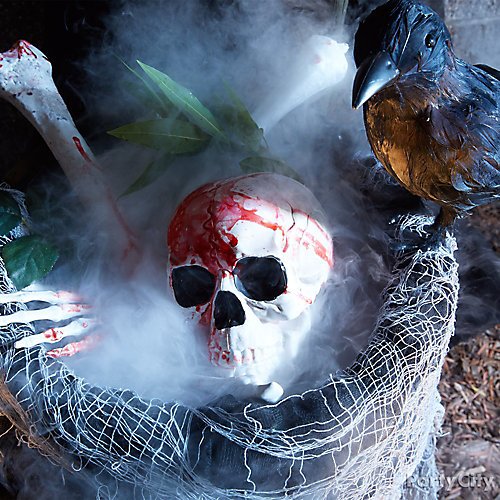 Idea 4: Make this brew or be turned to a shrew
Are you ready to brew, my pretty? Creating a foggy concoction for your haunted house is easier than it looks! Start the recipe by placing dry ice into soup cans. Add almost-boiling water and you'll hear bubbling as the smoke starts to rise! Next, garnish the brew with a mixture of your favorite herbs, bones, and critters. For an extra eerie touch, add a few glow sticks to create an ominous glow.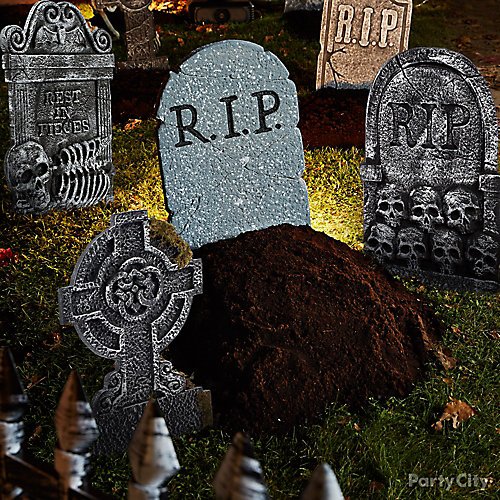 Idea 5: Conceal the bodies under tombstones and fresh dirt
Transform your yard into a realistic scene that spooks people to death! (Fortunately for you, you won't have to move the bodies too far.) Choose an array of realistic, bone-chilling tombstones. Make it a truly sinister scene by topping off the graveyard look with freshly shoveled dirt in front of every grave. Keep the dead bodies safe by setting up eerie cemetery fences around the perimeter of your yard. There will be grave consequences for walking by your house this year!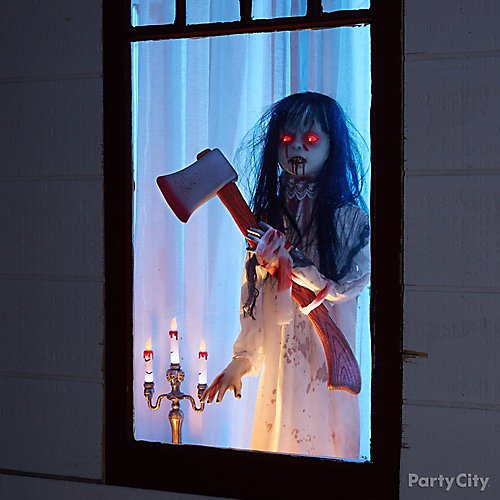 Idea 6: Don't worry, she just wants to make friends
Put a possessed girl in the window for some sweet revenge! Transform a creepy animated girl into Lizzie Borden by attaching an axe to her hand with bloody gauze looped multiple times and tied tight. Insert the batteries and turn her on so she is ready to spin around, flash her beady eyes and greet the neighbors. Don't forget to place blood-dripped candles in the window and tuck her in front of the drape so everyone can see her before they dare to enter your haunted house.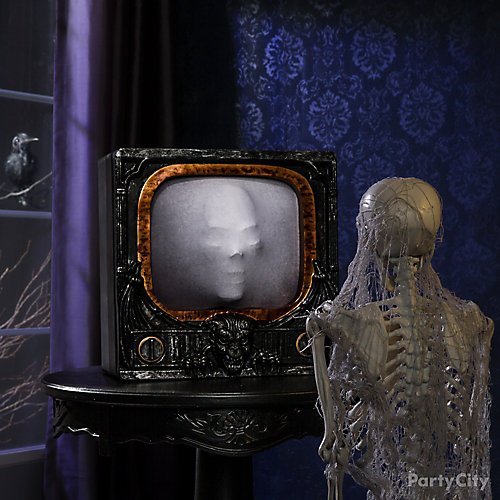 Idea 7: Turn the knob on this freaky TV and the monster within emerges
All is quiet with this eerie-looking TV... until the grotesque beast from within is hungry for more blood. Set up a skeleton wrapped in gray gauze in front of it to create a creepy scenario for your haunted house or ghoulish gathering. Sit back and sneer as friends flee while the gargoyle attempts to emerge from his lair. As they jump back in shock, they'll be taunted by a skeleton that has been cursed with a lifetime of petrifying programming!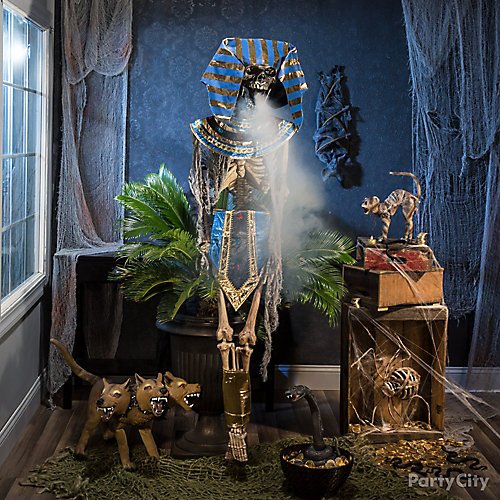 Idea 8: Get wrapped up in an evil mummy!
Open the tomb and the treasure may be yours... but only if you can outsmart a striking cobra, Cerebus the guard dog and the pharoah's bloodthirsty attendants. This scary Halloween haunted house decorating idea takes it over the top with a fogger attachment and cool themed props. Oh no... get out quick – or stay for eternity! Click here to see how we set up this display.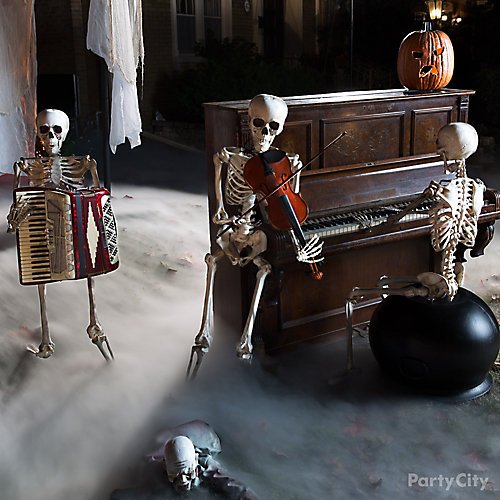 Idea 9: The skeleton crew is ready to rock you dead!
Draw a cackling crowd and rattle their bones with some terrifying tunes! To create this deathly stage presence, start by hanging skeletons off a garden hook. Position some standing and another seated at the piano. To give them instruments like an accordion or violin, use heavy weight fishing line or rope tied to the garden hook. To finish off the venue, add in some spooky decorations and effects like a fog machine, jack-o'-lanterns, and hanging bats!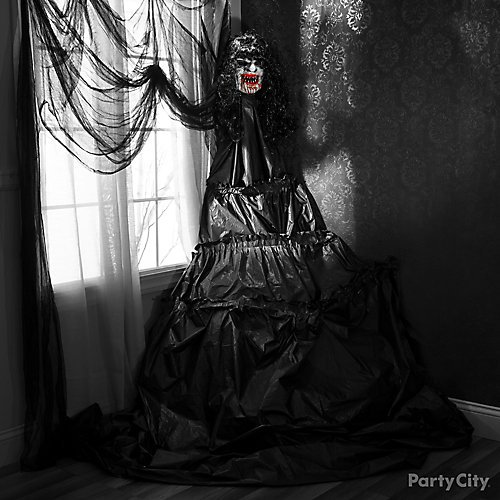 Idea 10: Your front room is said to be haunted...
A spirit that can make you scream, a thing of darkness, a creature that waits patiently for blood. She materializes in haunted places, in corners, hallways and in closets. If you choose to create this freaky haunted house decoration, beware. We can't guarantee it won't scare the life out of you! Want to know how we set this up? Click here!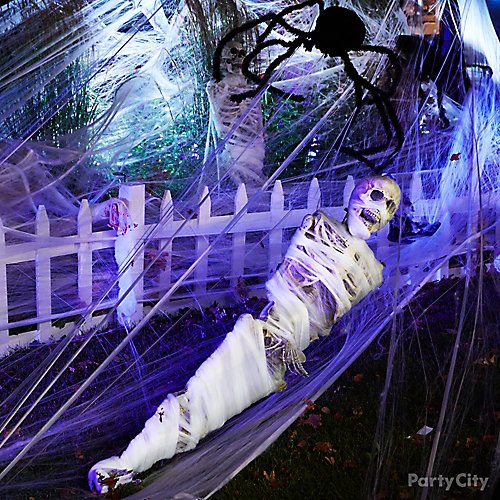 Idea 11: Create a dark webbed world of spider victims
Wrap a skeleton in webs to signal that this spider's prey has no escape. Secure him by attaching to a metal garden hook (from home supplies store) and stretch a clear tablecover out so he is comfortable for his eternal rest. Run long stretches of spider web across his lair and all over your yard to let visitors know they should be very careful. Top off the haunted house illusion by hanging a giant black spider above victim number one. Then run for your life!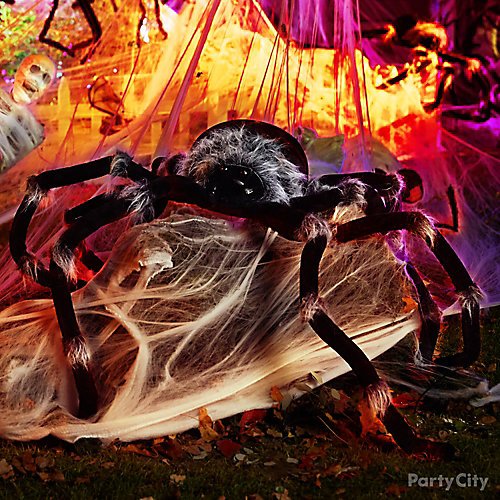 Idea 12: Things are about to get hairy and beyond scary
This spider and his gigantic web will add fright to your nights and haunt your dreams. You've entered the spider's sanctuary, and not everyone has made it out alive. Behind you'll find his "cocooned" victims in a dark and desolate place. Add a strobe light, spotlight, or both to use this hairy beast in a realistic haunted house illusion. Prey you aren't his next victim!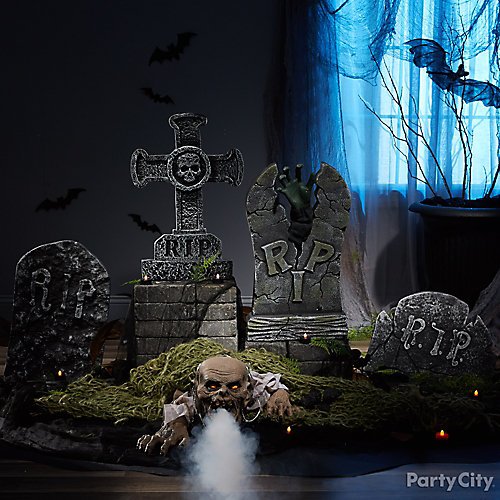 Idea 13: Slay your decorations with a fogger and dry ice
You can easily conjure up a Halloween cemetery full of freaky fog and the living dead – indoors or out. Start by covering the floors with strips of black tablecovers and lay down some mossy green jute. Choose some tombstones and stagger their height by stacking paver stones or books. Add a zombie dude that looks like he just escaped from the grave and add spook by scattering flameless tealights and draping black gauze. Finish off the graveyard display with a bat dangling in front of a gauze-covered window for a truly haunting look. Click here to see more on how to set up this graveyard scene. So much for resting in peace!