Designing your own haunted house takes a lot of planning, but it's always a labor of love. Besides, we can't think of a better way to celebrate Halloween than scaring the heck out of your friends, neighbors, and haunted house guests alike. These clever haunted scenes are just the trick for going above and beyond with your Halloween haunted house decorations. Whether your haunted house sticks to one terrifying story line or changes themes with each room, make it a night of happy haunting with macabre mantels, a spooky secret library and many more ideas that go bump in the night! Read on...if you dare.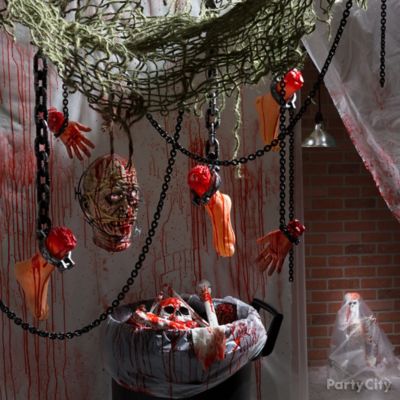 Idea 1: Terrorize With a Twisted Bloody Scene
Put together a gory and gruesome basement display that will give visitors a bone-afide scare! Dangle severed hands, feet and heads by cuffs and chains to make the room look like a torture chamber and drip some fake blood on the ligaments for realism. A trash bin full of bloody bones and skeletons covered in blood-spattered plastic wrap will show that other victims didn't make it out of the basement either! We created blood-spattered walls by smearing fake blood on clear plastic table cover that comes by the roll. Be sure to wear gloves – you wouldn't want to be linked to this crime! See all the grisly details in our Bloody Basement How-to.
Idea 2: Gory Girl in the Window
Put a possessed girl in the window for some sweet revenge! Transform a creepy doll into Lizzie Borden by attaching an axe to her hand with bloody gauze looped multiple times and tied tight. Don't forget to place blood-dripped candles in the window and tuck her in front of the drape so everyone can see her before they dare to enter your haunted house.
Idea 3: Get Royally Scary with an Evil Egyptian Mummy!
Open the tomb and the treasure may be yours... but only if you can outsmart a striking cobra, Cerberus the guard dog and the pharaoh's bloodthirsty attendants. This scary Halloween haunted house decorating idea takes it over the top with a fogger attachment and cool themed props. Oh no... get out quick – or stay for eternity! Consult our Mummy Crypt How-to to see how we set up this display.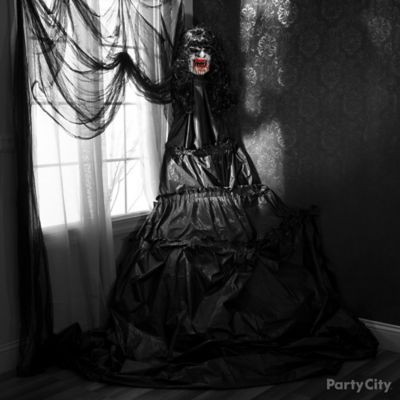 Idea 4: Scary Lurker in the Corner Prop
Your front room is said to be haunted by a spirit that can make you scream, a thing of darkness, a creature that waits patiently for blood. She materializes in haunted places, in corners, hallways and in closets. If you choose to create this freaky haunted house decoration, beware. We can't guarantee it won't scare the life out of you! Want to know how we set this up? Read the Something Dark in a Corner How-to...if you dare.
Idea 5: Chilling Skeleton Band Scene
Draw a cackling crowd and rattle their bones with some terrifying tunes! To create this deathly stage presence, start by hanging skeletons off a garden hook. Position some standing and another seated at the piano. To give them instruments like an accordion or violin, use heavy weight fishing line or rope tied to the garden hook. To finish off the venue, add in some spooky decorations and effects like a fog machine or creepy music floating through the Halloween night.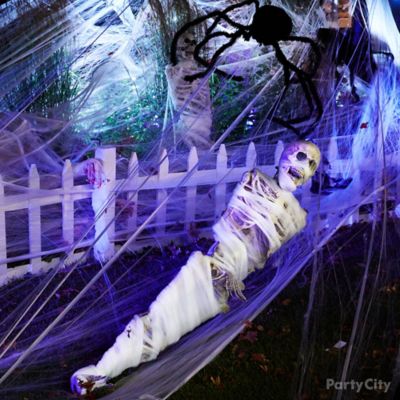 Idea 6: Wrap a Skeleton Decoration in Webs
Wrap a skeleton in webs to signal that this spider's prey has no escape. Secure him by attaching to a metal garden hook (from home supplies store) and stretch a clear table cover out so he is comfortable for his eternal rest. Run long stretches of spider web across his lair and all over your yard to let visitors know they should be very careful. Top off the haunted house illusion by hanging a giant black spider above victim number one. Then run for your life! For more creepy crawlies, see our Halloween Spider Decorating Guide!
Create a dark webbed world of spider victims: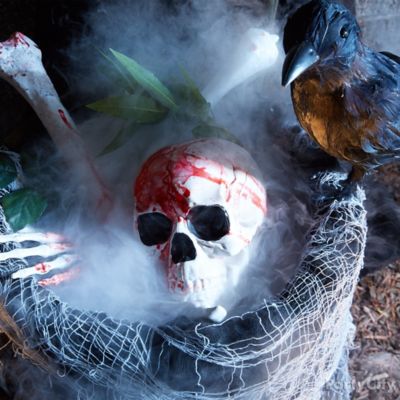 Idea 7: How to Use Dry Ice in a Witch's Brew
Make this brew or be turned to a shrew! Are you ready to brew, my pretty? Creating a foggy concoction for your haunted house is easier than it looks! Start the recipe by placing dry ice into soup cans. Add almost-boiling water and you'll hear bubbling as the smoke starts to rise! Next, garnish the brew with a mixture of your favorite herbs, bones, and critters. For an extra eerie touch, add a few glow sticks to create an ominous glow.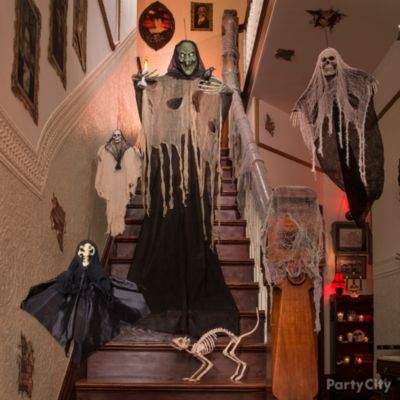 Idea 8: Invite Flying Ghouls to Haunt the Stairs
The witch is in! Make it a night of happy haunting with freaky flying ghouls waiting to greet visitors at the stairs. Hang skeletal reapers in ghostly robes at varying heights with tattered gauze for the bannister and a creepy cat. The leader of this group of malevolent misfits is a seven-foot witch waiting to cast a spell with her messenger raven perched on her withered hand. Something wicked this way flies!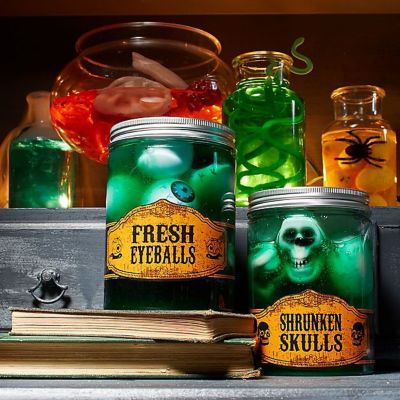 Idea 9: Slime for an Evil Scientist's Lab
Easiest Haunted House decoration ever: take jars, add slime and creepy crawlies. Eyeballs, skulls, snakes, body parts and spiders are just the beginning. Create a DIY label to let passerby know what's going on in your laboratory, or let them peek in and decipher the contents for themselves. You can use a slime kit or follow our Halloween Slime Tutorial to learn how to make your own!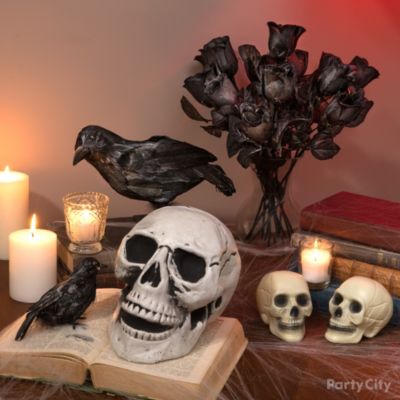 Idea 10: Impress the Spirits with a Stack of Spell Books
These boneheads wouldn't be caught dead without a good book! Arrange skulls on and around stacks of aged and weathered novels covered in cobwebs, with a couple lurking crows to keep guests from pawing your precious spell books. Set the mood for a spooky book club – or a seance! – with a vase of black roses and battery-operated candlelight.
Idea 11: Throw a To-Die-For Gothic Dinner Party!
Be the spirit guide to a gathering of skeletons, spooks and things that go bump in the night! Skeletal gents like this one make the atmosphere for your dining room along with candles as mood lighting, a centerpiece of skulls and a dapper dinner guest - he's been waiting a long time for dinner to be served!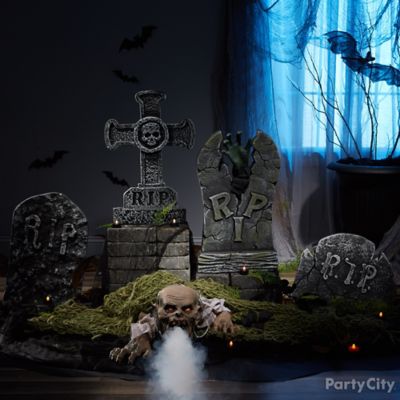 Idea 12: Create Spooky Fog with a Fogger
You can easily conjure up a Halloween cemetery full of freaky fog and the living dead – indoors or out. Start by covering the floors with strips of black table covers and lay down some mossy green jute. Choose some tombstones and stagger their height by stacking paver stones or books. Add a zombie dude that looks like he just escaped from the grave and add spook by scattering flameless tealights and draping black gauze. Finish off the graveyard display with a bat dangling in front of a gauze-covered window for a truly haunting look. See more on how to set up this graveyard scene. So much for resting in peace!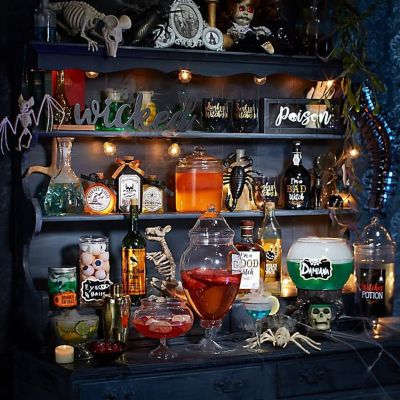 Idea 13: Wicked Witch Potion Setup
Fill a book case or other surface with mysterious potion bottles left behind by a wicked witch. Go to your local thrift store to find old bottles and creepy glass jars. (Pro tip: you can also use clear candy containers with apothecary lids for the same look without the fragility!) Fill them with unknown liquids as potions: we used water with food coloring, but try adding a little milk for a cool cloudy effect. Drop in bloody props for a gory take on this scene.

Idea 14: Every Haunted Mansion Needs a Huuuuuge Spider!
Grand-Daddy Long Legs is watching! Make this spider skeleton a web by hanging bloody boards on a window and spreading out cobwebs. For a more bone-chilling look, add a few small spiders around the webs and a rat on the window.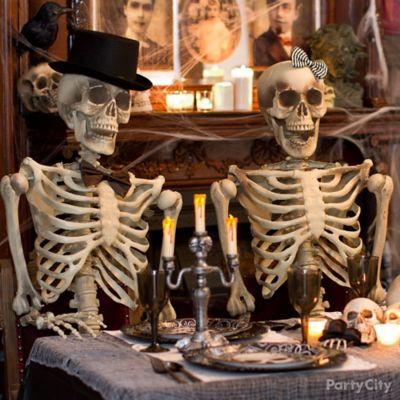 Idea 15: Set Up a Skeleton Dinner Date
These two are the "life" of the party! Seat a couple skeletal sweethearts at the table to get the rest of your party ghosts talking. This dearly departed couple is dressed to impress in their "haunt" couture consisting of a top hat and bow tie for the gent, and a hair bow for the lady – they wouldn't be caught alive in anything else!
Idea 16: Add Critters to the Basement
Dogs, rats and snakes make a fetching vignette. Set up a couple skeletons chewing on a snake beside a knocked-over chair and cobwebs to make the scene look daringly disheveled. Place rats and owls on the fringes, because no haunted house is complete without scavengers - they think it's a hoot!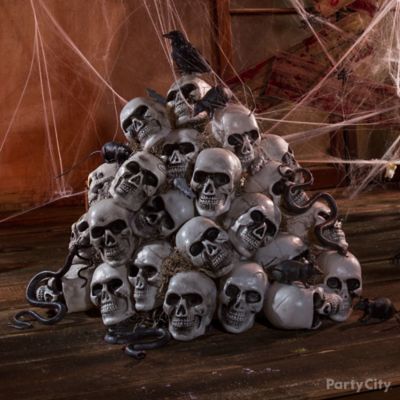 Idea 17: DIY Skull Pile
Use hot glue and fake moss to create a disturbing skull pile teeming with rubber rats and snakes! Place the pile of skulls in a corner and it's the perfect hideout for hairy rats and slithery snakes. Place a sinister black crow perched on the top, and spread cobwebs and bloody boards on the wall behind it for a super-creepy scene!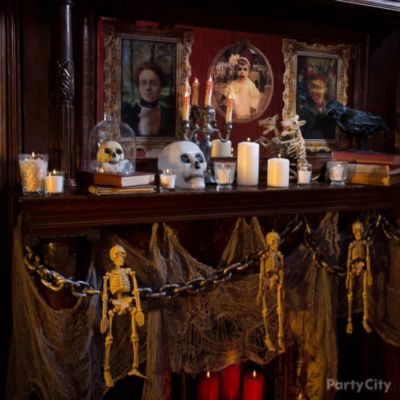 Idea 18: A macabre mantel to welcome restless spirits!
Give the parlor that unlived-in look with a fireplace mantel decked out in all manner of creepy curiosities. Haunted heirlooms like this "bleeding" candelabra, selection of skulls and frightening fauna like a rat skeleton and raven create an atmosphere of unrest amongst your guests. Show off the family tree with a set of paranormal portraits that aren't always what they seem...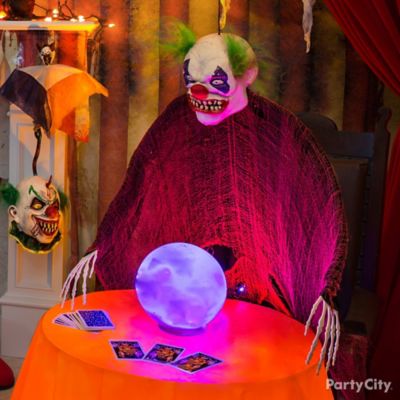 Idea 19: Carnival Psychic Creepy Clown
Your future is dark and full of clowns...
This fortune-telling clown will terrify the audience, so re-create this look with a hanging clown at a table with tarot cards. Light the table from underneath to give it that eerie glow, and either use our crystal ball or DIY your own with a clear glass globe and purple string lights. What an ominous sideshow!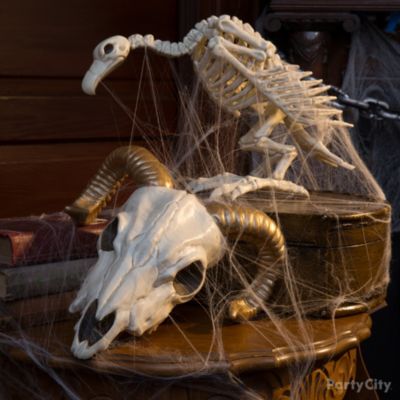 Idea 20: Display Fearful Forgotten Relics
Display a gruesome twosome as the prize collection of this haunted home. Surprise your friends with unusual props like a realistic-looking ram's skull and vulture skeleton. Cover them in cobwebs to make them look like forgotten relics.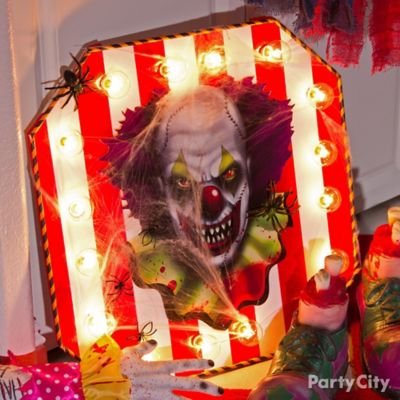 Idea 21: DIY a Madcap Marquee!
Create a carnival atmosphere with a DIY clown marquee made of poster board, red and white duck tape, clear globe string lights and a creepy clown cutout. Cut the poster board into an octagon shape and make circus stripes with red and white duck tape. Remove the globes from the lights in order to poke through the foam board, then reattach them and hot-glue the lights in place. Attach the clown face to the center with spiders, cobwebs and a border of twisted-stripe paper straws – carnival chic!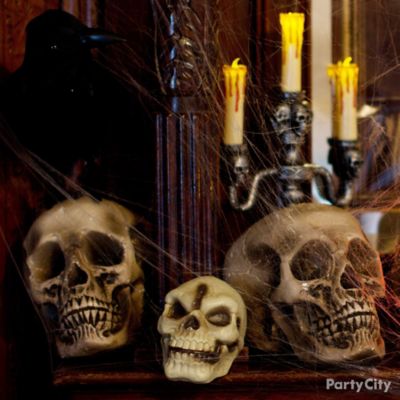 Idea 22: Skulls Rest (in Peace) on the Mantel
Create a marvelously macabre mantel with a row of skulls on display. Give the scene an even more sinister atmosphere with a "bloody" candelabra, cobwebs and creep-tastic vintage portraits. A raven peeking out of the shadows will chill your (living) guests to the bone!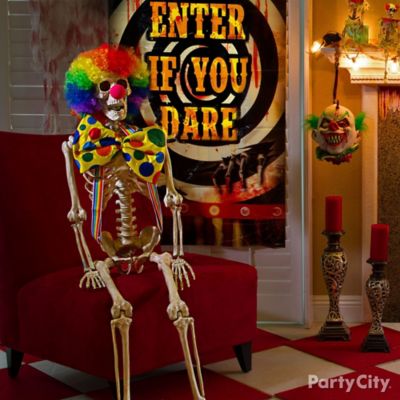 Idea 23: He's still waiting for a laugh…
Step inside the Not-So-Fun House for a picture with Bone-ZO the Clown! In a rainbow wig, oversized bow tie and striped suspenders, this skeleton clown will make you laugh until it hurts. For the perfect photo op, hang a circus poster behind him with an ominous message like "Enter If You Dare"!
Idea 24: Make Giant Bugs Crawl the Walls
Give everyone walking through your haunted house serious heebie-jeebies by hanging large, shiny black bugs and other scary creature props. To hang a heavy prop like a centipede, use a hammer to attach a small box nail to your wall on which you can support your prop.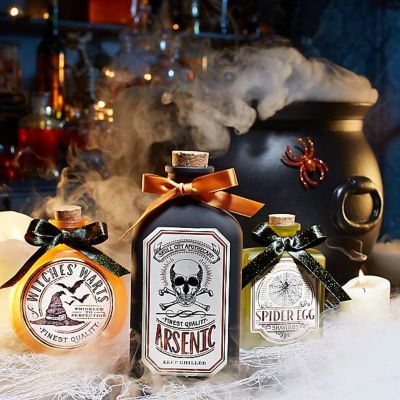 Idea 25: Creepy Props with Effects
Set out witchy potion bottles wrapped in pretty ribbon and surround with flameless LED candles. If you want your cauldron to billow smoke, place a large bowl inside of the plastic cauldron and fill the bowl with dry ice just before your guests arrive. Hot water will activate the double, double toil and trouble!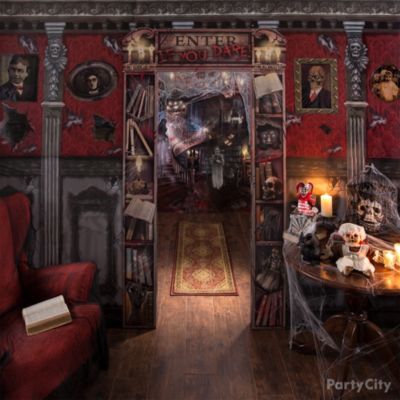 Idea 26: What phantoms are lurking in the library?
Visitors will be dying to go in and sit for a spell! Create the illusion of a haunted library with a mansion room roll and a cardboard door frame decoration printed with dusty tomes and eerie artifacts. Arrange a reading chair covered in black gauze with a table of creepy books and knick-knacks. To complete the illusion, hang a spooky scene setter in the next room printed with a spiral staircase and spooky specters who stalk the stacks.
Idea 27: Cause Nightmares With an Animated Toy Box
This Halloween animatronic is so creepy we don't even want to talk about it. The toys pop up to deliver a message: "Just crawl inside, quick! They won't get you if you hide in here!" Set this up in a room full of creepy toys. If you have actors in your haunted house, have them dress in doll costumes to complete the creepy scene.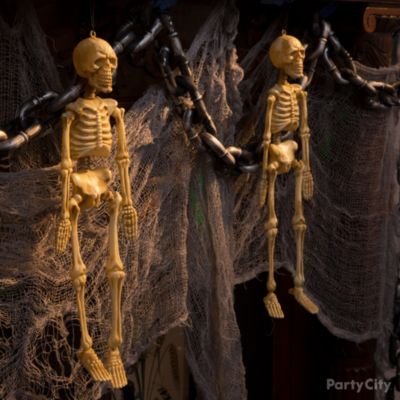 Idea 28: Dig up a ghoulish garland!
Drag those skeletons out of the closet for a delightfully dreadful decoration! Hang tattered, "moth-eaten" gauze along the mantel, then layer on a realistic-looking metal chain with some shrunken skeletons dangling from the links.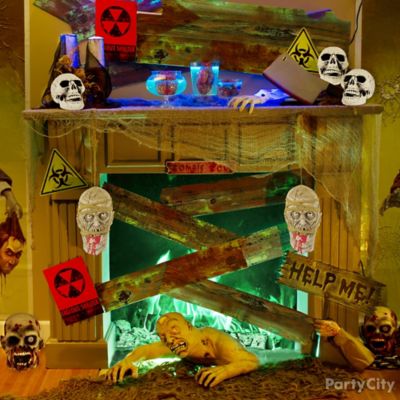 Idea 29: Zombie Fallout Shelter
Hold onto your brains! Create a foreboding fallout zone around your mantel with a mix of zombie props, eerie mood lighting and "planks" for boarding up exits. For more ways to decorate for a zombie theme, shuffle over to our Zombie Party Ideas.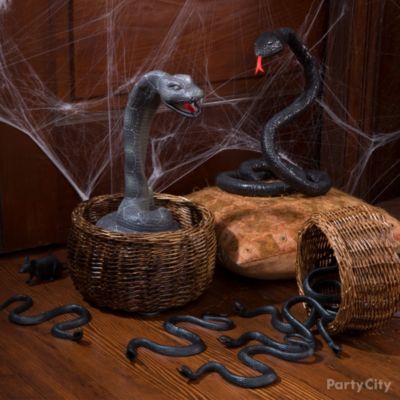 Idea 30: Give Them Shivers with a Den of Snakes!
Play on their deepest fears with a nest of snakes as part of the decorations. Make your guests shriek with a swarm of squirming snakes among an array of baskets. Place a couple of larger reptiles in the corner like this 5-foot black snake and a venomous-looking cobra that actually strikes at unsuspecting victims as they walk by – they'll be hisss-teric!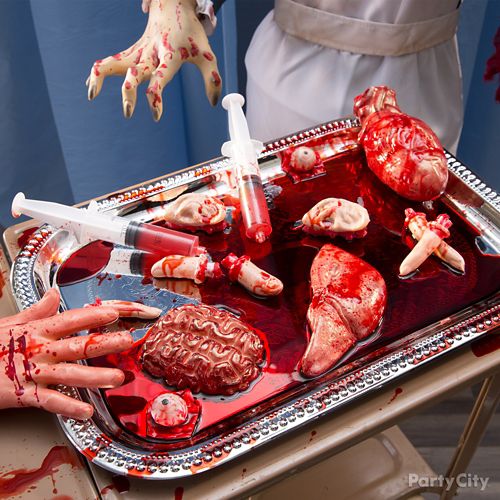 Idea 31: Set Out a Tray of Organs
Create a hospital scene so horrific, visitors might have a heart attack! Close off the "operating room" with light blue table covers attached to a curtain rod. Fill up a silver operating tray with all the organs, body parts, and bones you like. Set it atop a nightstand and add fake blood liberally. Top off the asylum look by squirting fake blood on… everything!
The doctor will see you now: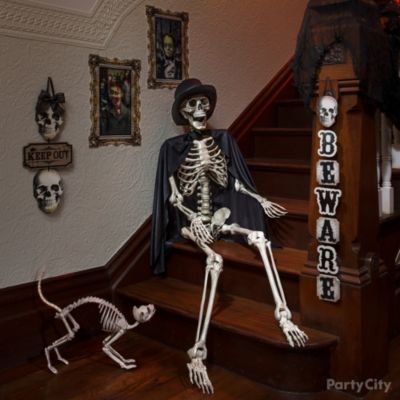 Idea 32: Dead but still dashing!
Beware this bony gent – he's got a killer pick-up line! Visitors will love meeting this stylish skeleton on the stairs, complete with cape, bowler hat and adoring fraidy cat. Bring some frightening flair to the walls with stylish caution signs and lenticular portraits that shift from innocent to hair-raising when you walk by.
Idea 33: Decorate a Scary Shower Scene
Splish splash, time for a blood bath! If your bathroom will be available to visitors, best transform it into a bloody shower scene. It's easy to make a gory-good setting for screams with bloody gel clings and body pieces in all the wrong places. Let ultra-creepy limbs and a body bag prop peep out from behind a blood-spattered shower curtain. The more gruesome, the better!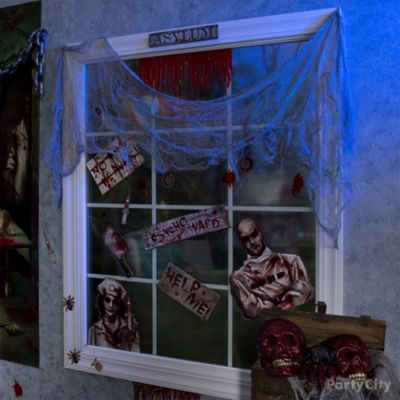 Idea 34: Disturbing Asylum Window Decorations
Remind them that there's no way out with condemning decor. Hang up scary signs that say, "Help me" and "No one leaves" with a couple sinister members of staff. Trade out your curtains for a strip of gauze haphazardly strung across the window with bloody window clings to make incoming patients want to turn back!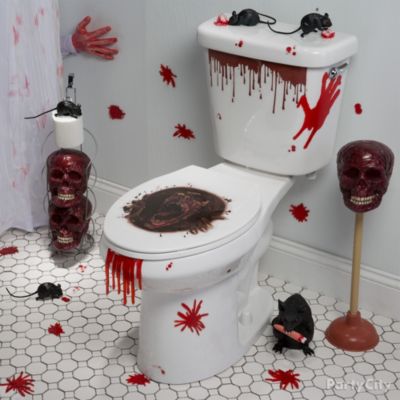 Idea 35: Even the Bathroom is a Scream!
Your bathroom will give them nightmares! Stick a creepy arm from behind the curtain to give guests a "hand" when they least expect it. Transform the ordinary into extraordinarily scary with a stack of putrid heads by the toilet paper and plunger, with some vile vermin having a midnight snack nearby. Get creative with blood spatter clings all over the floor, the wall, and especially the toilet, with a screaming patient clawing his way out!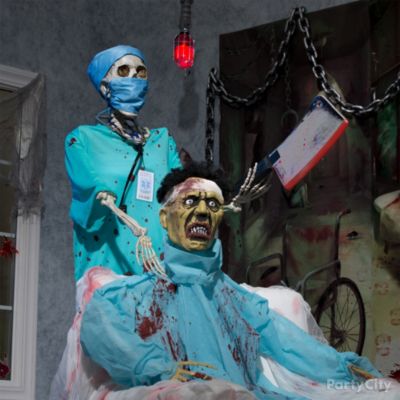 Idea 36: Turn Your House Into a Scary Asylum
All chopped up and nowhere to go! Stalk the halls of an abandoned asylum wing with a skeletal surgeon and his patient! Create an ominous setting with deluxe props, like this maniacal patient who's had one lobotomy too many. Arrange this bone doctor behind him with butcher knife prop in hand like he's about to give a surprise surgery! Visitors may start second-guessing their decision to visit your house of horrors when they see this deranged pair. Shop asylum theme party.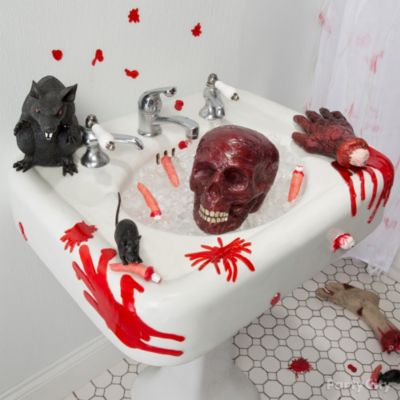 Idea 37: Make a Splash with a Sink Full of Shocking Props!
Freak out your Halloween party guests with bloody props sitting in the sink. Looks like this unfortunate patient lent a hand to the decorations....and a foot and skull, too! Amp up the horror with bloody clings, more body parts and a couple leering rats – gross!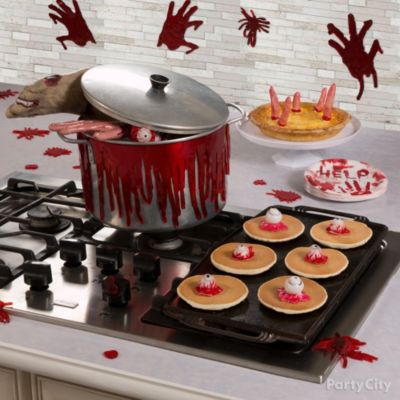 Idea 38: Dish Up a Snack for Sore Eyes!
Look but don't touch – these unsettling snacks are from a bloody kitchen you don't want to eat in. Arrange frozen pancakes on a griddle with a plastic eyeball "garnish" for a unique take on breakfast for dinner. Simmering next to the putrid pancakes is an un-savory "stew" of chop shop props like feet, hands and eyeballs – yuck!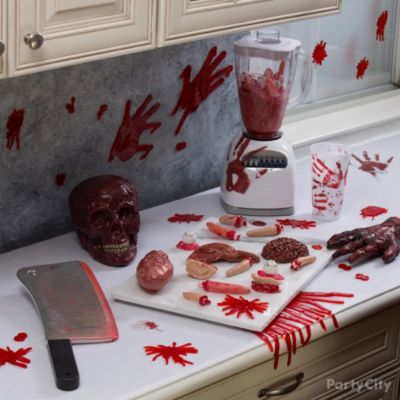 Idea 39: Serve a Sickly Smorgasbord!
Trick or treat, give me something gross to eat! None of these body part "snacks" are edible, but they'll look convincing in your asylum kitchen. Create a sick scene with a gory assortment of fake bloody eyeballs, severed fingers and repulsive organs. Make party guests shudder with well-placed props like butcher knives, gruesome skulls, and blood splatter clings on everything!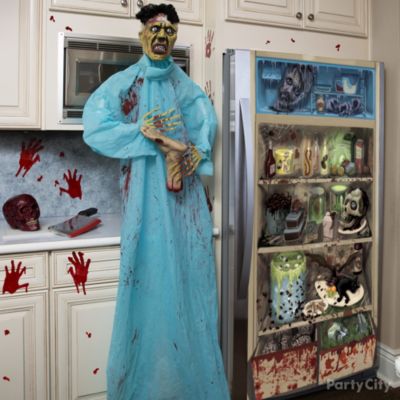 Idea 40: The Doctor is in!
What horrors await in the asylum cafeteria? Serve horror with a side of scary in a disturbing asylum kitchen with plenty of creepy props, bloody hand prints, and demented decorations. A grisly refrigerator door decoration printed with human heads and other nasty tidbits is the perfect way to whet their appetites. Pose a deranged doctor nearby – hopefully his cooking is better than his doctoring!